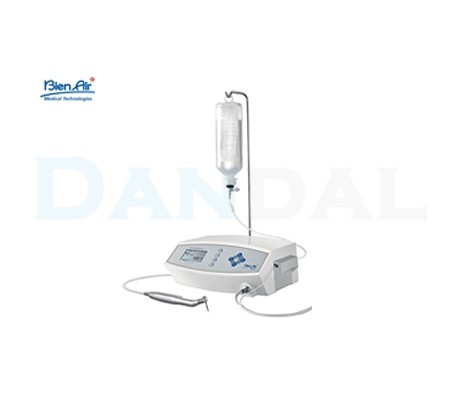 View larger
Bien Air - Chiropro L Motor
New
Warning: Last items in stock!
Availability date:
By buying this product you can collect up to 3509 loyalty points that can be converted into a voucher of
Implantology is a demanding discipline. That is why Chiropro L, the latest in Bien-Air expertise, leaves nothing to chance. Created with practitioners for practitioners, it is an ultra-efficient, extremely versatile implantology system, designed for numerous clinical applications. Chiropro L takes concern for detail to unprecedented levels. Everything is designed for your comfort. Theinterface, intuitive and complete, can be managedby the new control pedal.
The MX-LED, the most powerful motor on the market, is currently the only motor to offer LED lighting of equal intensity at both high and low speeds. The contra-angle handpiece, for its part, incorporates a unique internal irrigation system offering ideal grip.
With the Chiropro L, everything is designed for your comfort. The MX- LED Chiropro micromotor, the most powerful and lightweight on the market, has LED lighting of equal intensity whether at high or low speeds. The contra-angle boasts one of the smallest heads ever designed and integrates a unique irrigation system, internal to the instrument, making it perfectly easy to use. In addition, its dual glass rod LED system guarantees uniform lighting at all rotation speeds. The Chiropro L also offers 7 of the main implant systems on the market with their complete sequences. It can also be customised according to your needs.
Features:
Numerous possible clinical applicationsincorporating in particular 7 of the leading implant systems on the market with their completeclinical sequences
Customisable programs
A simple, intuitive interface
The most efficientand reliable motor
An innovative peristaltic pump
The contra-angle handpiece with the smallest head on the market
Chiropro L is pre-programmedfor the following implant systems:
Straumann
Nobel Biocare
Zimmer
Dentsply-Friadent
Biomet 3i
AstraTech
Thommen Medical
Free system
The MX-LED motor is a model of stability. At both high and low speeds, the new MX-LED offers you ideal working comfort. With it's high level of output torque, the MX-LED is just simply the most powerful motor on the market. Depending on the torque needed, the power is automatically regulated and stabilised electronically. Accordingly, the speed is kept constant throughout the operation. Another major advantage is that the motor allows LED lighting on the contra-angle with the same luminous intensity at both high and low speeds. The MX-LED motor is not only the most powerful motor on the market, but also the lightest.
Incomparable quality of lighting The MX-LED motor incorporates a LED of luminous intensity adjustable according to your sensitivity (10 setting levels). The LED diffuses a natural white light similar to daylight,with a service life 10 times greater than that of a traditional light bulb.
Content:
Chiropro L
MX-LED motor
Foot Control
20:1 L Contra-Angle Handpice - Micro series
Angle Holder
Cable

Author: Review department of Dandal.ir
Release Date: 28/Fev/2015
Last Modified: 05/Dec/2015
| | |
| --- | --- |
| Company | Bien Air |
| Country | Switzerland |
| RPM range | 0-20000rpm |
| Torque range | 8-70Ncm |
| Weight | 2700gr |
| Height | Width | Depth | 309mm | 220mm | 123mm |
| Foot Control | Cordless - Multifunctional |
| Display Screen | Simple |
| Memory | 8 pre-programmed 10-step sequences 1 endo sequence, 4 programs for dental surgery |
| Irrigation | Yes |
| Application | Multifunctional |
| Power | - |
| Type of Technology | Optic |
| Optic Adjustment | Yes |
| Handpiece | 20:1 Optic Contra-angle |
| Auto Calibration | - |
| Motor Type | BLDC |
NO registration required!
If the question you have has not yet been answered here, use the form below to ask something about this addon.