View larger
Kettenbach - Monopren transfer
New
This product is no longer in stock
Warning: Last items in stock!
Availability date:
Buying this product you will collect
0 points
with our loyalty program.
Information of seller
فروش توسط: تکتا آفرین فناوران ایساتیس - دندال
Monopren transfer
Monopren transfer is a medium viscosity, addition-curing, elastomeric monophase impression material based on vinyl polysiloxane. Monopren transfer is an impression material with initial hydrophilicity (the best hydrophilic properties appear after just 0.5 seconds) that provides special application advantages for fixation impressions with fixed/removable restorations and in implantology: immediate inflow to the primary crowns, cast support or preparation limits even in a moist oral environment. Other significant criteria include good setting characteristics, the appropriate Shore A hardness and thixotropy.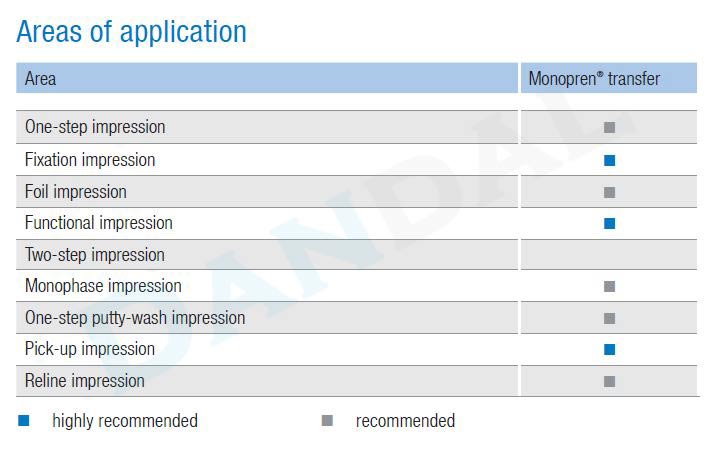 Product advantages
Short intraoral setting time (2 min.) with a practical total working time (2 min.)
High final hardness (Shore A 60)
High thixotropy
High elasticity
Flow properties to suit the indication
Two different forms of presentation
In the well-known 1:1-cartridge system
Benefits for the dentist
Less distortion during the setting stage; user-friendly; more comfortable for the patient; less time required; greater precision.
Good retention of the primary crowns; greater accuracy
Easy removal from the patient`s mouth; tear-resistant; less risk of fracture during model fabrication.
Good pressure build-up.
Flows flush onto the primary crowns; finest reproduction of detail.
Available as foil bag or cartridge material depending on amount of use.
Easy handling.
Technical data
Mixing ratio Working time at 23°C/74°F≤ : 2 minutes
Working time at 35°C/95°F≤ : 1 minute
Intraoral setting time at 35°C/95 °F ≤ : 2 minutes
Total setting time* ≥ : 4 minutes
Hardness (approx.) Shore : A60
Linear dimensional change (maximum)% : -0.20
Elastic Recovery test (approx.)%: 99.7
Strain in compression (approx.)% : 3.5
| | |
| --- | --- |
| Company | Kettenbach |
| Country | Germany |
| Type | A-Silicon |
NO registration required!
1 Question(s) answered
If the question you have has not yet been answered here, use the form below to ask something about this addon.
Asked by فرشته
on 04/07/2017

آيا اين محصول براي قالبگيري نهايي پروتز كامل در مقايسه با ماده دوراليت توصيه ميشود؟ به صورتيكه در تري اختصاصي گذاشته و إز دهان بيمار قالب اصلي گرفته شود؟

Answer:
متاسفانه دقیقا متوجه سوال شما نشدم اما اگر منظور شما از قالبگیری نهایی و پروتز کامل همان فانکشنال باشه، بله امکان استفاده از این ماده هست. همانطور که در تصویر اضافه شده در توضیحات محصول مونوپرن ترنسفر مشاهده میکنین، این ماده برای قالبگیری ثابت، فانکشنال و پیک آپ بسیار عالی می باشد.