View larger
KMG - Smart Ject Anesthesia injector
New
This product is no longer in stock
Warning: Last items in stock!
Availability date:
لطفا در صورت نیاز به اطلاع رسانی جهت موجود شدن این کالا، ابتدا وارد حساب کاربری شوید سپس در همین صفحه گزینه
"اطلاع بده"
را انتخاب نمایید
Buying this product you will collect
0.01 points
with our loyalty program.
Smart ject
This new concept automatic anesthesia delivery system employs a button push method that enables the user to inject anesthetic
drug via a touch by a finger on the button, using a powerful Computer controlled motor, micro processor and a pressure sensor
button with voice support.
This instrument is intended for injection of medications such as local anesthetics: it consists of a main body and a battery charger, designed to administer an anesthetic agent at a certain flow. The device can control injection quantity at a 1/16, 1/8, 1/4, 1/2 or full and also has an aspiration function. Furthermore, the injection rate can be regulated at high and low speed. The pressure sensor button enables the user to adjust the injection speed from 0 to 9.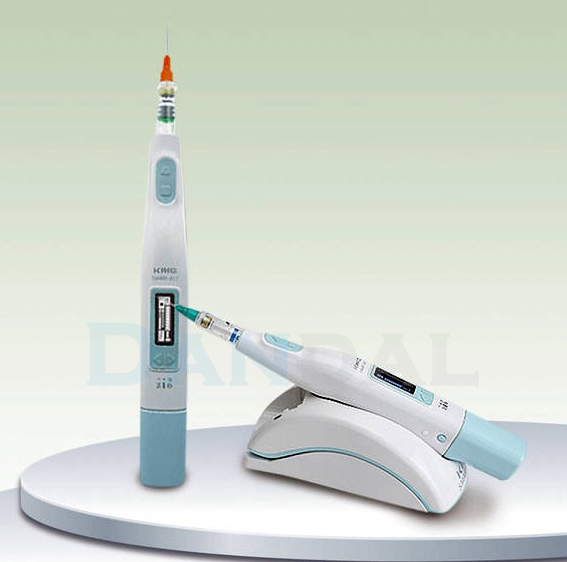 How to apply?
1. Administer anesthetic 2mm under the surface of the gingival
2. Insert a needle after surface anesthesia
3. Render the area insensate
4. Inject a give quantity of anesthetic after checking exact area to be anesthetized

Product Feature and Advantage
- Wireless Computer Controlled automatic anesthesia delivery system
- Super-simple and delicate use with button sensor and stable grip felling
- Aspiration function, pressure senor operation and speed control function
- Variety of spectrum such as amount, duration and pressure of injection
- Dual power supply system for wire and wireless
- Automatic one touch method mode (Mode 2)
- Dental Syringe function with external pressure sensor (Mode 3)
- Removes patients' fear of injection
- As it is automatically injected, it can reduce pain. Inject the required amount of anesthetic correctly, and it works very fast.
- For the convenience of a medical practitioner, it can be easily used with the one-touch method and the anesthetic acts very fast.
- As it is wireless, it is very convenient and the audio recording affirming that it is a painless anesthesia makes a patient stabilized.
- 5 modes for injection
- Small quantity injection(1/16, 1/8, 1/4, 1/2 and full)
| | |
| --- | --- |
| Company | KMG |
| Country | South Korea |
NO registration required!
2 Question(s) answered
If the question you have has not yet been answered here, use the form below to ask something about this addon.
Asked by Rami naffakh
on 11/20/2019

About the price and dilevery to Saudi arabia

Answer:
We have no delivery to Saudi arabia.
Asked by علی
on 01/23/2021

سرسوزن های روتین رو می شه استفاده کرد یا سر سوزن مخصوص دارن؟

Answer:
سلام. با سرسوزن روتین قابل استفاده می باشد.