Pack content
Pulpotec
Pulpotec – radiopaque, non resorbable paste for the treatment of pulpitis by pulpotomy in vital molars, both permanent and deciduous.
Pulpotec is a filling paste for simple, rapid and long-term treatment by pulpotomy of vital molars, both permanent and deciduous. The addition of pharmacological constituents ensures an aseptic treatment, induces cicatrization of the pulpal stump at the chamber-canal interface, whilst maintaining the structure of the underlying pulp.
The treatment of pulpitis with Pulpotec is considerably faster than by pulpectomy. It also avoids the numerous failures that have been noted with so-called «total» pulpectomy (over 50% worldwide in 1995).
The efficiency and the properties of are substantiated by a radiographic file compiled on the basis of results of over 300 pulpotomies performed with Pulpotec and monitored for periods of 3 to 13 years.
Composition
Powder Iodoform, Polyoxymethylene, excipient
Liquid Phenol, Guaiacol, Formaldehyde, Dexamethasone Acetate, excipient
Indications
Adults treatment of pulpitis on permanent vital molars. This actually includes the pre-treatment of molars prior to making abutments for a fixed prosthesis (either individual or bridge).
Gerodontics treatment by pulpotomy of molars suffering calcified root canal. Clinical recovery of the tooth can be brought about by using the same methods as those used in treating young adults.
Pedodontics treatment of pulpitis on immature permanent vital molars, enabling a complete radicular restoration of the tooth. Treatment of pulpitis in temporary vital molars. Treatment of infected deciduous molars by pulpotomy even in the presence of an abscess. This indication is the only exception to the rule of pulpotomy on vital teeth, and must be treated by regular pulpotomy, without going beyond the floor of the pulp chamber in order never to be introduced in the radicular canal of deciduous teeth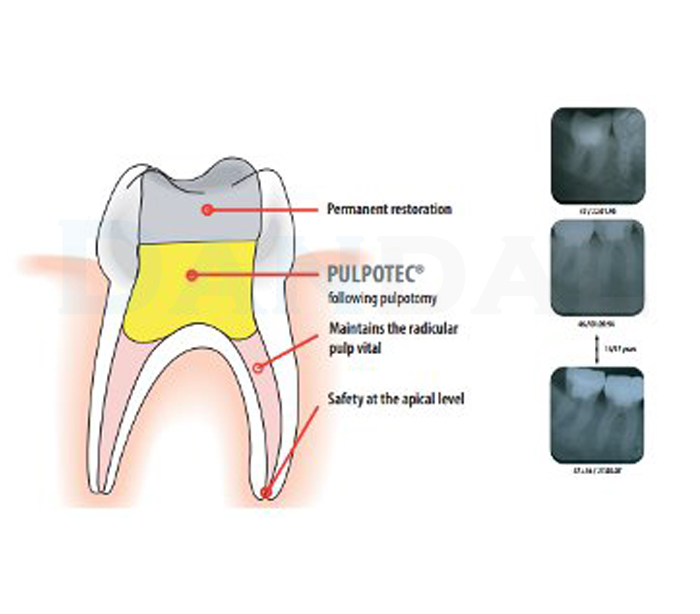 Inlcudes:
Data sheet
| | |
| --- | --- |
| Company | PD |
| Country | Switzerland |
Syntex
Root canal filling and sealing material
Material for root canal sealing based on epoxy resin. Convenient, ready for use two component paste, dosed in the ratio 1:1, equipped with mixing tips.
Properties:
Minimal shrinkage upon setting and perfect product adhesion ensure hermetic tightness of canal filling
Perfect compatibility
Homogeneous structure
Perfect radio-opaque
Optimum setting time
Easy and fast application
Content:
On epoxy resin base with inorganic components
Product packaging contains:
- 1:1 ratio dual syringe
- Paper for product mixing
- mixing tips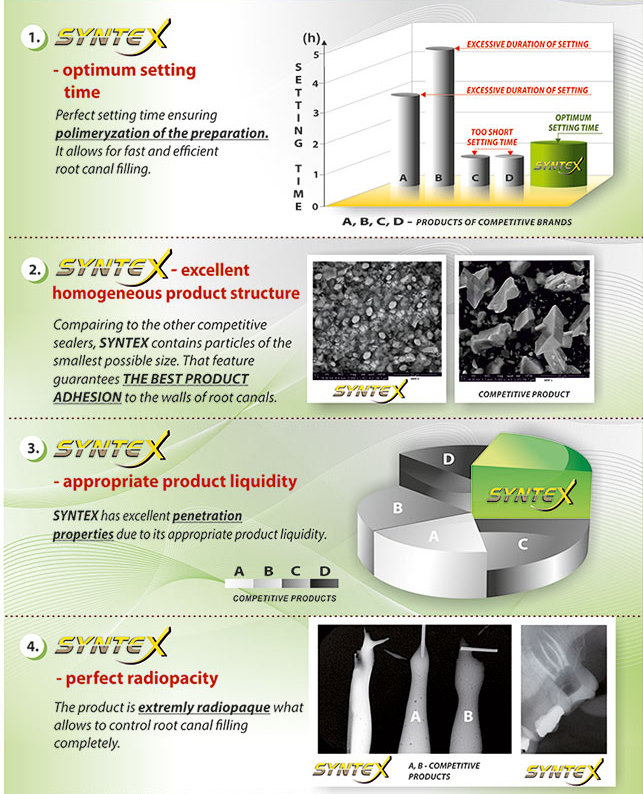 Data sheet
| | |
| --- | --- |
| Company | Cerkamed |
| Country | Poland |

AlumStop
Hemostatic paste for gingival retraction
25% aluminium chloride
Indications
Before taking an impression
Before the final cementation of a restoration
Before a cavity preparation
When hemostasis or retraction is needed
Advantages
Optimised hemostasis
Using AlumStop stops any bleeding, through compression
Removal without trauma
Gently presses on the sulcus
Ergonomic syringe
Easy to use
Disposable and flexible tips
Adjustable to inject easily at a comfortable angle
Resealable foil pouch
Each syringe can be repacked for maximum freshness
Paste with a malleable consistency
Very easy and quick to apply, rinse off and clean
Data sheet
| | |
| --- | --- |
| Company | Morvabon |
| Country | Iran |