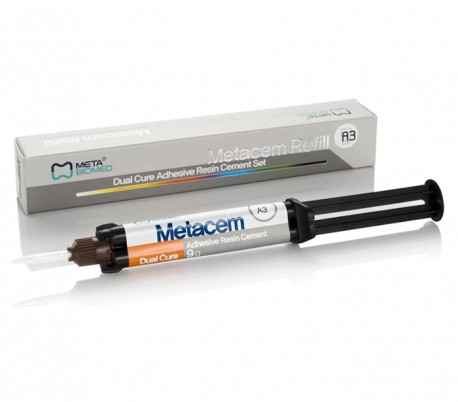 View larger
Meta - Metacem Cement
New
This product is no longer in stock
Warning: Last items in stock!
Availability date:
لطفا در صورت نیاز به اطلاع رسانی جهت موجود شدن این کالا، ابتدا وارد حساب کاربری شوید سپس در همین صفحه گزینه
"اطلاع بده"
را انتخاب نمایید
Buying this product you will collect
0 points
with our loyalty program.
Metacem is an adhesive resin cement with high strength properties for a great permanent seal. This dual cure cement can be used on crowns and bridges (made of ceramic, composite, or porcelain), inlays, and onlays. Metacem is also ideal for bonding porcelain veneers and cementing endodontic posts. It has high resistance to compressive force, and comes in 5 VITA shades: A1, A3, B2, TL (translucent), and OP (opaque).
Easy to use
Flexural strength: 99MPa
Superior shading
Radiopacity: 2.33 Al/mm
2 min working time, 5 min set time
INSTRUCTIONS
Crown & bridges, Inlay&onlay (Ceramic, Composite, porcelain) Cementation

1) Surface Treatment Of Restoration
(1) Roughen The Bonding Surfaces of Indirect Composite. Porcelain And Metal Crowns With Diamond
(2) Clean And Dry-thoroughly Clean All Internal Surfaces Of The Restoration With Water Spray And Air Dry
(3) Silane Treatment -apply Silane Ceramic Primer To The Restoration Using Microbrush (For The Ceramic Restoration)
(4) Apply Bond To The Restoration-apply A Double Coat Of Meta P&bond By Using Mircrobrush. Gently Air Dry For 5 Seconds, Light Cure For 10 Seconds.
2) Tooth Treatment
(1) Apply 37% Meta Etchant Gel To Available Enamel / Dentin For 15 Seconds. Remove Gel And Rinse For 20 Seconds, Blot Dry Keep Moist, Do Not Rub.
(2) Apply Bond To The Tooth-Apply A Double Coat Of Meta P&bond By Using Mircrobrush . Gently Air Dry For 5 Seconds . Light Cure For 10 Seconds
3) Apply Metacem
(1) Directly Dispense Cement To The Entire Internal Surface Of The Restoration Using Mixing Tips Or Dispense Cement Paste Onto A Mixing Pad And Mix For 20 Seconds (Working Time : 2 Minutes).
(2) Apply And Evenly Distribute A Thin Layer Of Cement To The Entire Internal Surface Of The Restoration.
4) Seat The Restoration-Seat The Restoration Slowly. Maintain Downward Pressure
5) Pre-cure-A 10-seconds Light Cure At The Margins Will " Gel" The Excess Cement For Easy Clean Up
6) Remove Excess Cement-Begin Clean Up Of Excess Cement Approximately 3-4 Minutes After Seating. Lift Off Excess Cement Around The Margins With An Explorer Or Small Scalper.
7) Light Cure -Once The Excess Cement Is Removed, Light Cure All Marginal Areas For 40 Seconds For Both The Buccal And Lingual Aspects Or Allowed To Self-cure For 10 Minutes For Start To Mix.
8) Finishing-Complete All Finishing And Polishing.
9) Instruct Patient To Avoid Applying Any Excessive Pressure For 15 Minutes
| | |
| --- | --- |
| Company | Meta Biomed |
| Country | South Korea |
| Application | Metal, Porcelain, Ceramic, Composite, Glass Fiber |
| Type | Premanent |
| Polymerization | Dual-Cure |
No customer reviews for the moment.
NO registration required!
1 Question(s) answered
If the question you have has not yet been answered here, use the form below to ask something about this addon.
Asked by Dr. Maribel Rios
on 05/12/2017

Hello. I need to know if this cement can be used to cement porcelain or metal crowns without doing etching and bonding previous to the cementation. Thank you.

Answer:
Hello, INSTRUCTIONS: *1) Surface Treatment Of Restoration (1) Roughen The Bonding Surfaces of Indirect Composite. Porcelain And Metal Crowns With Diamond (2) Clean And Dry-thoroughly Clean All Internal Surfaces Of The Restoration With Water Spray And Air Dry (3) Silane Treatment -apply Silane Ceramic Primer To The Restoration Using Microbrush (For The Ceramic Restoration) (4) Apply Bond To The Restoration-apply A Double Coat Of Meta P&bond By Using Mircrobrush. Gently Air Dry For 5 Seconds, Light Cure For 10 Seconds.*2) Tooth Treatment (1) Apply 37% Meta Etchant Gel To Available Enamel / Dentin For 15 Seconds. Remove Gel And Rinse For 20 Seconds, Blot Dry Keep Moist, Do Not Rub. (2) Apply Bond To The Tooth-Apply A Double Coat Of Meta P&bond By Using Mircrobrush . Gently Air Dry For 5 Seconds . Light Cure For 10 Seconds*3) Apply Metacem (1) Directly Dispense Cement To The Entire Internal Surface Of The Restoration Using Mixing Tips Or Dispense Cement Paste Onto A Mixing Pad And Mix For 20 Seconds (Working Time : 2 Minutes). (2) Apply And Evenly Distribute A Thin Layer Of Cement To The Entire Internal Surface Of The Restoration.*4) Seat The Restoration-Seat The Restoration Slowly. Maintain Downward Pressure*5) Pre-cure-A 10-seconds Light Cure At The Margins Will " Gel" The Excess Cement For Easy Clean Up*6) Remove Excess Cement-Begin Clean Up Of Excess Cement Approximately 3-4 Minutes After Seating. Lift Off Excess Cement Around The Margins With An Explorer Or Small Scalper.*7) Light Cure -Once The Excess Cement Is Removed, Light Cure All Marginal Areas For 40 Seconds For Both The Buccal And Lingual Aspects Or Allowed To Self-cure For 10 Minutes For Start To Mix.*8) Finishing-Complete All Finishing And Polishing.*9) Instruct Patient To Avoid Applying Any Excessive Pressure For 15 Minutes