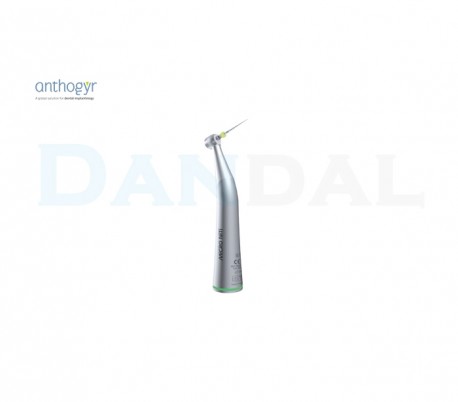 View larger
Anthogyr - 64:1 Contra-angle
New
This product is no longer in stock
Warning: Last items in stock!
Availability date:
لطفا در صورت نیاز به اطلاع رسانی جهت موجود شدن این کالا، ابتدا وارد حساب کاربری شوید سپس در همین صفحه گزینه
"اطلاع بده"
را انتخاب نمایید
Anthogyr endo contra-angles make root canal preparation safe and efficient.They meet the highest requirements in terms of ergonomics for easier practice.
Micro head for easier access and maximum visibility in mouth
Niti Control for optimum security: Patented
When the maximum torque which can be applied and endured by the file is reached, the driving device is automatically stopped
Chrome plated coating: More corrosion-resistant
Easy insertion of the file without pushing the button
Impeccable maintenance: thermal disinfection and sterilization, its even surface limits areas of bacterial retention
| | |
| --- | --- |
| Company | Anthogyr |
| Country | France |
| Gear ratio | 64:1 |
| Irrigation | External |
| Connection | Type E - ISO 3964 |
| Chuck locking Mechanism | Push-button |
| Type of Technology | Non-Optic |
NO registration required!
1 Question(s) answered
If the question you have has not yet been answered here, use the form below to ask something about this addon.
Asked by a guest
on 05/10/2018

این مدل دارای تورک قابل تنظیم هست؟

Answer:
سلام. خیر این مدل تورک قابل تنظیم نیست. آنگل های آنتوژیر با قابلیت تنظیم تورک به صورت سفارشی و پرداخت،‌ پیش پرداخت وارد ایران می گردند.