View larger
Mani Rotary File
Company:
Mani
Country:
Japan
New
Warning: Last items in stock!
Availability date:
Engine Reamer
Used for enlargement or cleaning of a root canal.
In addition to 21 and 25mm, 18mm (for infants, molar teeth, etc.) and 28mm (for cuspid teeth, etc.) working lengths are also available.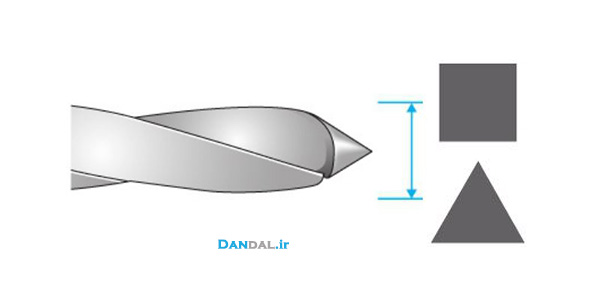 Engine H File
Used to enlarge a root canal and smooth its walls.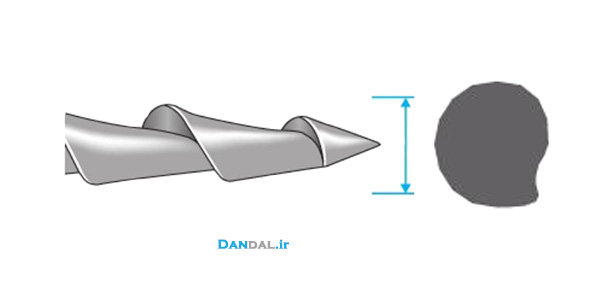 Super File
Insert the super files with the twist contra in a slow and gentle vertical insertion and withdrawal. If you feel that the tip of the file begins to lock, slowly draw back the file and enter the canal again. Repeat this step to enlarge the root canal.
If you try to enlarge the root canal by applying the entire cutting flute, a large area will be cut at one time, requiring careful cleaning of the root canal.
Because the super files is very flexible, it is more appropriate to use in curved root canal than our K files.
It is rotary type of Flexile File.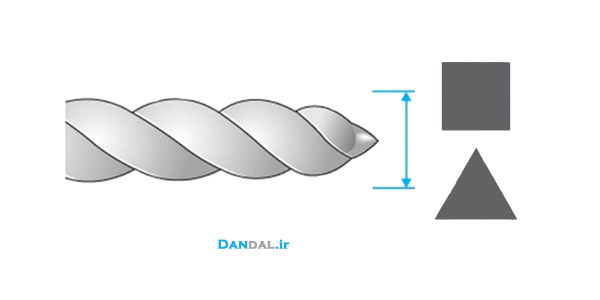 U File
Use a device that the following shank diameter:
#10-40 ø0.8mm
#45-50 ø1.0mm
Depending on which ultrasonic device is used, the tip attachment and power required will differ. For proper use, follow the instructions provided by the manufacturer.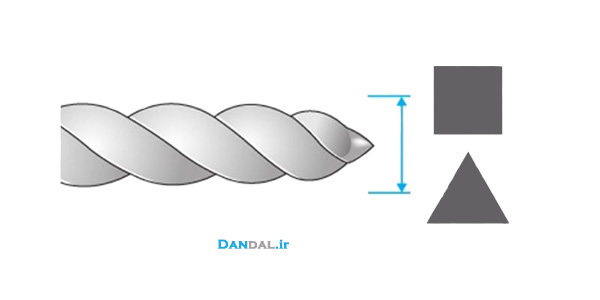 Peeso Reamer and Gates Drill
The peeso reamer is used to flare a root canal orifice into a funnel shape. It cuts more linearly than the gates drill and Gates drill used to flare a root canal orifice into a funnel shape or flare one-third of the coronal side of a root canal.
Paste Carrier
The base of the working portion is shaped like a spring to properly absorb vibration.
Paste carrier is also called lentulo or filler.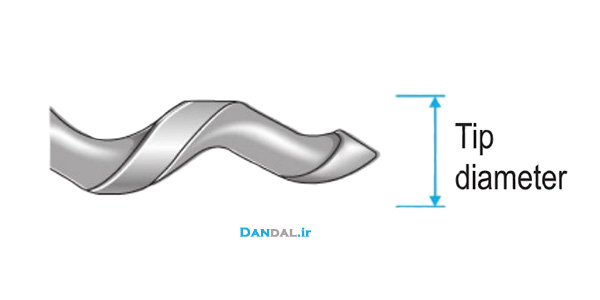 NRT File
NRT Files pack consists of SSt files/Orifice Openers and NiTi files. Mani NRT Orifice Openers (.14, .12, .10 and .08 tapers) are used to safely open the canal orifice to facilitate complete canal preparation. Mani NRT NiTi Files (.06 and .04 tapers) are used to prepare the mid-root and apical portions of the canal space and creating a continuous tapered preparation, following the natural canal path. Mani NRT Files (NiTi) uniquely combine two important characteristics of the nickel-titanium alloy - shape-memory effect and super-elasticity-resulting in better durability and less breakage than other NiTi Files. Mani's patented treatment of the alloy provides superior strength in the apical portion of the file resulting in increased resistance to fracture.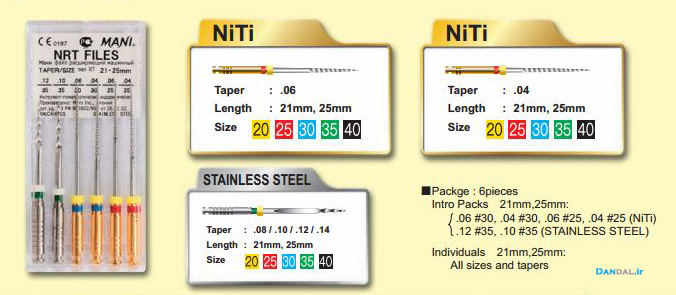 Author: Review department of Dandal.ir
First Release Date: 19/Aug/2015
Last Modified: 27/Nov/2015
| | |
| --- | --- |
| Country | Japan |
| Models | Engine Reamer | Engine H File | Super File | U File | Peeso Reamer | Gates Drill | Paste Carrier | NRT File |
| Certificate | ISO | CE |
| Type | - |
NO registration required!
If the question you have has not yet been answered here, use the form below to ask something about this addon.