+982175203000
Bausch - Arti-Fol Plastic Articulating Foil
تومان134,000
Out-of-Stock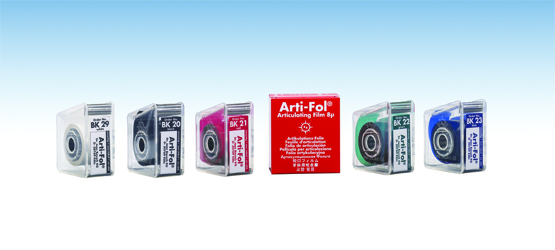 Even the smallest high spots measuring just a few microns can cause dysfunctions (very often TMD) in the patient and may even obstruct swallowing. The test material is subject to stringent requirements because of the occlusal proportions. The occlusal contacts often have a very small diameter which is scarcely discernible on highly polished ceramic or metal surfaces. The test material should be extremely thin to ensure and delineate the exact contour of the actual occlusal contacts. The test material should be tear-resistant when testing eccentric movement as well as resilience. Bausch Occlusion test films meet all these requirements and are characterized by color-intense marking especially on occlusal surfaces which are hard to test. The color coating, which is only 6 µ thick, consists of wax and pigment. It also has hydrophilic components to improve the color transfer even on moist occlusal surfaces.

Bausch Arti-Fol Occlusion films are especially suitable for representing static and dynamic occlusion in several colors. The first step is to inspect the concentric contact (static occlusion) in red and the second step to inspect the eccentric contacts (dynamic occlusion) in black. The color sequence can always be alternated. Several different colors can be used for a much more precise reprensentation of dynamic occlusion. Bausch Arti-Fol is available in five different colors. All films are available with double-sided color coating for the marking of antagonistic contacts.
Reviews
No customer reviews for the moment.
Customers who bought this product also bought:
Related articles on blog
No related article on blog