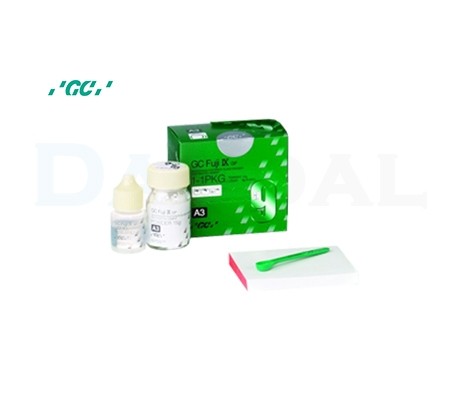 View larger
GC - Fuji IX Glass Ionomer Restorative
Enable Follow
New
This product is no longer in stock
Warning: Last items in stock!
Availability date:
Fuji IX GP (NORMAL, FAST & EXTRA)


Normal And Fast-Setting Packable Glass Ionomer Restorative


The packable non-sticky consistency of Fuji IX GP makes it ideal to be used in Class V, I & II restorations, as base or as core build-up material. The genuine glass ionomer properties, in combination with the ease of use, ensure that Fuji IX GP can meet all your demands on modern restorative materials.




Advantages
Packable posterior glass ionomer
- High wear resistance
No need for rubber dam
- Ease of use
Intrinsic adhesion to dentine and enamel
- No etching, no bonding
No need for undercutting
- Tooth-conserving preparation technique
Can be used with metal matrices
- Easy contouring in the cavity
Single step placement
- No need for layering technique
Good radiopacity
- Facilitating post-operative diagnosis
Excellent bio-compatibility

As an extra, GC Fuji IX GP FAST offers:
Shorter setting time
- Final finishing after only 3 min. from start of mix
Thicker consistency
- For easy packing
Stronger
- For improved longevity

Specific features of Fuji IX GP EXTRA:
Extra fluoride release
Extra fast setting yet with ample working time
Extra translucency for improved aesthetics


How to use
Along with the advantages for posterior restorations, GC Fuji IX GP is often chosen when the final treatment plan has not been finally decided. Many treatments are possible: a sandwich technique with a composite material, an inlay or simply the glass ionomer filling itself.
Clinical Procedure
'Open sandwich technique'

This technique editorial describes how Fuji IX GP can be used in the immediate or postponed open sandwich technique in combination with a composite material.
In the open sandwich technique Fuji IX GP functions as dentine replacement material. When using Fuji IX GP (Fast), there is no need for etching, rubber dam, bonding agents, a dry field, layering, or light curing. The composite material is only applied in a thin layer to cover the restoration and functions as enamel replacement.


1. Cavity preparation
1.1. Prepare the tooth using standard techniques. Note: For pulp capping use a calcium hydroxide cement (Figure 1 & 2).
1.2. Apply GC Cavity Conditioner for 10 seconds or GC Dentin Conditioner for 20 seconds to the bonding surfaces using a cotton pellet or sponge (Figure 3).
1.3. Thoroughly rinse with water and blot away excess water with a cotton pellet or dry by gently blowing with an air syringe (Figure 4). Do not desiccate. Note: The prepared surfaces should appear moist (glistening).
| | | | | | | | |
| --- | --- | --- | --- | --- | --- | --- | --- |
| Fig 1. Element before preparation | | Fig 2. Preparation ready | | Fig 3. Application of GC Cavity Conditioner for 10 seconds | | Fig 4. Spraying & drying | |
2. Capsule activation
2.1. Before activation, shake the capsule or tap its side on a hard surface to loosen the powder.
2.2. To activate the capsule push the plunger until it is flush with the main body.
2.3. Immediately place the capsule into the GC Capsule Applier and click the lever once. The capsule is now activated. Note: Activate the capsule just before mixing.
2.4. Immediately remove the capsule and set it into a mixer or an amalgamator and mix for 10 seconds at +/-4.000 rpm.


3. Restorative technique
3.1. After mixing, load the capsule into the GC Capsule Applier. Click the capsule twice to prime it. The working time for GC Fuji IX GP Fast is 1 minute 15 seconds or 2 minutes for the original GC Fuji IX GP from start of mixing at 23°C. Higher temperatures will shorten the working time.
3.2. Extrude the mixture directly into the preparation (Figure 5).
3.3. Form the preliminary contour by packing the material (Figure 6).
| | | | |
| --- | --- | --- | --- |
| Fig 5. Application of GC Fuji IX GP Fast | | Fig 6. Packing of GC Fuji IX GP Fast | |
4. Finishing the restoration
4.1. In case of an immediate sandwich technique proceed with chapter 5 'Application of the composite'.
4.2. If a lamination of the Fuji IX GP restoration with a composite is scheduled for a next appointment (postponed sandwich technique), perform final finishing under water spray using standard techniques. Note: This can begin approximately 3 minutes after start of mixing (Figure 7).
4.3. Finally apply a coat of GC Fuji Varnish (blow dry) or GC Fuji Coat LC and light cure and instruct the patient not to apply pressure for 1 hour (Figure 8).
| | | | |
| --- | --- | --- | --- |
| Fig 7. Finishing | | Fig 8. Result | |
5. Application of the composite
5.1. Prepare the cavity as usual when a composite restoration is made (Figure 9). In this clinical case GC Gradia Direct has been used.
5.2. The enamel surface is etched following the manufacturer's instructions (Figure 10). There is no need to etch Fuji IX GP.
5.3. The cavity is restored following manufacturer's instructions (Figure 11 & 12).
5.4. A final coating of Fuji Coat LC is applied onto the glass ionomer, air-dry towards the cervical margin, and light-cured for 10 seconds.
| | | | | | | | |
| --- | --- | --- | --- | --- | --- | --- | --- |
| Fig 9. Cut down | | Fig 10. Etching of enamel only | | Fig 11. Composite placement incl. VLC curing | | Fig 12. End result | |

Application tips
To adjust the direction of the nozzle, hold the application device with the capsule toward you and turn the capsule body clockwise. Do not loosen or unscrew the capsule body.
To remove the used capsule, push the release button, twist the capsule clockwise, and pull upwards.
Also Fuji Bond LC can be used to obtain an optimal bond between the glass ionomer and the composite.
NO registration required!
If the question you have has not yet been answered here, use the form below to ask something about this addon.