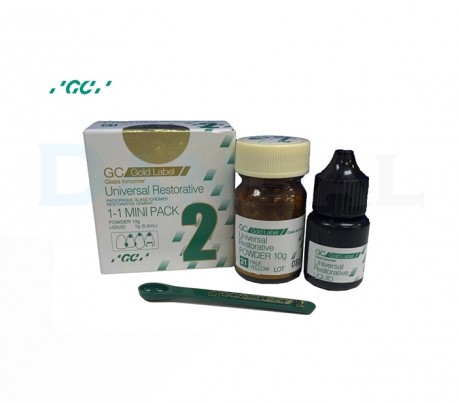 View larger
GC - Fuji II Glass Ionomer Restorative
New
This product is no longer in stock
Warning: Last items in stock!
Availability date:
لطفا در صورت نیاز به اطلاع رسانی جهت موجود شدن این کالا، ابتدا وارد حساب کاربری شوید سپس در همین صفحه گزینه
"اطلاع بده"
را انتخاب نمایید
Buying this product you will collect
0 points
with our loyalty program.
Fuji II
Glass Ionomer Restorative
GC Fuji II is a self-cured, glass ionomer restorative featuring high resistance to water which can be finished in just 15 minutes (under water spray). Its high surface hardness provides a durable restoration. It is available in powder-liquid or premeasured capsules.
Excellent tear and bond strength
Low solubility
Proven fluoride release
Available in multiple shades
Radiopaque
SHADE
No. 21 - pale yellow
No. 22 - yellow brown
No. 23 - dark grey
No. 26 - deep brown
M - Modifier
PACKAGE
1-1 pkg. : 15g powder, 10g (8.0mL) liquid, powder measure, mixing pad (No. 22).
1-1 Mini pkg. : 10g powder, 7g (5.6mL) liquid, powder measure, mixing pad (No. 22).
No customer reviews for the moment.
NO registration required!
If the question you have has not yet been answered here, use the form below to ask something about this addon.