+982175203000
Biohorizons Surgery Kit - dandal
Tapered Internal Surgical Kit
Includes the instrumentation required to place:
Tapered Plus
Tapered Internal
Tapered 3.0
Laser-Lok 3.0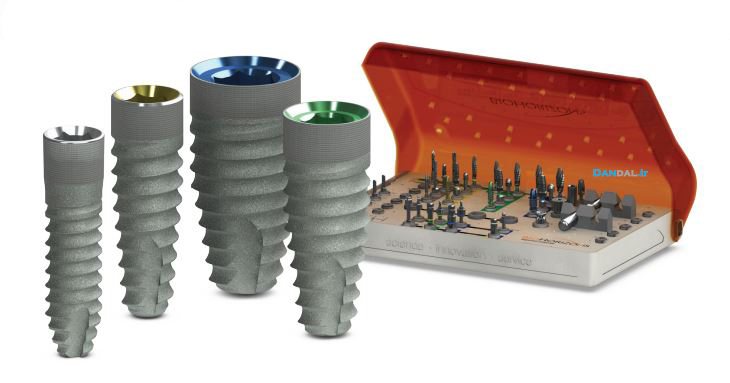 Features:
• Versatile, removable, hinged lid
• 40% smaller and 40% lighter than other kits
• Easy to disassemble and assemble during cleaning
• Implant staging area for implant vials during surgery
• Use to place Tapered Plus, Tapered Internal, Tapered 3.0 and Laser-Lok 3.0
• Empty spare slots for other instrumentation such as stop drills or extended shank drills
The surgical kit features an intuitive color-coded layout that guides the surgeon through the instrument sequence. The drilling section is color-coded by implant diameter. The implant driver section is color-coded by prosthetic connection.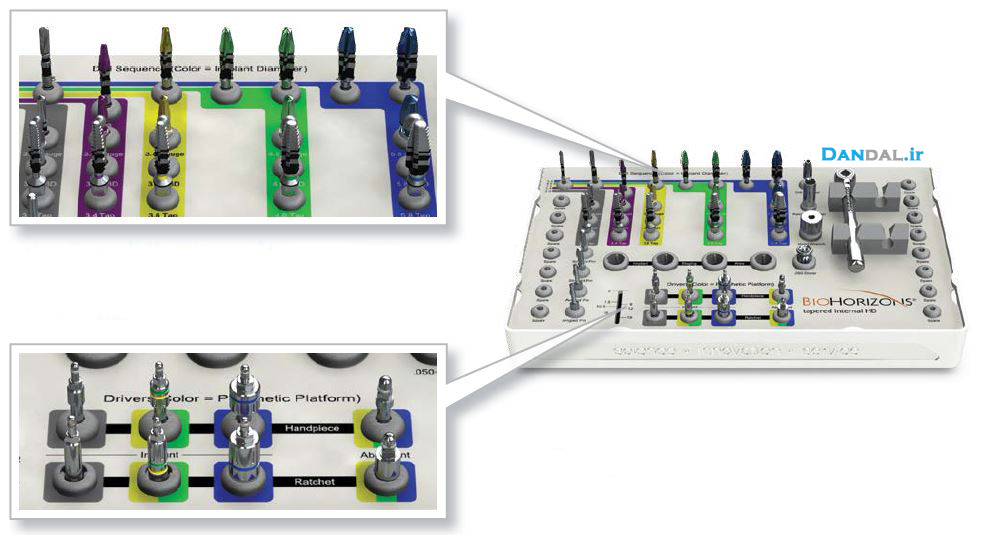 HD drill  
The Tapered HD drills feature highly efficient, fully anodized cutting flutes for crisp osteotomies in even the densest bone. The guaranteed corrosion-free surface is non-reflective under bright operatory lights. The simplified drill markings correspond to the six Tapered Internal family implant lengths. Drills should be replaced every 12-20 osteotomies for maximum cutting efficiency.
  
Features:
• Cutting flutes designed for maximum efficiency
• Anodized drill tips for easy identification
• Guaranteed corrosion-free
• Non-reflective surface for high visibility
• Simplified drill markings match each implant length
• Compatible with Tapered Internal, Plus, 3.0 and Tissue Level
• Creates 12-20 osteotomies depending on bone density
• Recommended drill speed 1,500-2,000 rpm (2.0 & 2.5mm), 1,000 rpm (all others)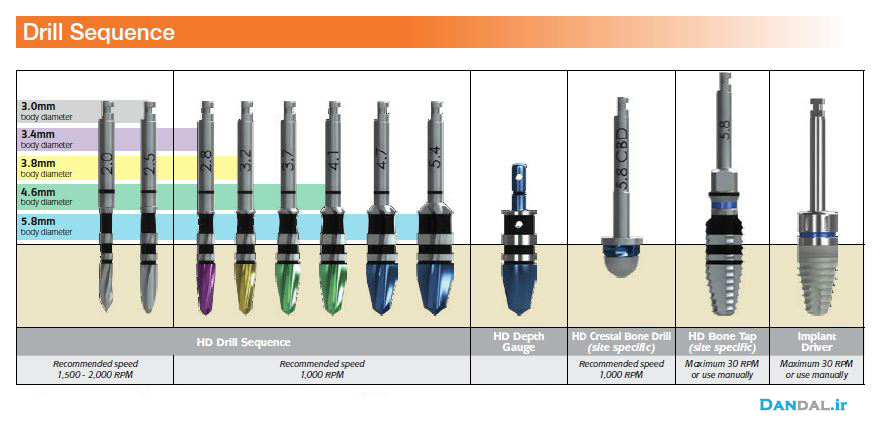 ** Note: The 2.8mm drill is used for the 3.4mm diameter implant, it is not needed for other sizes.
Reviews
No customer reviews for the moment.