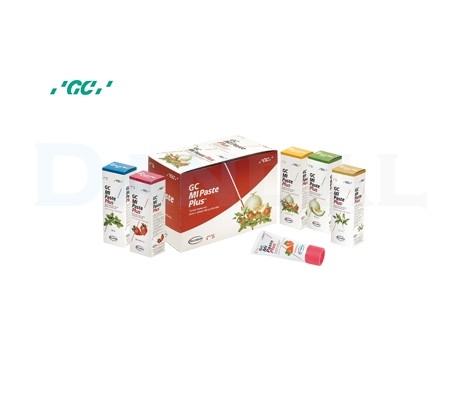 View larger
GC - MI Paste Plus
New
This product is no longer in stock
Warning: Last items in stock!
Availability date:
لطفا در صورت نیاز به اطلاع رسانی جهت موجود شدن این کالا، ابتدا وارد حساب کاربری شوید سپس در همین صفحه گزینه
"اطلاع بده"
را انتخاب نمایید
Buying this product you will collect
0 points
with our loyalty program.
MI Paste Plus


Bio-Available Calcium, Phosphate And Fluoride

Water based, sugar free dental topical creme containing Recaldent CPP-ACP (Casein Phosphopeptide - Amorphous Calcium Phosphate) and fluoride.


Advantages
All the benefits of GC Tooth Mousse, with 900ppm of a unique, patented form of fluoride in a product designed for high-risk patients.

Indications
For patients who suffer from aggressive caries and loss of tooth structure, from dental erosion and accelerated tooth wear following head and neck radiotherapy
For pregnant women
During and/or after orthodontics
For patients with an acidic oral environment and gastric reflux
For patients with poor plaque control and high caries risk
No customer reviews for the moment.
NO registration required!
1 Question(s) answered
If the question you have has not yet been answered here, use the form below to ask something about this addon.
Asked by مهدی
on 05/27/2020

سلام . این محصول با فلورایدشه ، بدون فلورایدش هم هست؟

Answer:
سلام. خیر موجود نمی باشد.