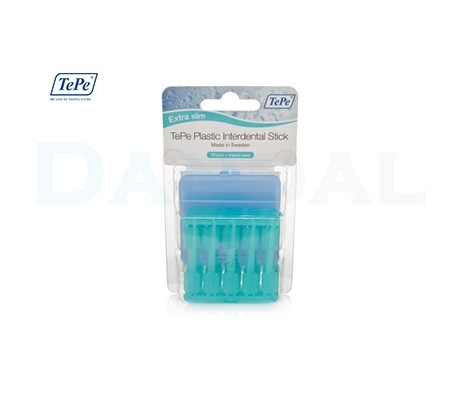 View larger
TePe - Plastic dental sticks
New
This product is no longer in stock
Warning: Last items in stock!
Availability date:
لطفا در صورت نیاز به اطلاع رسانی جهت موجود شدن این کالا، ابتدا وارد حساب کاربری شوید سپس در همین صفحه گزینه
"اطلاع بده"
را انتخاب نمایید
Buying this product you will collect
0 points
with our loyalty program.
Plastic interdental sticks
An extra slim dental stick, suitable for very narrow interdental spaces. The user-friendly handle provides a good grip and the flexible plastic makes reaching even the posterior teeth easy. The slightly textured surface makes cleaning more efficient. The stick can be rinsed in water to be used again - keep it in the practical pocket case. 75 dental sticks per box.
Place the dental stick with the flat side against the gum tissue. Move it back and forth in each interdental space. Angle it, first at one side and then at the other, to clean larger surfaces. If you hold one or more fingers against your chin, you will get more stability and better control.
No customer reviews for the moment.
NO registration required!
If the question you have has not yet been answered here, use the form below to ask something about this addon.