Rønvig - computer assisted local analgesia - CALAJECT - Dandal
Rønvig - CALAJECT Pain Free Injection
Out-of-Stock
CALAJECT - computer assisted local analgesia
CALAJECT helps you to deliver pain free injections. The secret is an intelligent and gentle administration of the local analgetic solution.
CALAJECT controls the flow rate in each program setting, injecting slowly at first and then speed increases. This prevents the pain usually caused by the speed of the injection and the subsequent swelling of the tissue. Even palatal injections can be carried out without the patient feeling discomfort or pain.

FOR THE DENTIST
OPTIMIZING YOUR INJECTION TECHNIQUE
The pen-grip increases tactility and allows that you can sit in a relaxed and ergonomical position while injecting. You use no finger power and avoid strain on muscles and joints.
The possibility of good finger support allows the needle to be kept perfectly still in situ during the injection.
      
SIMPLE TO USE
One instrument for all odontological local anaesthesia. The system has program settings for intraligamental injections (PDLA), infiltrations and regional nerve blocks. The controlled flow of the analgetic solution in all three programms makes it easy for you to deliver pain free treatment - even palatally.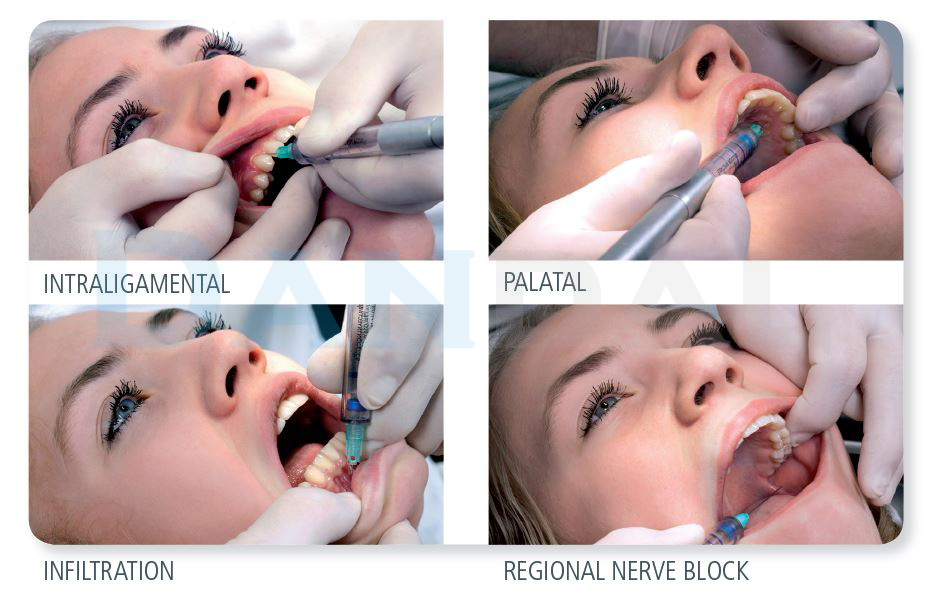 COST EFFECTIVE
Requires no additional, expensive consumables. Used with standard dental needles and cartridges.
      
POSITIVE SIGNAL VALUE
Is sending a signal to your patients that your clinic is investing in the latest technology in order to offer them the most optimal and gentle treatment.
FOR THE PATIENT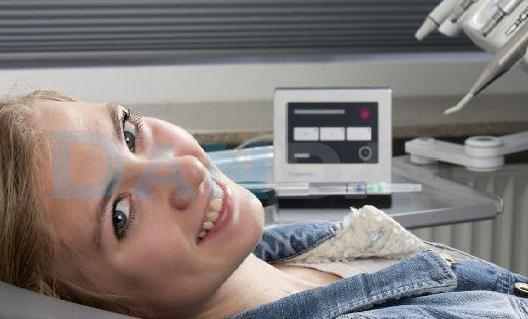 PAIN FREE INJECTION
Injections can be carried out without the patient feeling discomfort or pain - even palatal injections.
    
RELAXED PATIENT
Patients, who learn that it does not hurt to be anaesthetised, are relaxed and confident when they sit down in the chair at the dentist - a great advantage to both patient and dentist.
    
PATIENT'S RECOMMENDATION
A confident patient is of great marketing value And the value of recommendations from a satisfied patient can never be underestimated.
      
CONFIDENCE BUILDING
A survey confirms that: "A dentist who can provide pain free anaesthesia" is the most important criterion for a patient when choosing a dentist.
CALAJECT Parts:
CONTROL UNIT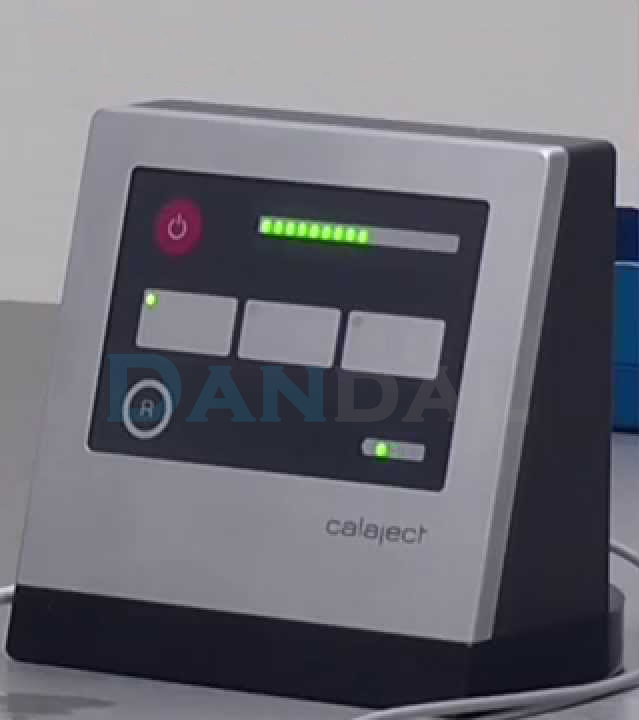 • Touch screen panel - easy and simple to operate.
• Display of actual injection pressure - inclusive automatic switch-off in case of excessive resistance in tissue.
• Acoustic signal indicating actual flow rate.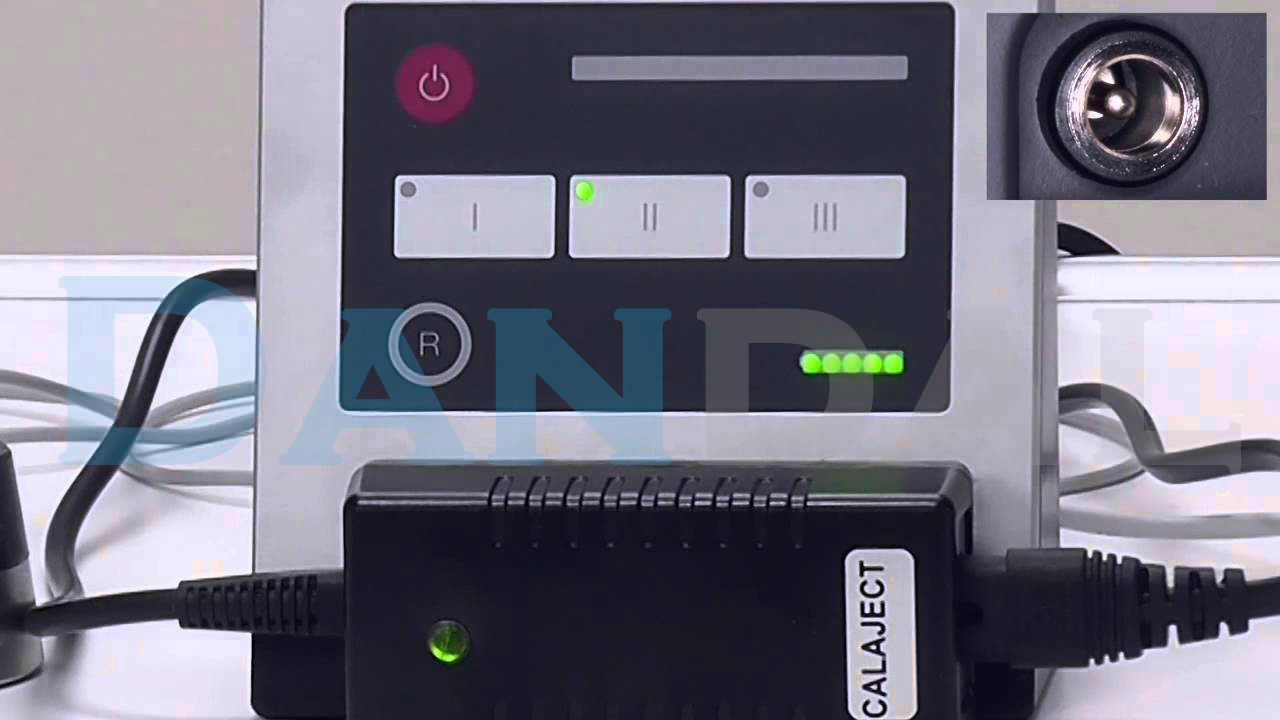 • Operated by a remote foot controller or the mounted controller on your dental unit.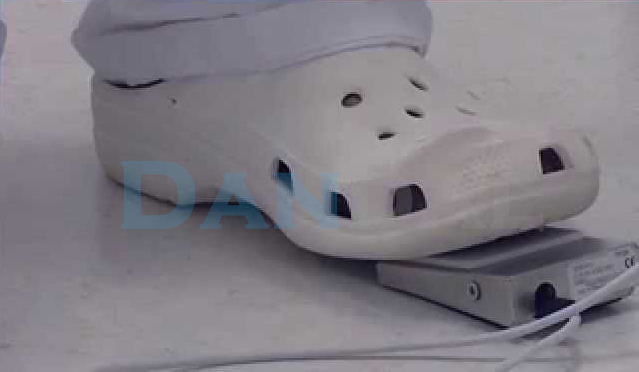 HAND PIECE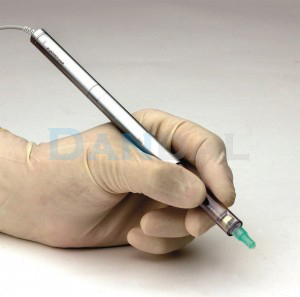 • Vibration free and tactile hand piece.
• Visual contact with the cartridge during the entire injection.
• Automatic aspiration when pressure on the foot control is eased.
• Used with standard dental needles and cartridges.
Leave a comment about this product