+982175203000
GC - G-ænial Flo X Composite
تومان217,000
Out-of-Stock
G-aenial Flo X brings together all the required features to make it your preferred product when looking for a highly fluid composite:
Indications
Wettability and fluidity
Radiopacity
Reliability
Shade range
Economical & ergonomical dispensing
    

Indications
G-aenial Flo X is an easy to use, highly radiopaque flowable composite with all the necessary features to give optimal clinical results. Its very fluid consistency makes it ideal for all the traditional flowable indications:
As a liner or to block undercuts
In a tunnel preparation
For the restoration of small cavities and defects
As a fissure sealant
    
    
Wettability and fluidity

A concern for any dentist when applying the first layer of a composite, is the wettability of the material and the adaptation to the cavity walls.

G-aenial Flo X allows for an easy and fluid placement. The material benefits from high wettability, allowing perfect adaptation to the cavity walls and avoiding air entrapment.
    

Radiopacity
The radiopacity of G-aenial Flo X is about 303% Al, which is much higher than enamel, so the material can be easily differentiated from the tooth structure. Even at a low thickness of 0.5mm, for instance when used as a liner, it still exhibits a very high radiopacity of 284%. This allows you to achieve an efficient X-ray follow-up and an easy detection of secondary caries.
    

Reliability
G-aenial Flo X benefits from well-balanced physical properties, which are perfectly adapted to the product's indications; the optimal compromise between strength and flowability!
   

Shade range
G-aenial Flo X is offered in 8 shades including 2 opaque shades to mask cavity bottom discolorations. G-aenial Flo X is your best partner to combine with G-aenial Posterior and Anterior!
   
Economical & ergonomical dispensing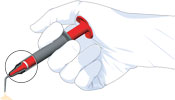 An ergonomic design: the syringe shape and dimensions provide a comfortable grip.
An easy extrusion: the design of the syringe has been adapted to lessen the pressure needed to get the material out.
A quick application: the nozzle is textured, preventing the paste from sticking to the tip.
An economical advantage: the residual paste in the syringe is minimal: less than 0.07mL.
Additionally, it is compatible with two types of dispensing tips (Plastic and Needle) to suit your preferences!
Package:
1x Syringe 3.6gr
20x Dispensing Tips (Plastic type)
1x Light Protective cover
Product Details

Data sheet

Company

GC

Country

Japan

Application

Direct Restorative

Type

Flowable

بیشتر
Reviews
No customer reviews for the moment.
Customers who bought this product also bought: