Fotona - LightWalker ATS Laser All Tissue Dental Laser - Dandal
Fotona - LightWalker ATS Laser
Out-of-Stock
LightWalker lasers are designed for ultimate versatility, with one of the most comprehensive lists of clinical applications available on any dental laser. With both tipped and tipless handpieces, your clinical options are endless. LightWalker offers the highest standard of dental treatment, and at the same time simplicity of use in:
   
• Conservative dentistry
• Endodontics
• Periodontics
• Soft-tissue surgery
• Implantology
• Aesthetic treatments
• Photobiomodulation
   
Presettings for 80 Different Applications The LightWalker touchscreen offers a simple menu of pre-programmed laser treatments. You select the treatment and the laser automatically sets your optimum starting parameters. With easy-to follow protocols and touch-of-a-button treatment settings, you'll be able to perform every dental procedure with confidence and high success rates, bringing in extra income to your practice along the way. You can even upgrade the AT model to perform aesthetic skin treatments such as skin rejuvenation and removal of benign and vascular
lesions.
The LightWalker model AT S come standard with dentistry's two most effective laser wavelengths: Er:YAG and Nd:YAG for no-compromise dentistry with a touch of the control screen.
Universal Laser System
It is a well-established fact that different dental procedures require different laser wavelengths. Wavelength is important because specific oral tissues react in different ways depending on the particular laser source. With the choice of two complementary wavelengths (in terms of their effect on tissues) LightWalker comes very close to being a "universal" laser. Practically all laser-assisted dental treatments can be performed with either the most highly absorbed Er:YAG laser wavelength or
the most homogeneously absorbed Nd:YAG laser wavelength.
TwinLight Treatment Concept
The combination of the two best wavelengths in one laser system enables practitioners to perform not only single-wavelength but also dualwavelength (TwinLight) treatments. Utilizing both wavelengths in a treatment makes optimum use of the unique laser-tissue interaction characteristics of each wavelength. For example, Nd:YAG laser energy is superior for coagulation and deep disinfection while Er:YAG is uniquely efficient at ablating hard and soft tissues. Combined, they can greatly expand the range of treatment possibilities and dramatically improve the outcome of laserassisted treatments.
Designed with the dentist in mind
Easy-to-use touch screen
LightWalker has an easy-to–use color touchscreen with an adjustable tilt and 80 customizable presettings that cover more than 40 different applications.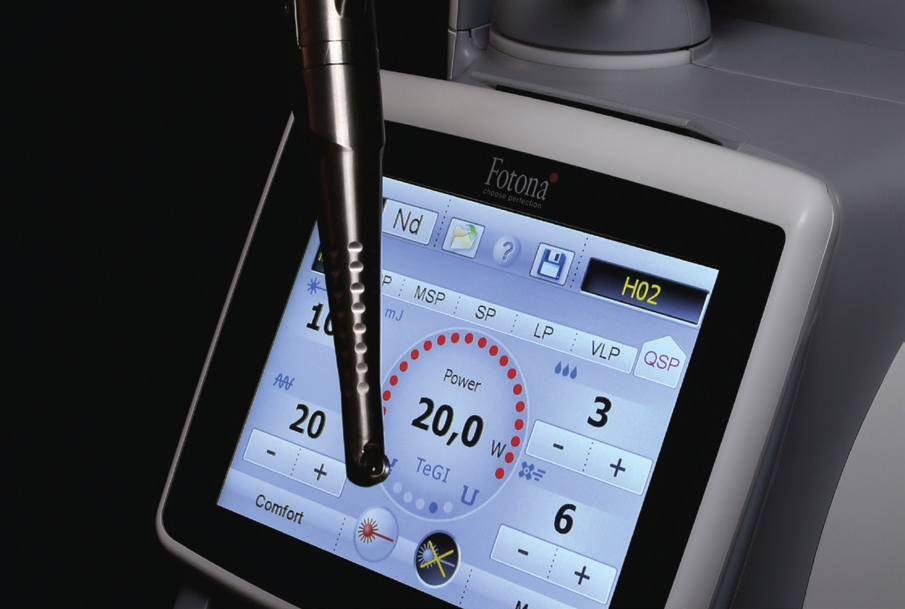 Easy access spray/heated water reservoir
The integrated spray water container means that you don't have to rely on any water mains outlet, making your laser system exceptionally mobile and hassle-free. The container is handily located at the back of the system for easy refilling access. Additionally, the water is heated to body temperature, avoiding cold sensitivity reactions during procedures.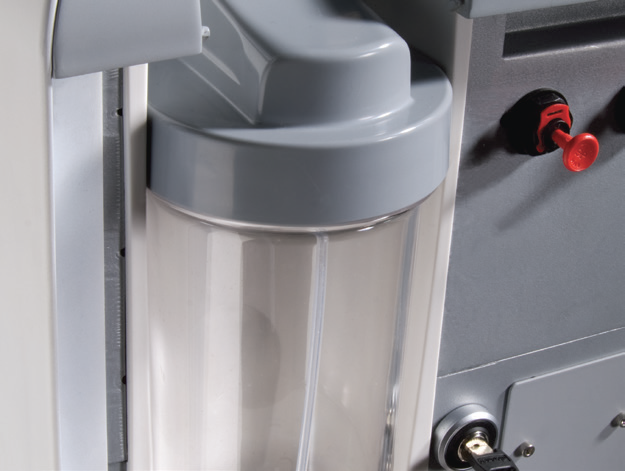 Patented weightless OPTOflex arm
LightWalker's unique and patented OPTOflex Er:YAG articulated arm is designed to transmit a high-power laser beam to the handpiece, while maintaining the quality of the laser beam to ensure precision and repeatability even at the highest settings.
The OPTOflex arm is perfectly balanced during use, making handpieces completely weightless in your hand. OPTOflex allows a full range of motion and a maximum degree of control as it makes maneuvering the handpiece much smoother, which improves treatment precision and ease.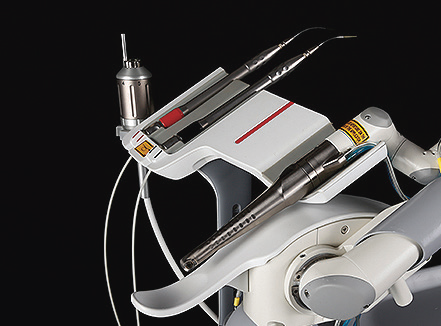 Wireless footswitch
LightWalker also has an optional wireless footswitch that avoids unnecessary tangling of electric cables on your practice floor.
Designed with the patient in mind
Shorter and More Effective Treatments
With LightWalker, procedures are typically shorter, easier to perform and more effective. Laser treatments are by nature minimally invasive, and LightWalker takes this concept to a new level.
Patient Comfort
Working with LightWalker is less stressful for the patient because pain and bleeding are minimal if any. LightWalker lasers are so gentle for cavity preparations and most soft-tissue procedures that patients rarely require any anesthetic. Laser light allows you to work in a non-contact way and without drilling noise, which is far more comfortable for patients, especially children. LightWalker also allows you to achieve simultaneous disinfection and prevention of cross-contamination.
Unmatched Flexibility
The Nd:YAG laser source is ideal for root canal disinfection, soft-tissue crown lengthening and numerous other applications. And LightWalker's Er:YAG laser is compatible with a set of over 20
specialized fiber tips, expertly designed to offer advanced options in conservative dentistry plus an additional range of lucrative, high quality treatments in endodontics, periodontics, and implant recovery, areas you may otherwise have to refer out to specialists.
TwinLight Endodontic Treatment
The Fotona TwinLight Endodontic Treatment successfully addresses two major disadvantages of classical chemo-mechanical procedures:
the inability to clean and debride anatomically complex root canal systems and to deeply disinfect dentinal walls.
   
In the first step of the TwinLight treatment, a revolutionary SWEEPS (shock wave enhanced emission photoacoustic streaming) method is employed, which uses the power of the Er:YAG laser to create non-thermal photoacoustic shock waves within the cleaning and debriding solutions introduced in the canal. Following this treatment, the canals and subcanals are left clean and the dentinal tubules are free of a smear layer.
   
This powerful photon-induced photoacoustic streaming method, which is available only with Fotona lasers, is equally effective for final water rinsing prior to obturation. In the second step, the deeply penetrating Nd:YAG laser wavelength is utilized to decontaminate dentinal walls up to 1000 μm deep. In this step, the high peak-pulse power of the Nd:YAG laser plays an important role as it induces maximum temperature pulsing for eliminating bacteria.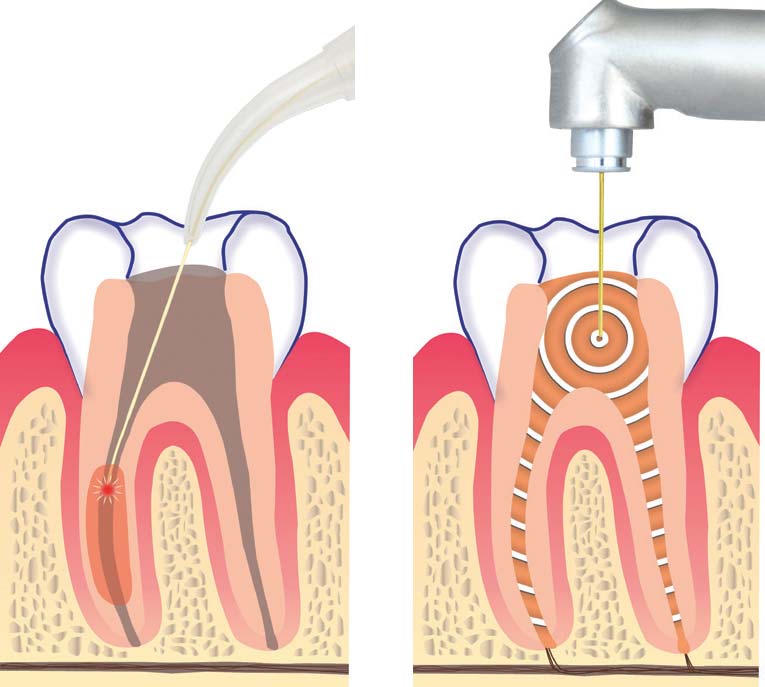 TwinLight Periodontal Treatment
TwinLight Periodontal Treatment is a minimally invasive periodontal disease therapy incorporating
dentistry's two best laser wavelengths. The TwinLight approach enables wavelengthoptimized
treatments for periodontal therapy (WPT™), which create favorable conditions for healing periodontal tissues by removing the diseased epithelial lining of the periodontal pocket, removing microbial biofilm and calculus from the root surface and sealing the pocket after treatment with a stable fibrin clot.
  
The TwinLight Periodontal Treatment approach gives general dentists the confidence to treat their patients' moderate-to-severe periodontal disease the laser way, without scalpels and sutures.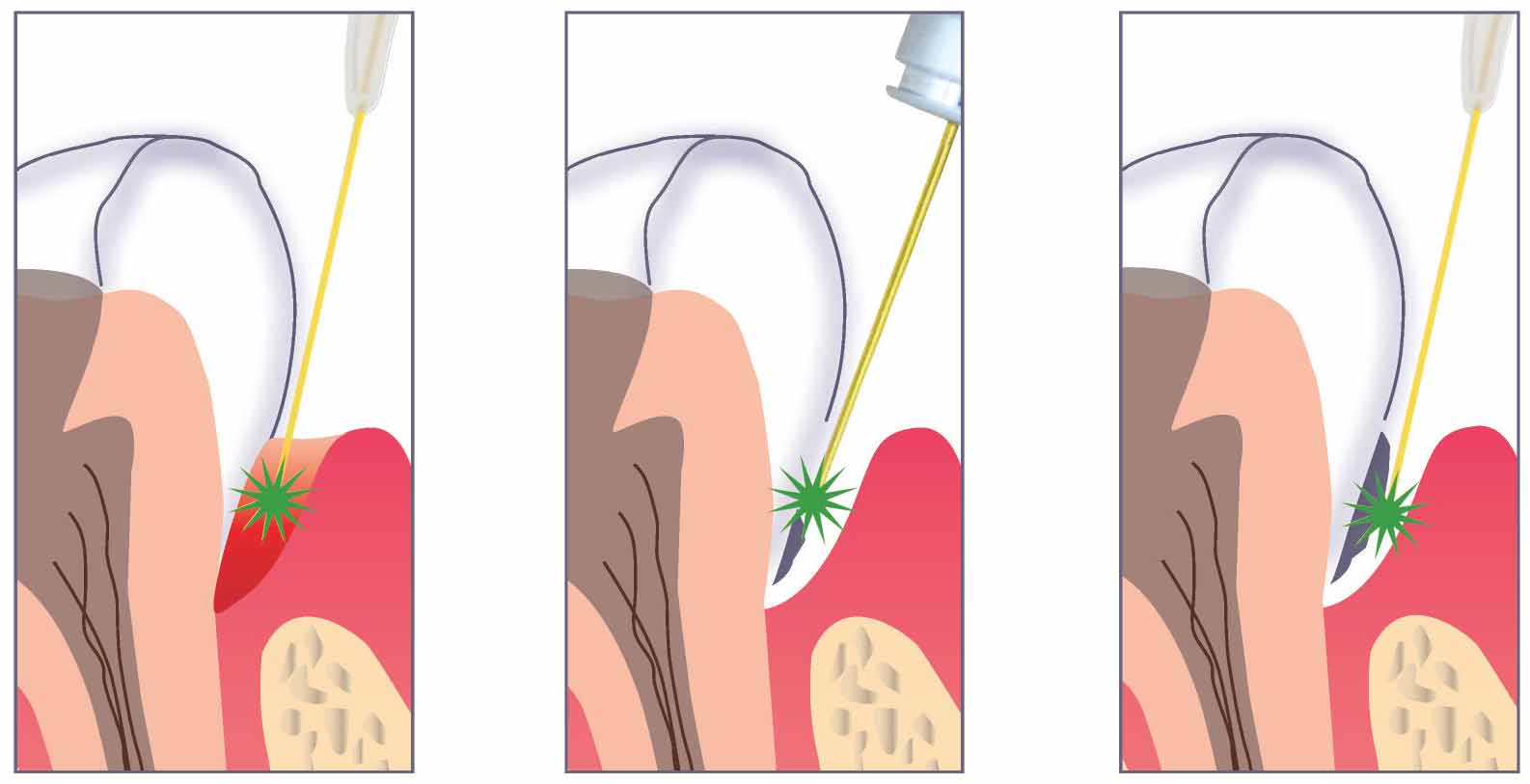 TwinLight Peri-implantitis Treatment
TwinLight Peri-implantitis Treatment combines dentistry's two best laser wavelengths, Er:YAG and Nd:YAG, to significantly enhance treatment success rates and shorten healing time. Removal of granulation tissue from the alveolar bone and connective tissue with Er:YAG laser is selective. The bactericidal effect of Er:YAG on the surgical site is highly effective and the implant surface is completely cleaned without chemicals. The subsequent Nd:YAG treatment step promotes faster healing by decontaminating and biomodulating the tissue. Inflammation, swelling, and bleeding of soft-tissue lesions, which may lead to bone loss, can be handled without surgery, and healthy peri-implant tissue assures greater long-term implant success.
   
Gentle treatment with LightWalker assures that the highly fragile bone surrounding the implant remains intact. Because the Er:YAG wavelength with LightWalker is used in a safe mode, there is no danger of thermal damage to the surrounding bone and no significant alterations of the implant surface, as is caused with other lasers. There is no mechanical, chemical or any other means of trauma during the entire treatment.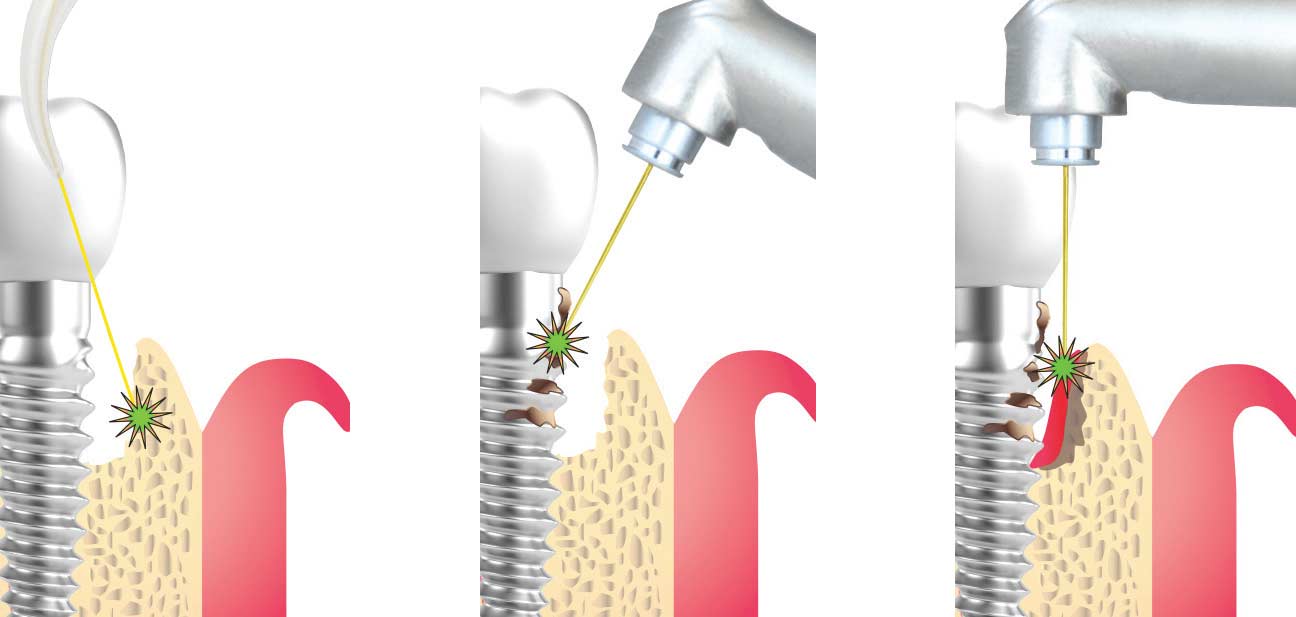 TouchWhite Laser-Assisted Tooth Whitening
TouchWhite patented tooth whitening makes use of the fact that the Er:YAG laser wavelength has an absorption peak in water, which is the major component of aqueous bleaching gels. This eliminates the need for any additional absorbing particles in the bleaching gels. More importantly, taking into account thermal burden considerations, the TouchWhite procedure represents the most effective and least invasive laser-assisted tooth whitening method possible.
   
Due to its high absorption in bleaching gels, the Er:YAG laser beam is fully absorbed in the gel and does not penetrate to the hard tissue or the pulp. All of the laser energy is thus effectively used for the heating of the gel. There is no direct heating of the dental tissue and the pulp, as is the case with other laser-assisted whitening methods. There is also no risk of accidentally damaging the hard dental tissue as the laser fluence of every laser pulse is set to be significantly below the ablation threshold for dental tissues. As a consequence, the procedure can be performed with a minimal undesirable thermal burden on the tooth, and the tooth whitening speed can be safely increased by 5–10 times.
NightLase Snoring and Apnea Treatment
NightLase Treatment is a patented, fast, noninvasive and friendly way of increasing the quality of a patient's sleep. NightLase lessens the effects of sleep apnea and decreases the amplitude of snoring through the use of gentle, superficial Er:YAG laser light. No anesthesia is used in this treatment. During NightLase treatment laser light gently heats the tissue, causing tightening of the tissue without damage or adverse effects. It is gentle enough to be used on the sensitive tissue inside the mouth, but strong enough to provide clinically efficacious heating. NightLase is easy for any doctor or dentist to perform and has a high success rate in producing a positive change in sleep patterns. Research has shown that NightLase reduces and attenuates snoring and provides an effective, non-invasive way to lessen the effects of sleep apnea.
Leave a comment about this product