Biolase - WaterLase iplus 2.0 All Tissue Erbium Dental Laser - Dandal
Biolase - Erbium Cr:YSGG WaterLase iplus 2
Out-of-Stock
Erbium Cr:YSGG WaterLase iPlus 2

WaterLase iPlus 2.0 is the all-tissue laser trusted by the many dentists worldwide, with over 27,300,000 patients treated. The laser may be used to treat hard-tissue, soft-tissue, and bone, providing clinicians excellent benefits in treatment outcomes and ROI. Also, the SureFire Delivery process ergonomically designs for flexibility, higher precision, and uptime.
WaterLase iPlus 2.0 dental laser to supply dental practitioners a clinical routine and application to assist in the successful management of peri-implantitis. A problem peri-implantitis, in dentistry, is a process involving the hard and soft tissues.
The WaterLase iPlus 2.0 all-tissue laser from the international leader in dental lasers is delivered practice growth to dentists
What processes can perform with a Waterlase?
-Tooth, gum and bone processes
-Decay removal
-Rot canals
-Cavity preparation
-Insulation layout
-General dentistry for enamel and dentin
And much more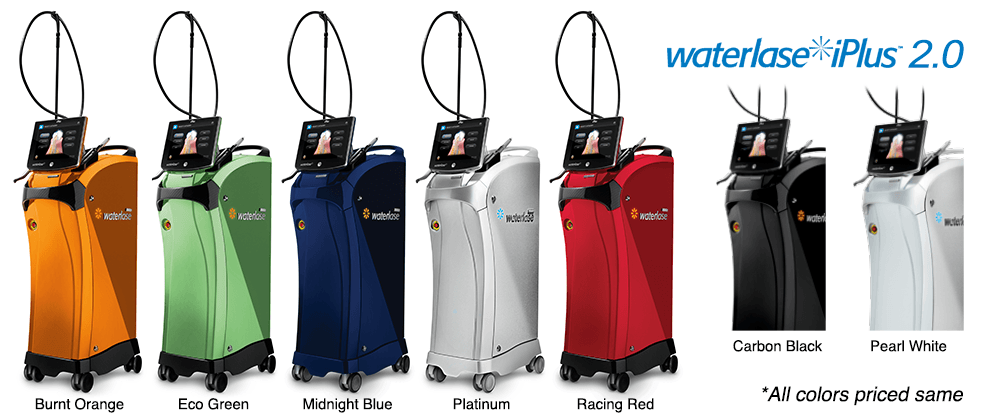 Benefits of laser surgery:
There are many advantages of laser surgery such as:
1. Faster healing.
2. Reduced risk of disease
3. Decreased Sensitivity.
4. Less time in the dental chair.
5. Less bleeding: because the high-energy light beam helps in the clotting (coagulation) of exposed blood vessels, thus decreasing blood loss.
6. Less post-treatment distress.
7. Procedures performed lasers may not require sutures (stitches).
8. Anesthesia does not require by particular laser procedures.
9. Damage to surrounding tissue diminishes.
One of the benefits for us is that the laser can disinfect while working. In fact, it can clean the interior of a root canal ten times more than any other device improving outcomes. When used in the gum (periodontal therapy) the laser can reach regions where other dental devices can't and also initiate regeneration of the tissue.
The advantages of the laser are because of the significantly reduced trauma to the tissues when used in operation. The laser sterilizes the affected area as well as sealing off and bleeding after surgery. The results are therefore vastly enhanced in which patients are far more comfortable during and following treatment.
For a lot of people, stress and fear can be quite a barrier to seeking dental treatment. The majority of people who are worried about visits to the dentist listing the dentist drill as the reason for their anxiety. Waterlase iPlus 2.0 laser treatment makes no contact with your tooth and doesn't transmit heat or vibration. All of us know the noise from a drill can send shivers down the spine.
Conventional drills can sometimes overheat teeth during processes, causing discomfort and damaging the soft pulp or tissue underneath. Because of the pinpoint precision of the laser, it can be more requiring tissue elimination to perform the various processes and therefore used. Patients experience little if any discomfort, less bleeding through a shorter recovery period and therapies.
Leave a comment about this product