View larger
Juvaplus - Dentapen Injection
New
This product is no longer in stock
Warning: Last items in stock!
Availability date:
Buying this product you will collect
0.01 points
with our loyalty program.
Dentapen
Compact handheld device designed for dentists to provide painless anesthesia
Dental anesthesia:
Painless
Cordless
Effortles
Dentapen offers patients better comfort by significantly reducing pain and eliminating fear of injections. Dentapen helps dentists avoid muscle strain caused by repeated manual injections. Suitable for all anesthesia techniques: palatal, infiltration, block and intraligamental. Controlled initial force and constant flow for smoother injection.

Two-way activation
Cordless, Battery powered
Compact and light (40g)
Compatible with standard 1.7mL cartridges
Rotating barrel for easy bevel placement
Self-aspiration
Autoclavable cartridge holder
Two-way activation
Index or thumb activation for better comfort
3 Speed
Slow 90 s/mL
Medium 60 s/mL
Fast 30 s/mL
2 Mode
Intraligamentary mode
Ramp-up mode = anesthesia flow
increases gradually for totally
painless procedure
5. دارای ویژگی سلف آسپیراسیون برای مواقعی که در حین تزریق دکمه STOP را فشار دهید.
6. باتری لیتیومی قدرتمند، هر باتری با شارژ کامل می تواند برای 100 تزریق استفاده شود.
7. دارای 5 عدد هولدر کارتریج و 5 عدد فینگر گریپ قابل اتوکلاو
8. طراحی ظاهری مناسب و ایده آل برای کودکان

9. دارای ایندیکیتور میزان شارژ
رنگ نارنجی به معنی شارژ کم، رنگ قرمز به معنی اتمام شارژ و رنگ سبز به معنی شارژ کامل می باشد.
10. مناسب برای انواع تزریق
Palatal - Infiltration - Block - Intraligamental
محتویات بسته:
- دستگاه تزریق
- 5 عدد فینگر گریپ قابل اتوکلاو
- 5 عدد هولدر کارتریج قابل اتوکلاو
- ست باتری دو عددی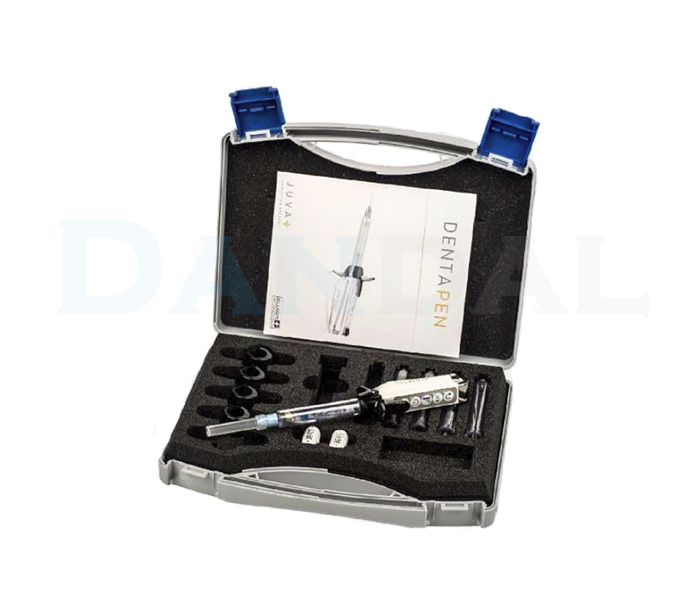 Contents:
- Dentapen Devic
- 5x Finger Grip
- 5x Cartridge Holder
- Battery set
| | |
| --- | --- |
| Company | Juvaplus |
| Country | Switzerland |
NO registration required!
If the question you have has not yet been answered here, use the form below to ask something about this addon.