+982175203000
Morita - Root ZX Mini Apex Locator
تومان27,500,000
Out-of-Stock
Root ZX mini is compact, lightweight, and portable. It can be placed on the tray or any other convenient place.

+ Advantages:
Accurate measurement
No zero adjustment
Automatic calibration
Large colour LCD display
 Memory bar with 3 programms
4 colours available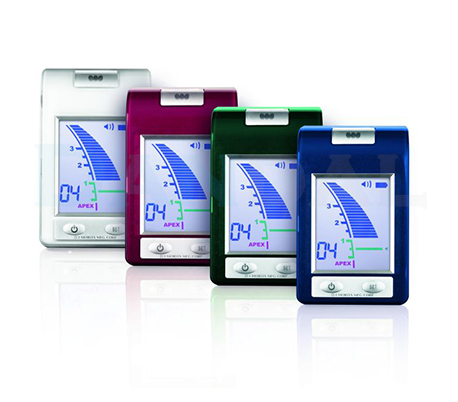 Accurate Measurement
Utilizing the ratio technique, Root ZX mini provides a highly accurate indication of the file's location. The accuracy of the measurement is not affected by the presence or absence of blood, other discharges, electrolytes, saline, tap water, or hydrogen peroxide.
       
No Zero Adjustment
It is not necessary to set the device on zero before measuring each individual canal.
       
Automatic Calibration
Automatic calibration ensures accuracy and eliminates the effect of changes in temperature, moisture, etc. inside the canal, even during treatment.
Automatic calibration allows the machine to make adjustments based on conditions like the moisture, temperature and more of the root canal.
      
Compact and Lightweight Design
Root ZX mini measures just over 4" x 2⅓" and weighs 3.88 ounces. Its compact size and stable design allow for excellent flexibility during procedures. It can be placed on the tray or any other convenient location for the clinician.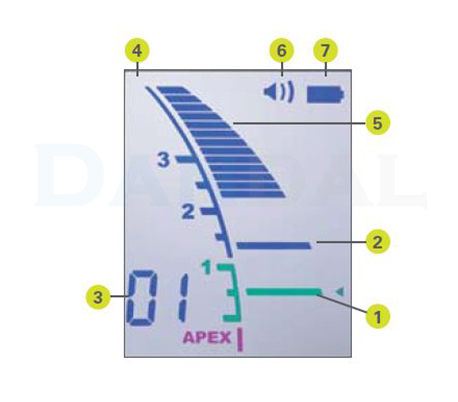 The color liquid crystal display is easy to read, providing a clear progressive display and high contrast. The positions of the Flash Bar and the Memory Bar can be set as guides for canal measurement and enlargement.
   
1 – Flash Bar
The reference point for measurement or enlargement can be set anywhere between 2 and APEX.
    
2 – Memory Bar
It can be used to mark the beginning of a sharp curve or some certain distance from the apex. It can also be used as a guide when the file size is changed for canal enlargement. The memory bar can be set only by the measurement state.
3 – Information Display
Number of bars left before flash bar is reached (during measurement). Memory number for flash bar (without measurement).
4 – Liquid Crystal Display
5 – Canal Length Indicator Bars
6 – Sound Volume (off, low, high)
7 – Battery Power Indicator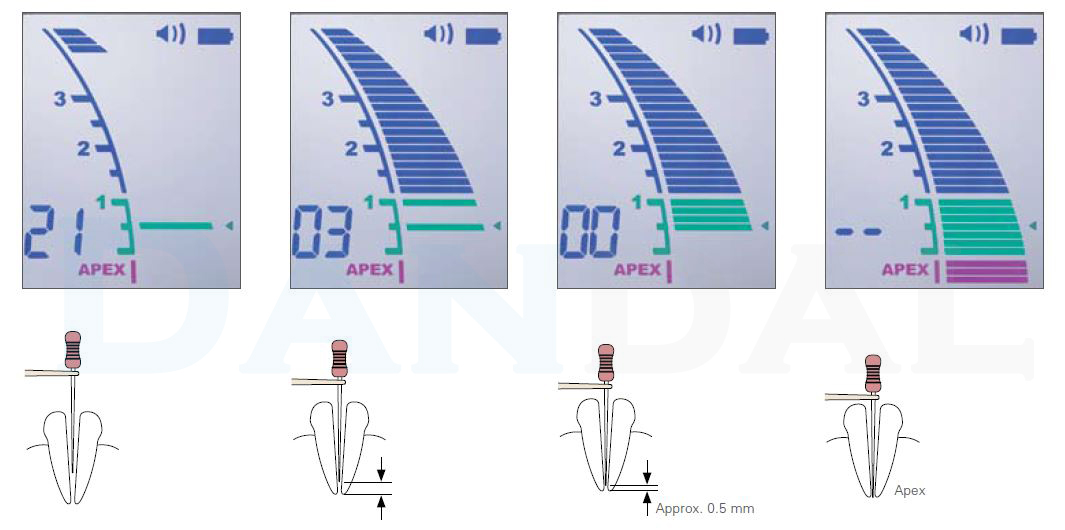 How to Use:
1. The meter is activated when the file is inserted into a root canal. The number of bars remaining before the file reaches the flash bar is shown in the lower left corner of the display.
2. When the file tip reaches a position near the apex, the bar color changes to green to indicate you have reached a critical area.
3. When the file tip reaches the preset position of the flash bar, the flash bar stops blinking and stays on.
4. When the file tip passes the apex, the "APEX" and "t" indicators start blinking.
Unit Includes:
1× probe cord
3× file holders
5× contrary electrodes
1× canal-length tester
3x 1.5 VDC AAA size battery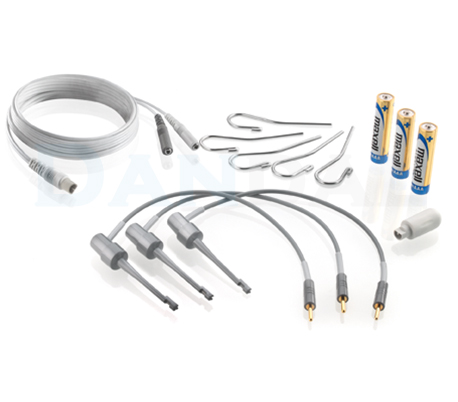 Product Details

Data sheet

Company

Morita

Country

Japan

Charge Level Indicator

Yes

Weight

Approx. 110gr

بیشتر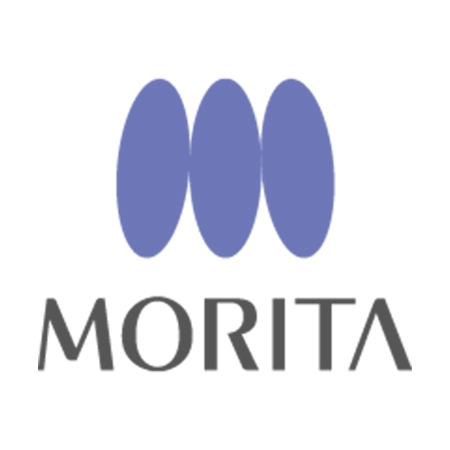 Data sheet
Company

Morita

Country

Japan

Charge Level Indicator

Yes

Weight

Approx. 110gr

Height | Width | Depth

57mm | 103mm | 60mm

Battery

3 Alkali Battery AA

Display Screen

Coloured LCD

Operating Time

Unknown

Auto Calibration

Yes

Accuracy

97.5%

Updatable

No

Audio Volume Indicator

Yes
Specific References
ean13

003400

upc

OUT
Customers who bought this product also bought: