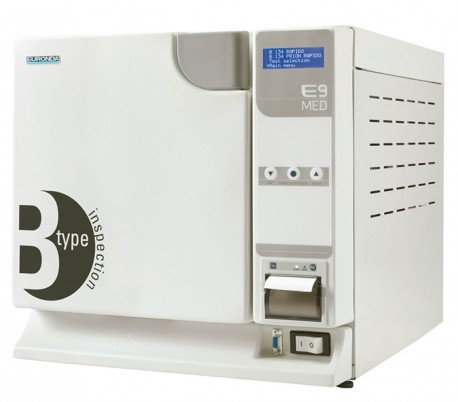 View larger
Euronda - E9 Med 24Lit Autoclave
New
Warning: Last items in stock!
Availability date:
Buying this product you will collect
0.03 points
with our loyalty program.
Simple, effective and compact, E9 Med is an autoclave that makes Class B sterilization accessible to everyone. Hidden behind its simple, user-friendly interface is an array of first-rate equipment, including a double head vacuum pump and a sophisticated microprocessor that constantly monitors the key parameters for effective sterilization. In addition, outstanding steam production is guaranteed with the steam generator. E9 Med can run 5 different type B cycles. It automatically traces all of the data from every cycle, which can then be printed with the built-in thermal paper printer and easily attached to pouches. Like every Euronda autoclave, it can be inspected and cleaned by the operator and it is easy to maintain thanks to its modular structure.
• Class B autoclave conforming to the EN 13060 standard
• Manages 5 B-type sterilization cycles (121°, 134°, 134° Prion, 134° Rapido, 134° Prion Rapido) and 3 control tests (Vacuum, Helix, Bowie & Dick). Hollow and porous packed instruments can be sterilized in 25 minutes, using the Rapid cycle
• Moulded chamber in stainless steel and certified PED 97/23/EC (Directive for pressurized devices)
• Inspection® System: water tank group completely accessible and inspectionable for a perfect and complete cleaning as per the maintenance program and safeguard of the device
• Equipped with the Process Controller, a genuine assistant for the use of the machine which visualizes the phases of the sterilization cycles and carries out the evaluation of all the areas
• Large multilingual alphanumeric LCD display integrated in the command panel
• Serial port for E-Memory and data storage on SD card
• Water supply connection through Aquafilter
• Integrated thermal paper printer
• Steam generator edition (E9 Med S1) with integrated steam generating group available upon request
Modular Structure
The water tanks can be completely opened and inspected; the lateral panels, made of light materials, are equipped by an easy an separate latch; the rear panel is independent and the base with a separate opening for the inspectionability of the steam generator guarantees an easy and quick access for the maintenance operations.
Cooling System
The condensation system mounted on the rear of the E9 Med and cooled by a fan keeps the condensation exiting the chamber in its interior by cooling it, and obtains the thermodynamic vacuum.
Reliable
With an air-water separator as standard, for a longer working life.
Simple
Display with an interactive menu and a Process Controller that guides you and tells you when maintenance work is required.
Performance
Excellent sterilization quality thanks to the double head vacuum pump, steam generator and the controlling microprocessor.
Design
A 24-litre model can fit into the same space as an 18-litre one.
Traceability
Built-in thermal paper printer and E-Memory system, for traceable sterilization cycle data.
Eco-friendly
Optimized electricity and water consumption (1400 W, 600 ml)
| | |
| --- | --- |
| Company | Euronda |
| Country | Italy |
| Model | Bench-top |
| Weight | 40Kg |
| Display Screen | Simple LCD |
| Automatic warning check | Yes |
| Memory | 5 |
| Chamber Dimension | Diam.250xP.340mm |
| Built-in Printer | Yes |
| Over Night Cycle | Yes |
| Chamber Capacity | 24Lit |
| Unit Size | L.450xD.610xH.445mm |
| Class | B |
| Vacuum Pump | Yes |
| Chamber Material | Stainless Steel |
| Door-Locking Mechanism | Electromagnetic, Electrical & Dynamical |
| Immediate-Use (Flash) Cycle | Yes |
No customer reviews for the moment.
NO registration required!
If the question you have has not yet been answered here, use the form below to ask something about this addon.