+982175203000
Kulzer - GLUMA Self Etch
تومان1,475,000
تومان1,106,250
GLUMA Self Etch – one step ahead
Based on our long-term bonding expertise, we developed the self-adhesive system GLUMA Self Etch. This all-in-one bonding agent etches, primes, bonds, and desensitizes in one single step. Thus it meets your everyday requirements and demonstrates all characteristics which are important for an uncomplicated and state-of-the-art bonding agent.
With GLUMA Self Etch you benefit from:
One Step-reliability: The reliability and qualities of GLUMA Self Etch is proven by many studies and test results. The innovative formula of GLUMA Self Etch support the excellent bond strength and supreme marginal sealing. And it allows treatments even in hypersensitive areas.
One Step-effectiveness: GLUMA Self Etch allows you to apply just one layer for etching, priming,bonding plus desensitizing. GLUMA Self Etch system is immediately effective. Being a ready-to-use one step adhesive, no prior mixing, no shaking, no etching, no fridge storage is necessary.
One Step-safety: The chemistry of GLUMA Self Etch allows you to have maximum error avoiding application, even treating hyperactive patients. Just one application step avoids unexpected treatment failures.
Indications for GLUMA Self Etch:
Bonding of direct light-cured composite restorations (including compomers).
Bonding indirect restorations in combination with a light-curing luting cement: porcelain and composite restorations (inlays, onlays, veneers, crowns).
Treatment of hypersensitive tooth regions.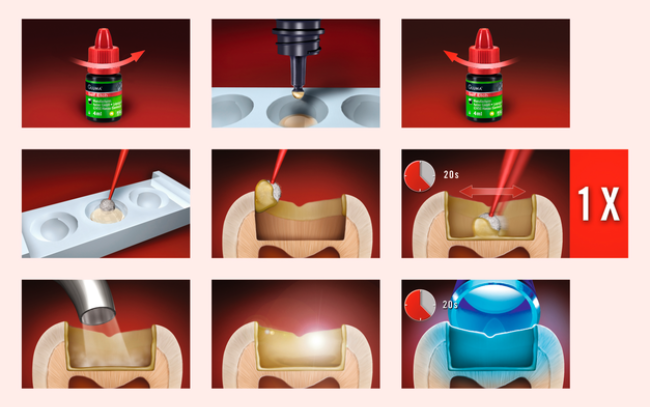 Content:
1 x 4 ml Bottle
50 Application Tips, Mixing Well, Pictorial Card
Reviews
No customer reviews for the moment.
Customers who bought this product also bought: