+982175203000
3M - Adper Single Bond 2
تومان1,150,000
Out-of-Stock

Tooth Bonding
Adper Single Bond Adhesive offers greater confidence.
Superior bond strength provides exceptional bonding performance
Nanofiller is stable and will not settle – no shaking required.
Compatible with all light-cured composite restoratives available today.
Features & Benefits
Excellent bonding to dentin and enamel
Doesn't need shaking; nanofiller is stable and will not settle
Convenient bottle design allows easy opening and dispensing
Use for direct and indirect restorations
Indications
Direct, light-cured composite and compomer restorations
Bonding of ceramic veneers in combination with 3M ESPE RelyX Veneer Cement
Indirect restorations made of metal, ceramic or composite in combination with 3M ESPE RelyX ARC Adhesive Resin Cement
Desensitisation of sensitive cervical areas
Corrections and repairs to ceramics, PFM and composite restorations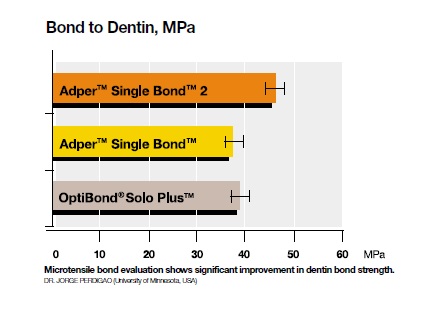 Step by step - Dispensing from vial
Figure 1: Pinch the sides of the cap to release the mechanism.
Figure 2: Flip the cap back to reveal the dispensing tip.
Figure 3: Squeeze out the exact number of drops desired into the mixing well.
Figure 4: When finished, flip the cap back until it is secured by its locking mechanism.
Step by step – Direct light-cure restoration
Etch:
Apply Scotchbond Etchant to enamel and dentin. Wait 15 seconds.
Rinse for 10 seconds.
Blot excess water using a cotton pellet or mini-sponge. Do not air dry.
The surface should appear glistening without a pool of water.
Adhesive:
Immediately after blotting, apply 2-3 consecutive coats of adhesive for 15 seconds with gentle agitation using a fully saturated applicator.
Gently air thin for 5 seconds to evaporate solvent
Light cure:
Light-cure for 10 seconds.
Restorative:
Place restorative according to manufacturer specifications
Customers who bought this product also bought: