Intra-Lock - ReOss Graft
Out-of-Stock
ReOss Sub-Micron HA Infused Synthetic Biomaterial
ReOss has a multi-Pore three-dimensional architecture that creates an environment for new bone regeneration. The scaffold also provides an adhesive base for growth and infusion of bone cells. The entire structure is a complex and highly interconnected matrix with enhanced hydrophilic properties.
   
ReOss is a composite biomaterial comprised of two phases - a PLGA (Poly lactic-co-glycolic acid) biodegradable polymer and a bioceramic. The polymer
provides a structurally stable, porous and biocompatible. three-dimensional matrix to which biological fluids can penetrate and cells can adhere. The HA (Hydroxyapatite) bioceramic, due to its chemical and structural similarity to the mineral phase of native bone, allows the biocomposite to create a bond with the living host bone.
   
The ReOss Particle size is 500-1000 microns and resorption time is from 6 to 12 months.
    
ReOss Powder Putty and Injectble Gel is available in 0.5 and 1 cc.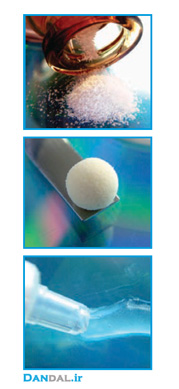 Author: Review department of Dandal.ir
First Release Date: 17/Fev/2015
Last Modified: 30/Nov/2015
Leave a comment about this product