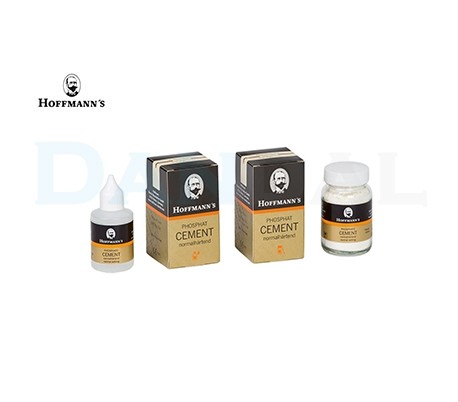 View larger
Hoffmann's - Zinc Phosphate Cement
بسته بندی:
- بزرگ: 100 گرم پودر + 40 میلی لیتر مایع
- کوچک: 35 گرم پودر + 15 میلی لیتر مایع
پودر= زینک اکساید+منیزیم اکساید
مایع= فسفریک اسید
 * ضمانت تاریخ مصرف

فیلم آموزشی و معرفی زینک فسفات - HOFFMANN'S
New
This product is no longer in stock
Warning: Last items in stock!
Availability date:
Information of seller
کالای دندانپزشکی دانش پژوه
Zinc Phosphate Cement

Areas of Application
Lining for all filling materials (amalgam, composites)
Cementation of inlays, onlays, crowns and bridges made of precious metal, non-precious metal and ceramic
Cementation of implant-supported crowns and bridges
Cementation of orthodontic bands
Cementation of retention pins and screws
Core build-ups
Long-term temporary fillings
      

Advantages of Hoffmann´s phosphate cement
Dimensionally stable – no shrinkage and therefore no formation of marginal gaps
Excellent micromechanical adhesion
Wide range of applications from A like amalgam to Z like zirconia
Very easy removal of excess material
Extremely low pulp toxicity
Hypoallergenic
More than 120 years of clinical experience
How to use?
Dispensing Instructions:
Cavity lining consistency: 2.1g powder : 1.0ml liquid
Fixation consistency: 1.5g powder : 1.0ml liquid
Mixing time: 90 seconds
Processing time (at 23 ºC, 72 ºF):
For fixation: 3 minutes
For cavity linings: 1 minute 30 seconds
Setting Time from end of mixing: 4.0 - 7.5 minutes.
Package Sizes:
Big: 100g Powder (Zinc oxide, Magnesium oxide) + 40ml Liquid (O-phosphoric acid)
Small: 35g powder + 15ml liquid
| | |
| --- | --- |
| Company | Hoffmann Dental |
| Country | Germany |
| Application | Ceramic, Metal, Orthodontic Band, Liner, Filler |
| Type | Temporary |
| Polymerization | Self-Cure |
| Product Type | Material |
NO registration required!
If the question you have has not yet been answered here, use the form below to ask something about this addon.