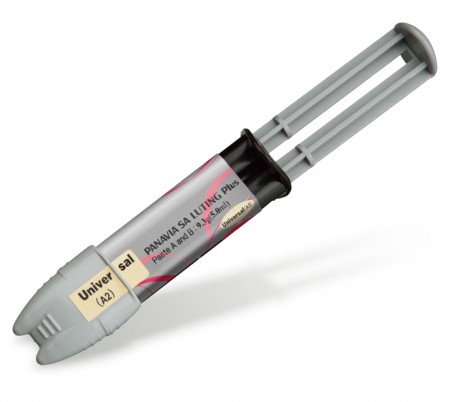 View larger
Kuraray - Panavia SA Luting Plus
New
This product is no longer in stock
Warning: Last items in stock!
Availability date:
لطفا در صورت نیاز به اطلاع رسانی جهت موجود شدن این کالا، ابتدا وارد حساب کاربری شوید سپس در همین صفحه گزینه
"اطلاع بده"
را انتخاب نمایید
Buying this product you will collect
0 points
with our loyalty program.
PANAVIA SA LUTING is a self-etching, self-adhesive, dual-cured resin cement with fluoride release. It is based on the Panavia and PANAVIA SE BOND adhesive technology and has a reported film thickness of approximately 20 microns. It is indicated for cementation of crowns and bridges made of metal or ceramic as well as inlays/onlays and metal and fiber posts.
PANAVIA SA Luting Plus has been developed for cementing indirect restorations made of metal, all-ceramic (zirconia), hybrid ceramics and composites. PANAVIA SA Luting Plus has easy clean-up without causing gingival trauma, thereby making it ideal for implant cementation.
+ Features and Benefits:
Exceptional handling, especially with excess cement removal
Very low technique sensitivity, with consistent bond strength even to overdry and wet dentin/enamel
High bond strength, for any restorations including zirconia & alumina
Good marginal sealing
Low solubility and low film thickness, for optimal Cementation
Simple to use, self-adhesive, no primers, silane or bonding agents needed
Fluoride-releasing Faster light-curing time (10 seconds)
Room temperature storage with a stable 3 year shelf-life
Cementation of crowns, bridges, inlays and onlays made of conventional porcelain, ceramic, hybrid ceramics, composite resin or metal cementation of metal cores, resin cores, metal posts or glass-fiber posts; and Maryland Bridges
Can be used for Amalgam bonding
Clinical Tips:
Refrigerate the product when not in use.

No etching, bonding or other surface preparation of the tooth is necessary.
| | |
| --- | --- |
| Company | Kuraray |
| Country | Japan |
| Application | Metal, Porcelain, Ceramic, Glass Fiber, Zirconia, Alumina, Amalgam, Composite |
| Type | Premanent |
| Polymerization | Dual-Cure |
No customer reviews for the moment.
NO registration required!
1 Question(s) answered
If the question you have has not yet been answered here, use the form below to ask something about this addon.
Asked by ابراهیم عبدالهی
on 12/06/2017

سلام.میخواستم بدونم سمان رزینی دوال کیور آیا نیاز به خشک شدن با نور مخصوص رو داره یا نه خودش خشک میشه؟

Answer:
سلام. ابتدا با لایت، کیور کنیند و سپس اجازه بدین تا خودش خشک بشه.