View larger
GC - G-aenial Posterior Composite
New
This product is no longer in stock
Warning: Last items in stock!
Availability date:
لطفا در صورت نیاز به اطلاع رسانی جهت موجود شدن این کالا، ابتدا وارد حساب کاربری شوید سپس در همین صفحه گزینه
"اطلاع بده"
را انتخاب نمایید
Buying this product you will collect
0 points
with our loyalty program.
G-aenial Posterior
Light-Cured Posterior Nano-Hybrid Composite Restorative
Advantages:
Excellent handling
Effortless manipulation
Excellent consistency and working times suited for every dentist's needs
Natural reflectivity creates invisibility
High light scattering properties creates chameleon effect
Forward thinking shading concept

Standard Shades In cases where no layering is required
Outside Special Shades to replace enamel
Inside special shades to add opacity

Polish quickly and easily into a smooth and glossy surface
Featuring GC patented High Density Radiopaque (HDR) Technology, G-ænial is easily traceable through x-rays
Tough and flexible
High fracture toughness and flexural strength
Low modulus of elasticity to avoid bending and occlusal forces, as well as spreading of cracks
INDICATIONS
G-aenial Posterior
Direct restorative for class I and II cavities
* G-aenial is a high strength, low shrinkage stress composite. Both Anterior and Posterior shades can have universal application (anterior shades can be used in posterior restorations and vice versa).
G-aenial blends and becomes aesthetically invisible because of its diverse composition, which mimics the reflective capabilities of a natural tooth.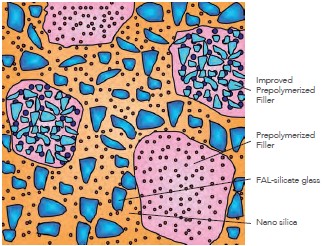 G-aenial POSTERIOR 2.7mL (5.5g) Syringe P-A1 / P-A2 / P-A3 / P-A3.5 / P-JE / P-IE
| | |
| --- | --- |
| Company | GC |
| Country | Japan |
| Application | Direct and Indirect Restorative |
| Type | Posterior |
| Material | Nanohybrid |
| Polymerization | Light-Cure |
NO registration required!
If the question you have has not yet been answered here, use the form below to ask something about this addon.