+982175203000
Bredent - crea.lign (Dentin) Composite
تومان456,000
Out-of-Stock

Crea.lign Paste
Dentin Shade
crea.lign veneering composite for permanent veneering of metal, ceramic and polymer substructures. The exceptional material properties adapt elasticity and hardness of crea.lign to the various substructure materials. crea.lign contains only nano particles and no ground glass filler. It consists of 50 % opalescent ceramic filler and a high-strength oligomer matrix.
The crea.lign dentine paste is the paste variant of the crea.lign composite.
The crea.lign paste likewise only uses nano-ceramic fillers (does not contain dental glass), features outstanding polishing properties and can be processed without difficulty in combination with all other crea.lign materials.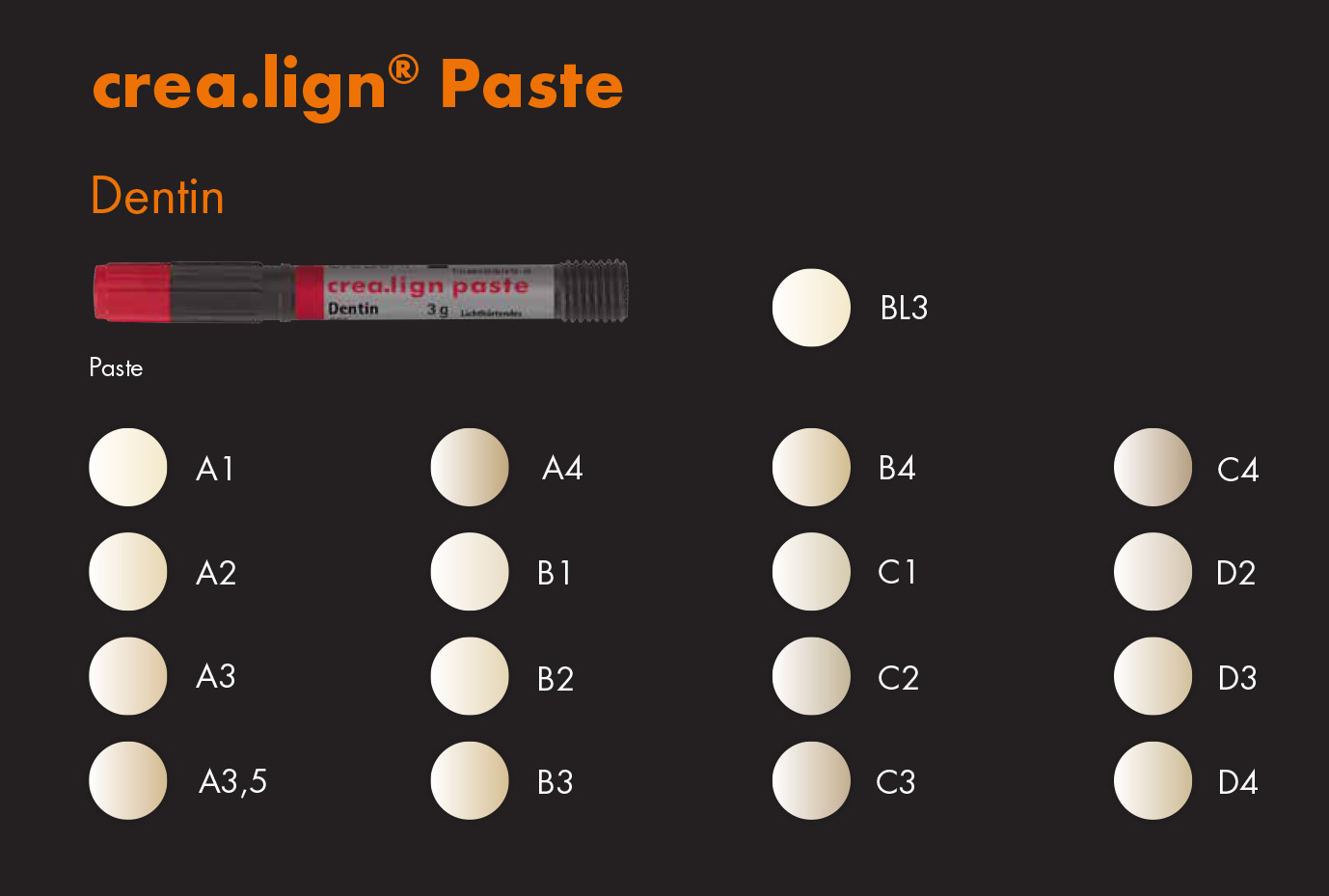 + Benefits:
Natural beauty
• Natural opalescence
• Outstanding effect of depth thanks to specific refractive indices
• Translucency (more options than in ceramics) 
• Design and layer structure according to natural teeth
Reliability
• Chemical bonding to all substructure materials
• Result immediately visible: "What you see is what you get"
• Shade stability and plaque resistance thanks to excellent polishing properties and minimal water absorption
• Optimised for implant-prosthetic restorations
Intraoral application
• Approved for oral use: for intraoral application
• Repair of chipping for all veneering materials
• Transition areas toward repairs not visible 
• "What you see is what you get": Result is immediately visible and can be adapted
• Adjustments without loss in quality during try-in
• Result on the level of supra ceramics
Physiology
• Clearly higher impact strength than ceramic (protects the antagonist by reducing the occlusal force) 
• Abrasion values comparable to those of natural teeth
• Simple and fast reconstruction of the gingiva for all implant-prosthetic restorations
Product Details

Data sheet

Company

Bredent

Country

Germany

Application

Direct and Indirect Restorative

Type

Universal

بیشتر
Customers who bought this product also bought: