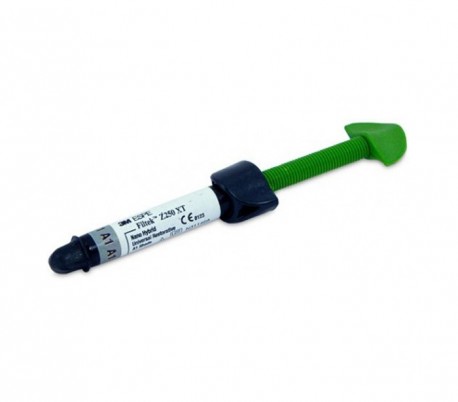 View larger
3M - Filtek Z250 XT Composite
New
This product is no longer in stock
Warning: Last items in stock!
Availability date:
لطفا در صورت نیاز به اطلاع رسانی جهت موجود شدن این کالا، ابتدا وارد حساب کاربری شوید سپس در همین صفحه گزینه
"اطلاع بده"
را انتخاب نمایید
Buying this product you will collect
0 points
with our loyalty program.
Filtek Z250 XT Nano Hybrid universal dental restorative kit is specifically designed to offer easy to polish and providing good aesthetic result. It permanently bonds the composite to the tooth structure. It is available in 12 shades, two of which are Opaque. All shades are radiopaque and fluorescent. Z250 XT is made available as syringes and capsules.
What is a nanohybrid?
Nanohybrid composites offer a reliable solution for a wide range of dental restorative needs. They contain a broad range of particle sizes for higher filler loading, which leads to strength that's similar to a traditional hybrid. The addition of nano-sized particles gives the restoration better wear resistance and a surface that is easier to polish for good esthetic results.
Highlights
High strength
Good wear resistance
12 popular shades, choice of dentin shades: Shades A1, A2, A3, A3.5, A4, B1, B2, B3, C2 and D3, with two dentin-like shades, OA2, OA3.
Improved polish retention
Easy to polish
Direct anterior and posterior restorations including occlusal surfaces
Core build-ups
Splinting
Indirect restorations including inlays, onlays and veneers
| | |
| --- | --- |
| Company | 3M |
| Country | USA |
| Application | Direct and Indirect Restorative |
| Type | Universal |
| Material | Nanohybrid |
| Polymerization | Light-Cure |
No customer reviews for the moment.
NO registration required!
If the question you have has not yet been answered here, use the form below to ask something about this addon.