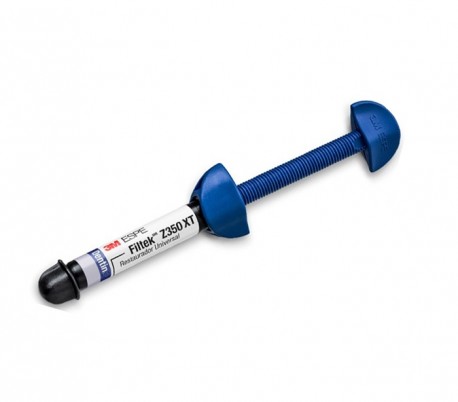 View larger
3M - Filtek Z350 XT Dentin Composite
New
This product is no longer in stock
Warning: Last items in stock!
Availability date:
لطفا در صورت نیاز به اطلاع رسانی جهت موجود شدن این کالا، ابتدا وارد حساب کاربری شوید سپس در همین صفحه گزینه
"اطلاع بده"
را انتخاب نمایید
Buying this product you will collect
0 points
with our loyalty program.

Filtek Z350 XT Universal Restorative
Unsurpassed Esthetics:
Excellent polish and better polish retention than a microfill
Wide range of shades and opacities
Improved fluorescence
Simple to Use:
Expanded selection of Body shades
Color-coded by opacity
Bold, easy-to-read labels
Exceptional handling
Improved handling of Translucent shades
Performance:
Wear resistance equivalent of Filtek™ Z350XT Universal Restorative
Radiopaque
Outstanding strength for anterior and posterior use
Indications:
Direct anterior and posterior restorations (Classes I, II, III, IV and V)
Minimally Invasive Dentistry (MID)
Sandwich technique with glass ionomer resin material
Cusp buildup
Core buildup
Splinting
Indirect anterior and posterior restorations including inlays, onlays and veneers
| | |
| --- | --- |
| Company | 3M |
| Country | United State |
No customer reviews for the moment.
NO registration required!
1 Question(s) answered
If the question you have has not yet been answered here, use the form below to ask something about this addon.
Asked by Neda
on 12/19/2020

سلام خسته نباشین...این کامپوزیت موجود نمیشه؟

Answer:
سلام. موجود خواهد شد اما زمان دقیق آن مشخص نمی باشد.