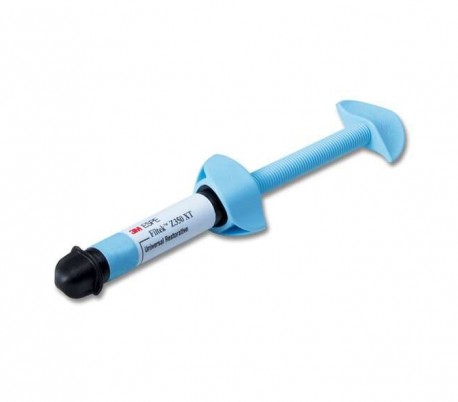 View larger
3M - Filtek Z350 XT Body Composite
New
This product is no longer in stock
Warning: Last items in stock!
Availability date:
لطفا در صورت نیاز به اطلاع رسانی جهت موجود شدن این کالا، ابتدا وارد حساب کاربری شوید سپس در همین صفحه گزینه
"اطلاع بده"
را انتخاب نمایید
Buying this product you will collect
0 points
with our loyalty program.

Filtek Z350 XT Universal Restorative
Filtek Z350 XT is a dental restorative composite designed for use in anterior and posterior restorations.The kit of restoratives are available in Dentin, Body, Enamel and Translucent shades packaged in syringes and single-dose capsules. All shades are radiopaque. A dental adhesive, part of the kit, is used to permanently bond the restoration to the tooth structure.
Highlights
A visible light-activated composite
The restorative is available in a wide variety of Dentin, Body, Enamel and Translucent shades.
Can be used for direct anterior and posterior restorations (including occlusal surfaces)
Low-viscosity, radio-opaque flowable nanocomposite
Filtek Z350 XT Flowable uses the same unique nanotechnology as Filtek Z350 XT Universal dental restorative products which provides excellent aesthetics, unsurpassed polish retention and low wear
Features
Filtek Z350 XT is very reliable to use due to its high performance as it is also a versatile nanocomposite. While it provides excellent aesthetics for anterior restorations, it offers strong enough posterior restorations.
Filtek Z350 XT is very unique as it is:
Simple to use
Provides natural aesthetics
Superior nanofiller technology
Wears natural Enamel look
Technical
Filtek Z350 XT Universal and Flowable Restorative is brought out by 3M ESPE using the nanotechnology with the following unique properties:
Bonded nanofillers are the reason Filtek Z350 XT restorative dental kit has bonded nanofillers help retain its brilliant polish.
Filtek Z350 XT restorative is proved to be superior by its polish retention because of the patented process used in building the nanocomposite, compared to other composites and microfills.
In-vitro lab data has shown that the wear resistance of Filtek Z350 XT restorative is equivalent to Filtek XT restorative providing the confidence to use it anywhere in the mouth.
'True' nanotechnology used in making Filtek Z350XT nanofill flowable dental restorative personalized kit provides wear resistance similar to enamel.
A 5 year clinical study has revealed that statistically there is no significant difference between Filtek Z350 XT Universal Restorative and natural enamel.
The restoration to maintain a smoother surface, meaning the initial impressive gloss will last for years due to the creation of unique clusters of nanometer-sized particles. It is because the nanoclusters shear at a rate similar to the wear of the surrounding resin matrix during abrasion.
| | |
| --- | --- |
| Company | 3M |
| Country | USA |
| Application | Direct and Indirect Restorative |
| Type | Universal |
| Material | Nanohybrid |
| Polymerization | Light-Cure |
No customer reviews for the moment.
NO registration required!
1 Question(s) answered
If the question you have has not yet been answered here, use the form below to ask something about this addon.
Asked by Alireza
on 04/13/2017

لطفا در مورد شرینکیج و حجم فیلر محصولات هم اطلاع رسانی کنید سپاسگذار

Answer:
سلام برای اطلاعات بیشتر و تکمیلی می توانید از فایل های پیوست شده در محصولات استفاده کنید مثلاً برای محصول Z350XT فایل Z350XT Technical Profile را مطالعه نمائید. صفحه 28 گرافی جامع و جالب در مورد شرینکیج این کامپوزیت می باشد. Z350XT Universal Composite The fillers are a combination of non-agglomerated/non-aggregated 20 nm silica filler, non-agglomerated/non-aggregated 4 to 11 nm zirconia filler, and aggregated zirconia/silica cluster filler (comprised of 20 nm silica and 4 to 11 nm zirconia particles). The Dentin, Enamel and Body (DEB)3 shades have an average cluster particle size of 0.6 to 10 microns. The Translucent (T)4 shades have an average cluster particle size of 0.6 to 20 microns. The inorganic filler loading is about 72.5% by weight (55.6% by volume) for the Translucent shades and 78.5% by weight (63.3% by volume) for all other shades.