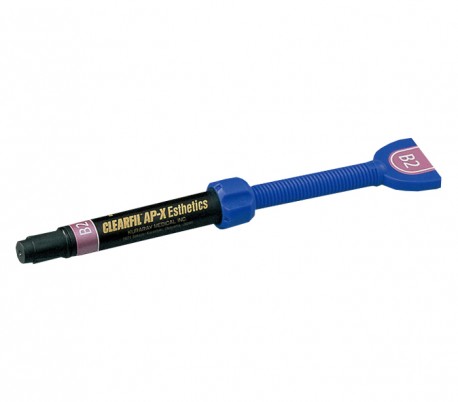 View larger
Kuraray - Clearfil AP-X Esthetics Composite
New
This product is no longer in stock
Warning: Last items in stock!
Availability date:
لطفا در صورت نیاز به اطلاع رسانی جهت موجود شدن این کالا، ابتدا وارد حساب کاربری شوید سپس در همین صفحه گزینه
"اطلاع بده"
را انتخاب نمایید
Buying this product you will collect
0 points
with our loyalty program.
CLEARFIL AP-X Esthetics is a light-curing, radiopaque composite resin, especially for anterior restorations. It contains a new organic filler which has high transparency and excellent light diffusion, a new fine filler with high radiopacity and polishablity, and a high refractive index matrix (filler contents: 78 wt%, 66 vol%). CLEARFIL AP-X Esthetics exhibits a light diffusion property similar to natural tooth structure which makes it possible to use only one single matching shade per restoration. CLEARFIL AP-X Esthetics provides an outstanding and versatile shade matching for almost any restorative situation. The high refractive matrix also provides another essential benefit, a very minor transparency shift after light-curing. CLEARFIL AP-X Esthetics also has an easy handling consistency, with high polishability and low polymerization shrinkage (1.9 vol%), and is very easy to handle.
Clinical Indications
Direct restorations for anterior and posterior teeth (Class I-V cavities)
Direct veneers
Correction of tooth position and tooth shape (e.g. diastema closure, dwarfed tooth, etc.)
Intraoral repairs of fractured crowns/bridges
Features and Benefits
The characteristics of matching natural tooth: light diffusion and transparency
Just select single shade and apply it. No need of multy-layering.
Radiopaque and fluorescent
| | |
| --- | --- |
| Company | Kuraray |
| Country | Japan |
| Application | Direct Restorative |
| Type | Universal |
| Material | Nanohybrid |
| Polymerization | Light-Cure |
NO registration required!
1 Question(s) answered
If the question you have has not yet been answered here, use the form below to ask something about this addon.
Asked by a guest
on 10/18/2018

کیت این رنگها موجود نیست؟ xl چه رنگی هست؟

Answer:
سلام. کیت این محصول در حال حاضر ناموجود بوده اما برای اطلاعات بیشتر و ثبت سفارش می توانید با 02175203000 تماس بگیرید و با کارشناسان دندال صحبت نمائید. کالیته رنگی کامپوزیت Clearfil Estethics به آدرس ایمیل شما ارسال گردید.