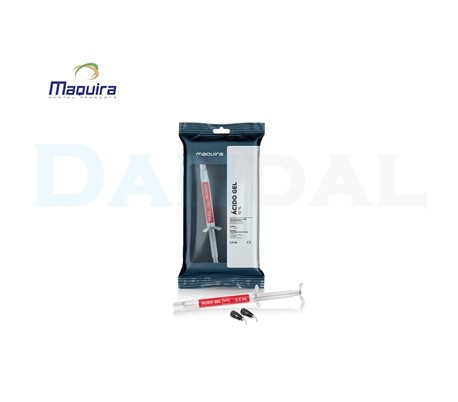 View larger
Maquira - Acid Hydrofluoric Gel 10%
New
This product is no longer in stock
Warning: Last items in stock!
Availability date:
لطفا در صورت نیاز به اطلاع رسانی جهت موجود شدن این کالا، ابتدا وارد حساب کاربری شوید سپس در همین صفحه گزینه
"اطلاع بده"
را انتخاب نمایید
Buying this product you will collect
0 points
with our loyalty program.
The ACID GEL 10% is a gel base of hydrofluoric acid at a concentration of 10%, being the most efficient used way to attack the surface or porcelain, allowing bigger and better retention of resin materials in feldspathic porcelain restorations, glass ceramics and orthodontic brackets attachment. Its adequate viscosity and the presence of dye allow a safe application, no flowing danger and better visualization of the region to be constrained.
Advantages:
- Porcelain surface conditioning for bonding in restoration processes, with feldspathic porcelain and glass ceramics
- Excellent viscosity for handling, no flowing danger
- Red gel (best visibility)
Package: 1 syringe of 2.5ml + 2 tips
How to use?
Feldspathic porcelain:
Do conditioning from 1 to 2 minutes with Acid Gel 10%
Glass Ceramics:
- Milled glassceramics: Do conditioning for 1 minute with Acid Gel 10%.
- Pressed/Injected: Do conditioning from 20 to 30 seconds.
* For all types of material after conditioning, rinse with plenty of water in order to remove the entire product, and dry right after.
| | |
| --- | --- |
| Company | Maquira |
| Country | Brazil |
NO registration required!
1 Question(s) answered
If the question you have has not yet been answered here, use the form below to ask something about this addon.
Asked by محمد حسنی
on 06/01/2020

تاریخ مصرف بفرمایید ممنون میشم

Answer:
سلام. خواهشمندم با شماره 02175203000 داخلی یک تماس حاصل فرمائید.