Bicon Implant
Company:
Bicon
Country:
USA
Bicon Implant Systems Overview
Bicon - Short

3mm Well

Diameter 4.5 - 5 - 6

Height 5 - 6 - 8 - 11

Bicon - Max. 2.5

2.5mm Well

Diameter 4 - 4.5

Height 5 - 6 - 8 - 11

Bicon - Narrow

2.0mm Well

Diameter 3 - 3.5 - 4

Height 6 - 8 - 11

  

For more information Click on the above pictures.

     

           

       
            
    Platform Switching
    1.5˚ Locking Taper Connection
    Variety of prosthetic components
    Plateau/fin design
   Sloping shoulders
     Low failure for high risk patients
The Bicon implant is a tapered implant design with fins or plateaus. The fin design adds at least 30% more surface area than a screw implant of the same size. The fins also allow for a direct resistance to the vertical forces of occlusion. 
Bicon is a screwless dental implant system. Unlike the majority of implants systems available, the Bicon implants do not have a threaded design, but instead it has a plateau/fin design. The implant is placed into the osteotomy, not threaded in. This design, in conjunction with the sloping shoulders, increases the surface area and provides a much better force distribution throughout the implant surface to the adjacent bone.
The choice of implant length and width depends upon available bone and expected occlusal loads.
For an aesthetic emergence profile, the Bicon implant is designed to be placed below the crest of the alveolar ridge to the extent that the implant is 5.0mm below the facial crest of the gingiva.
The implant may be placed at or slightly above the alveolar crest, if an aesthetic emergence profile is not a concern.
In general, choose the widest but not necessarily the longest implant the bone will allow.
In the anterior maxilla, it is advisable to place MAX 2.5 Implants.
Posteriorly to the canine, place one implant per tooth if practical.
Bicon implants are manufactured from surgical grade titanium alloy (Ti 6Al 4V). The Integra-Ti implants are grit-blasted and acid-etched and the Integra-CP implants are hydroxylapatite treated.
The Bicon abutment attaches to the implant by a 1.5˚ locking taper. The locking taper is a well-known engineering principle used for joining two pieces of like metal together. A locking taper consists of a 1.5˚ tapered post that fits into a corresponding 1.5˚ tapered well. When a light force is applied to the abutment, the post of the abutment and the well of the implant become one. The locking taper connection provides a bacterial seal at the implant-abutment interface. Other applications that utilize a locking taper are orthopedic hip implants and the dental lathe.
The abutments are not threaded into the well of the implant and do not have a screw connecting them to the implant well. Instead, they are simply tapped into place. The abutments shafts have 1.5 taper degree identical to the implant wells for 2.0 and 3.0mm diameters, and approximately 1 degree for the 2.5mm well diameter implants. Three taps are required to tap an abutment into the implant well. The amount of force used is similar to dropping a "AA" battery from a height of approximately 8 inches.
The Bicon SHORT Implant is an example of a time proven geometric design that successfully transfers the occlusal forces on its prosthesis to its surrounding bone by appropriately integrating the following features: a bacterially-sealed, 1.5 degree locking taper abutment to implant connection and a sub-crestally placed, sloping shouldered implant with a plateaued tapered root form body.
Additionally, these integrated features not only compensate for the implant's ankylosed nature by successfully transforming occlusal forces to acceptable strains within the bone, they also provide for healthy and gingivally aesthetic peri-implant tissues, as well as for the callus formation of cortical like bone with central vascular systems. More importantly, the entirety of this design offers the patient and clinician alike the ability to place an implant in edentulous sites where there is minimal bone height, thus not only avoiding the costs and morbidity of bone grafting procedures, but also the costs of just not being able to place an implant.
BENEFITS FOR THE DENTIST
The clinical reality is that many potential implant patients have limited bone height. When placing longer implants, the maxillary sinus and inferior alveolar nerve often present risks.
Although bone grafting procedures help alleviate these risks, patients may still avoid treatment because of the financial costs and time for grafting procedures. Additionally, bone grafting procedures have their own inherent risks and morbidities – which patients often find unacceptable. Bicon SHORT Implants afford simpler and consistently more predictable treatments, which can significantly increase a patient's acceptance of implant treatment.
              
BENEFITS FOR THE PATIENT
With the use of Bicon SHORT Implants, patients with limited bone height can often avoid the inherent risks and costs associated with bone grafting procedures. Additionally, the extended healing time and cost of bone grafting procedures are eliminated.
THE MAX 2.5 IMPLANT has an enhanced locking taper connection that has been designed for maxillary anterior restorations. Advances in manufacturing capabilities have allowed Bicon to offer this innovation with a 2.5mm diameter internal connection providing greater retention.
MAX 2.5 Implants are Bicon's maxillary anterior implants designed for single or multiple tooth restorations.
Enhanced locking taper connection with a 2.5mm diameter that still allows for retrievability.
Time-proven Bicon design principles: plateaus, sloping shoulder, and bacterially-sealed connection with 360˚ of universal abutment positioning.
Available in four implant sizes and includes a full range of Non-Shouldered, Stealth Shouldered, Temporary, Brevis, and Healing Abutments.
The MAX 2.5 Implants complement Bicon's SHORT and NARROW Implants.
While designed for the maxillary anterior region, MAX 2.5 Implants may be used in all areas of the mouth.
THE BICON DESIGN is driven by simplicity. A cornerstone of its simplicity is narrow implants. The Bicon system has had 3.5mm implants since 1985. These narrow implants facilitate the restoration of missing maxillary lateral incisors as well as individual mandibular incisors. The sloping shoulder of the Bicon implant enhances crestal bone preservation while providing space for the interdental papillae — offering the opportunity for natural-looking gingival aesthetics.
Sources: Bicon Website
Product Details

Data sheet

Company

Bicon

Country

USA

International Experience

1985

Iran Experience

2005

بیشتر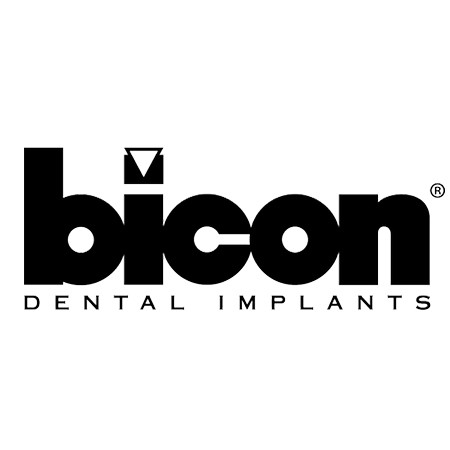 Data sheet
Company

Bicon

Country

USA

International Experience

1985

Iran Experience

2005

Titanium Grade

5

Surface Treatment

SLA | Hydroxyapatite

Angled Abutments

Yes

UCLA Abutment

Yes

Fixture Length

5mm to 11mm

Connection

1.5°Locking Taper

Stopper Drill

No

Box Content

Fixture+Healing Plug

Cemented Abutment

Yes

Ball Abutment

Yes

Locator

Yes

Max Torque For Cover Screw

By Tapping

Max Torque For Abutment

By Tapping

Failure Acceptance

No

Fixture Shape

Tapered

Multiunit Abutment

No

Diameter Fixture

3mm to 6mm

Certificate

CE | FDA
Reviews
No customer reviews for the moment.