+982175203000
Dentium Implant
Company:
Dentium
                
Country:
South korea
Dentium Implant Systems Overview
Dentium - Implantium

2001

  

Diameter 3.4 - 3.8 - 4.3 - 4.8

Height 8 - 10 - 12 - 14

Dentium - SuperLine

2006-2008

Diameter 4.8

Platform 5

4.8

6

5.8

7

Diameter 3.4 - 3.8 - 4.3 - 4.8 - 5.8

Height 7 - 8 - 10 - 12 - 14

Dentium - Implantium II

Diameter 3.7 - 4 - 4.5 - 5

Height 8 - 10 - 12 - 14

Dentium - SimpleLineII

2008

Collar 2.2

Diameter 3.4

Platform 4.8

3.8

4.8

4.3

4.8

4.3

6.5

4.8

6.5 

Height 8 - 10 - 12

Dentium - SlimLine

2009

Ball type

Fix type

Diameter 2.3 - 2.8 - 3.3

Height 6 - 8 - 10 - 12 - 14

Dentium - NR Line

2013

Diameter 3.1

Platform 3.2

3.1

3.6

3.6

3.6

3.6

4.3

5

5

5

6

Height 7 - 9 - 11 - 13

For more information 

Click

on the above pictures
+ Advantages
Wide range of fixture, prosthetic component size and length
The Same fixture driver for all sizes
Same kit for SuperLine and Implantium Kit
- Disadvantages
In most the systems, dentist should buy fixture and cover screw separately

Implantium


1. SLA surface
Increase bone-implant contact
Enhance osseointegration
2. Optimal fixation threads:
Synchronized positive neck threads
Initial stability & maximum sealing between the cortical bone and fixture
Reduce stress of marginal cortical bone and minimize marginal bone loss
3. Biological thread:
Excellent bone-implant contact
Threads easily engage and penetrate bone
4. Biological connection:
Conical hex connection ---> Hermetic sealing ---> minimize micro-movment and bone loss
Same internal hex in all implant diameters
5. Bacterial resistant bevel


6. Cutting edge with self-tapping design
7. Various prosthetic options
8. Identical kit with SuperLine fixture
9. Microthread ---> Reduce bone loss and less torque for fixture insertion
SuperLine


1. SLA surface
2. Tapered design:
Excellent bone response
Harmonize with surrounding bone anatomically
Large surface area ---> Helps provide excellent initial stability with sinus augmentation
3. Biological connection:
Hermetic sealing
Minimize micro-movement and marginal bone loss
4. Double threads:
Increase thread hight ---> Increase the initial stability
Decrease the chair time of implantation
5. Greater distance between the threads  ---> Promote early osseointegration
6. Prosthesis:
Various prosthetic options
Single abutment connection is used for all implant diameters.
One hex screw driver fits all abutment screws
7. Immediate loading
8. User friendly and easy handling
9. Identical kit with SuperLine fixture
Implantium II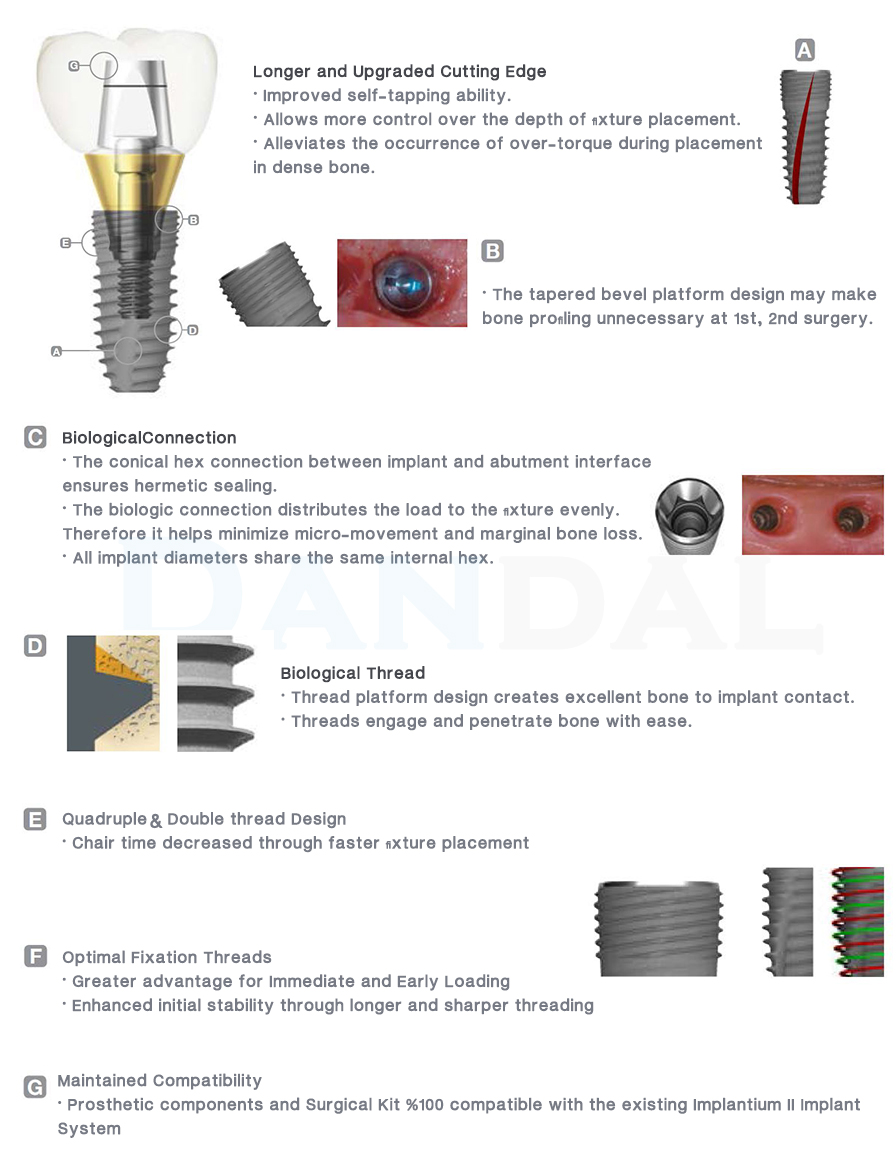 SimpleLine II
1. SLA surface
2. Tap drill ---> Enable early loading and Fine and precise surgery with tap drill in type 1~3 bone.


3. Improved thread design ---> Sharp edge, high density and double thread design ---> successful osseointegration in short time and reduces chair time


4. SCA Abutment ---> Overcome the Limit of Tissue Level, effective soft tissue management and increase stability
7. Advanced design for one stage system ---> Internal 8º morse taper and octagon connection and cold welding mechanism ---> Prevent screw loosening
SlimLine
1. SLA surface
2. Denture system


3. Mini O-Ring Retention Force


4. Up to ±15 degrees  tilting Angle


5. Angled abutment 15° and 25°


6. Double Thread Design ---> Initial stability and decrease the chair time


NR line


1. SLA surface


2. Narrow, but strong:
Good fixture body diameter for narrow ridge
Good platform fixture diameter for high occlusal stress
3. Microthread in top of the fixture ---> Decrease bone loss and torque needs for fixture insertion
4. Hybrid zone Compatible with bone & tissue level


5. Extended thread design ---> Increase initial stability

6. Internal 10° taper & double square shape connection between implant and abutment ---> Tight sealing and Less screw, abutment & fixture fracture
 7. Simple GBR ---> Minimize bone and gingival resorption


Author: Review department of Dandal.ir
First Release Date: 4/Sep/2014
Last Modified: 5/Sep/2016
Sources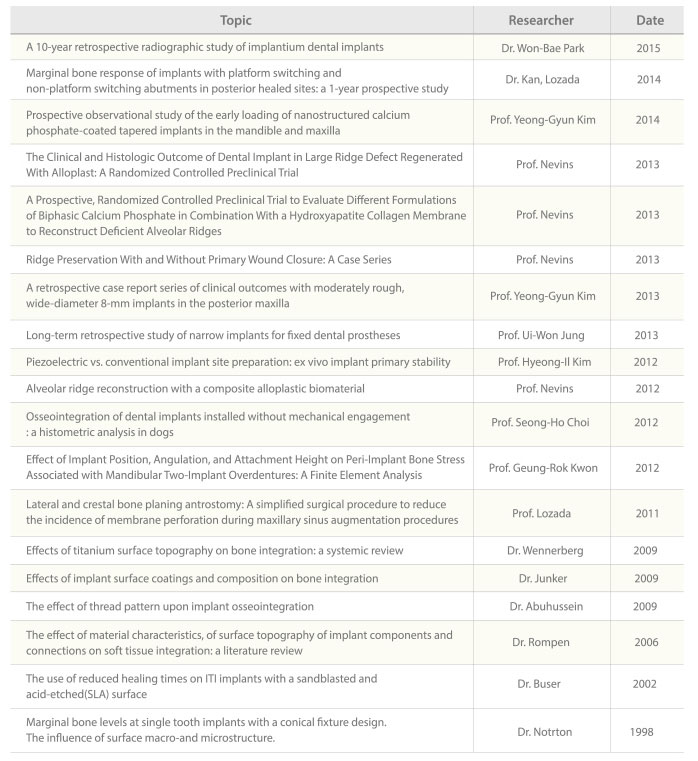 Product Details

Data sheet

Company

Dentium

Country

South Korea

International Experience

2000

Iran Experience

2005

بیشتر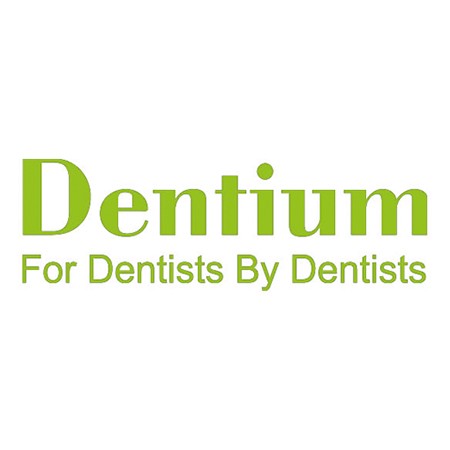 Data sheet
Company

Dentium

Country

South Korea

International Experience

2000

Iran Experience

2005

Titanium Grade

Fixture 4 | Abutment 2

Surface Treatment

SLA

Angled Abutments

Yes

UCLA Abutment

Yes

Fixture Length

6mm to 14mm

Connection

Hex | Octa

Stopper Drill

Yes

Box Content

Fixture without Cover Screw

Cemented Abutment

Yes

Ball Abutment

Yes

Locator

Yes

Max Torque For Cover Screw

5Ncm

Max Torque For Abutment

30-35Ncm

Failure Acceptance

Yes

Fixture Shape

Tapered

Multiunit Abutment

Yes

Diameter Fixture

2.3mm to 5.8mm

Certificate

CE | FDA | ISO | KFDA