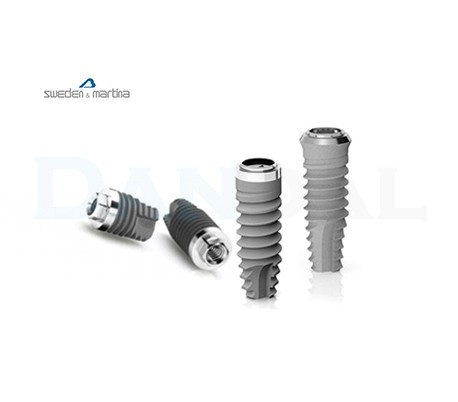 View larger
Sweden & Martina Implant
Company:
Sweden&Martina
Country:
Italy
New
Warning: Last items in stock!
Availability date:
Available models in Iran
Sweden&Martina - Premium Straight

Hex Connection

Diameter 3.3 - 3.8 - 4.25 - 5

Height 7 - 8.5 - 10 - 11.5 - 13 - 15 - 18

Sweden&Martina - Premium Straight Shorty

Hex Connection

Diameter 3.8 - 4.25 - 5

Height 7 - 8.5

Sweden&Martina - Premium SP

Hex Connection

Diameter 3.8 - 4.25 - 5

Height 7 - 8.5 - 10 - 11.5 - 13 - 15

Sweden&Martina - Premium SP Shorty

Hex Connection

Diameter 3.8 - 4.25 - 5

Height 7 - 8.5

For more information

Click

on the above pictures.
Premium implants have a prevalently cylindrical morphology, with a conical progression only in the apical section.

Thread with a pitch of 1 mm, a conical profile in the apical direction and a convex profile in the direction of the crown. These characteristics increase primary stability and avoid traumas to the bone after load application.

The design of the apical notches, the angle of the cut and the progressive reduction of the diameter of the implant core increase the fixture's capacity to penetrate into the bone, thus guaranteeing an excellent performance in all types of bone. Backed up by 12 years of scientific studies.

Once the intraosseous morphology has been chosen, the dentist can use 2 different coronal emergences, without having to change surgical kit or inserting technique.
The classic straight profile for narrow coronal spaces. The first section, 0.8 mm long, is smooth to ensure a portion that bacteria will find it difficult to attack and colonise.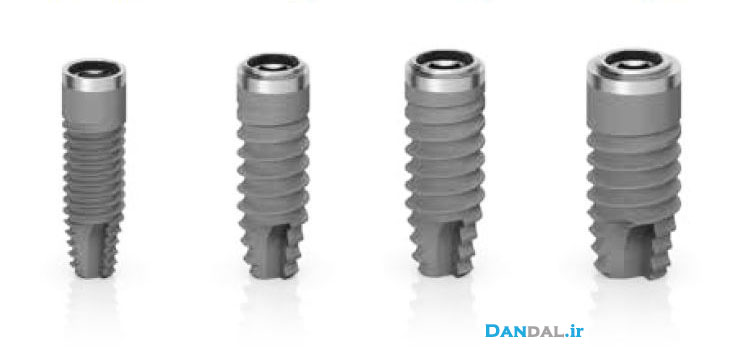 A 0.5 mm bevel widens gradually from the emergence/from the core, then returns to the nominal diameter of the implant at connection level. The connection platform is identical to that of the implants with a Straight profile.
the switching platform is a prosthetic rehabilitation technique that aims to distance the prosthetic connection platform from the cervical bone. the body and apex of the SP implants are the same as the equivalent straight fixtures, but have a different coronal emergency. the neck progressively widens up to a distance of 0.3 mm from the emergence and then returns to the platform diameter at the connection level. thus, the upper connection bevel offers a spacer plane between the crest bone level and platform point.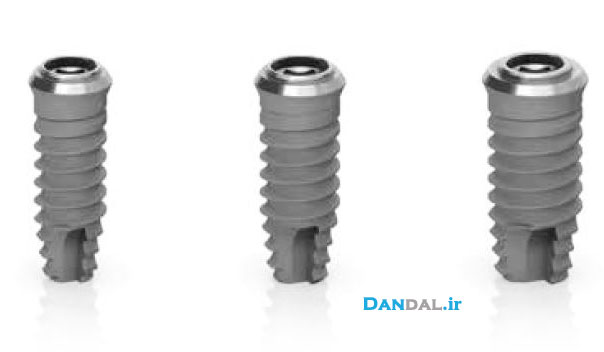 Mountless Surgical Procedure
The surgical procedure contemplates inserting the implants with the Easy Insert, a driver with a patented design that prevents any deformation of the connection even at high implant insertion torques and facilitates removal of the instrument. The Easy Insert which is used on all three coronal emergences, also allows excellent intra-operative visibility.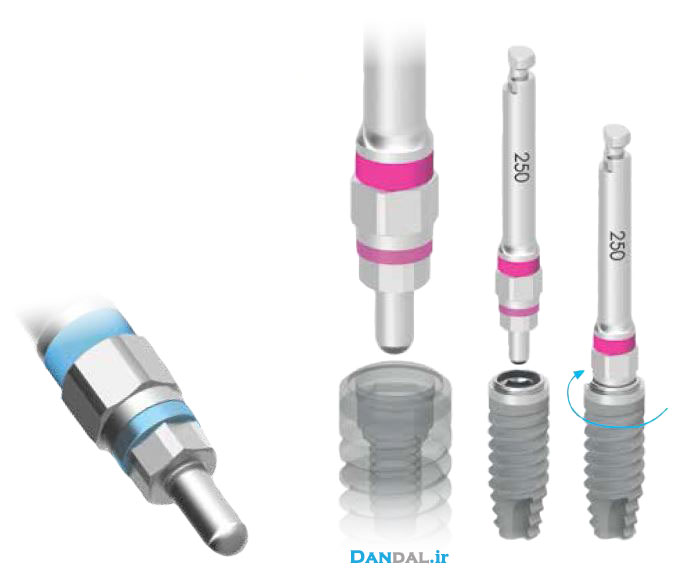 Connections with internal hexagon
All three coronal emergences are characterised by a connection with an internal hexagon 2 mm deep.
In Straight and Switching Platform implants the hexagon is stabilised by a collar on top of the platform that also contributes to a correct distribution of the forces, which in this way are unloaded along the entire implant perimeter.
self-tapping apex
Great penetrating ability
aniti-rotation
Great primary stability
three decompression and release areas for blood clot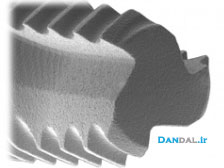 Shorty
Straight, Switching Platform and TG implants are also available in the SHORTY version, ideal for crests with reduced heights and in all cases where it is preferable not to follow a regeneration protocol. A dedicated drilling kit is provided for Shorty implants, having drills with a very short tip and a shorter total length than standard drills, very useful also in case of difficult to reach distal sectors or patients with small oral openings.
Just one kit, lots of possibilities
Just one implant-prosthetic kit for placing all versions of the Premium Kohno implant:
this solution offers many advantages, from the wider possibility of choice of the implant morphology to the availability of different prosthetic concepts.
The instruments are arranged according to a guided procedure, and the sequences of use are indicated by coloured marks that follow the same colour codes used for identifying the discs that hold the implants in the vials and for prosthetic components, making the surgical procedure absolutely simple and without any possibility of confusion for either the dentist or his assistant.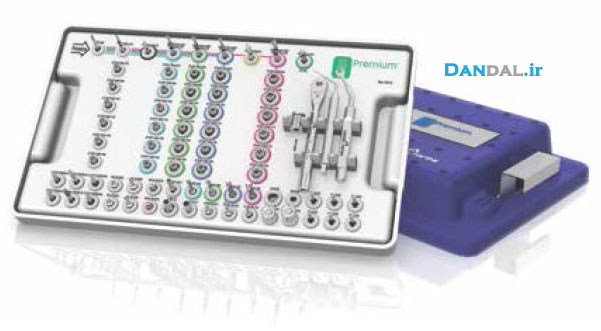 The surgical kits are supplied with the templates for the graphic representation of the implant measurements both with real dimensions and with dimensions increased by 20% and 30%, to allow choosing the most suitable implant diameters and lengths by means of radiographic or tomographic analyses. A practical and functional surgical ratchet is also included that acts as a dynamometric key for checking the tightening torque from 10 Ncm to 70 Ncm and can therefore be used both for inserting implants and for prosthesis operations.
ZirTi Surface
Besides increasing the bone-implant contact surface, it has been demonstrated that the ZirTi surface favours cell proliferation and differentiation during processes of neo-osteogenesis and stimulates angiogenesis at a distance.


Author: Review department of Dandal.ir
First Release Date: 17/Nov/2014
Last Modified: 17/Oct/2016

| | |
| --- | --- |
| Company | Sweden & Martina |
| Country | Italy |
| International Experience | - |
| Iran Experience | - |
| Titanium Grade | Fixture 4 | Abutment 5 |
| Surface Treatment | ZirTi |
| Angled Abutments | Yes |
| UCLA Abutment | Yes |
| Fixture Length | 6mm to 18mm |
| Connection | Hex |
| Stopper Drill | Yes - Movable |
| Box Content | Fixture+CoverScrew |
| Cemented Abutment | Yes |
| Ball Abutment | Yes |
| Locator | Yes |
| Max Torque For Cover Screw | 10Ncm |
| Max Torque For Abutment | 20-30Ncm |
| Failure Acceptance | - |
| Fixture Shape | Cylindrical | Tapered |
| Multiunit Abutment | Yes |
| Diameter Fixture | 3.3mm to 5mm |
| Certificate | CE | ISO |
Sweden & Martina - Premium & Shelta - Overdenture prosthetic manual
Download (8.66M)
---
Sweden & Martina - Premium & Shelta - Prosthetic manual conoweld
Download (4.14M)
---
NO registration required!
If the question you have has not yet been answered here, use the form below to ask something about this addon.