+982175203000
JDental Care Implant
Company:
JDental Care
Country:
Italy
Available models in Iran
JDental - JD Evolution

Hex Connection




2009

Diameter 3.7 - 4.3 - 5 - 6

Height 6 - 8 - 10 - 11.5 - 13 - 15


JDental - JD Evolution S

Hex Connection

Diameter 3.2

Height 8 - 10 - 11/5 - 13 - 15


JDental - JD Icon

Hex Connection

Diameter 3.9 - 4.3 - 5

Height 6 - 8 - 10 - 11.5 - 13 - 15


JDental - JD Iconn Ultra.S

Hex Connection

Diameter 2.75

Height 8 - 10 - 11.5 - 13 - 15


For more information 

Click on

 the above pictures.
JDentalCare rises from the synthesis between the experience of dentists, opinion leaders in dental implantology, and the contribution of an engineering team composed by experts of implant systems design and manufacturing.
The company is headquartered in Modena, Italy, in a region characterized by a deep-rooted know-how in the precision micromechanics applied in the medical field.
This fact has allowed JDentalCare to be supported in the development of its products by high skilled partners. The mission of JDentalCare is to design, develop and trade dental implants characterized by a strong innovative feature that could fit and satisfy the most modern needs of dentists and patients.
JDentalCare has many type of Implant:
  - JD Evolution
  - JD Evolution S
  - JD Evolution Plus
  - JD Icon
  - JD Icon Ultra.S
  - JD Now
1. JD Evolution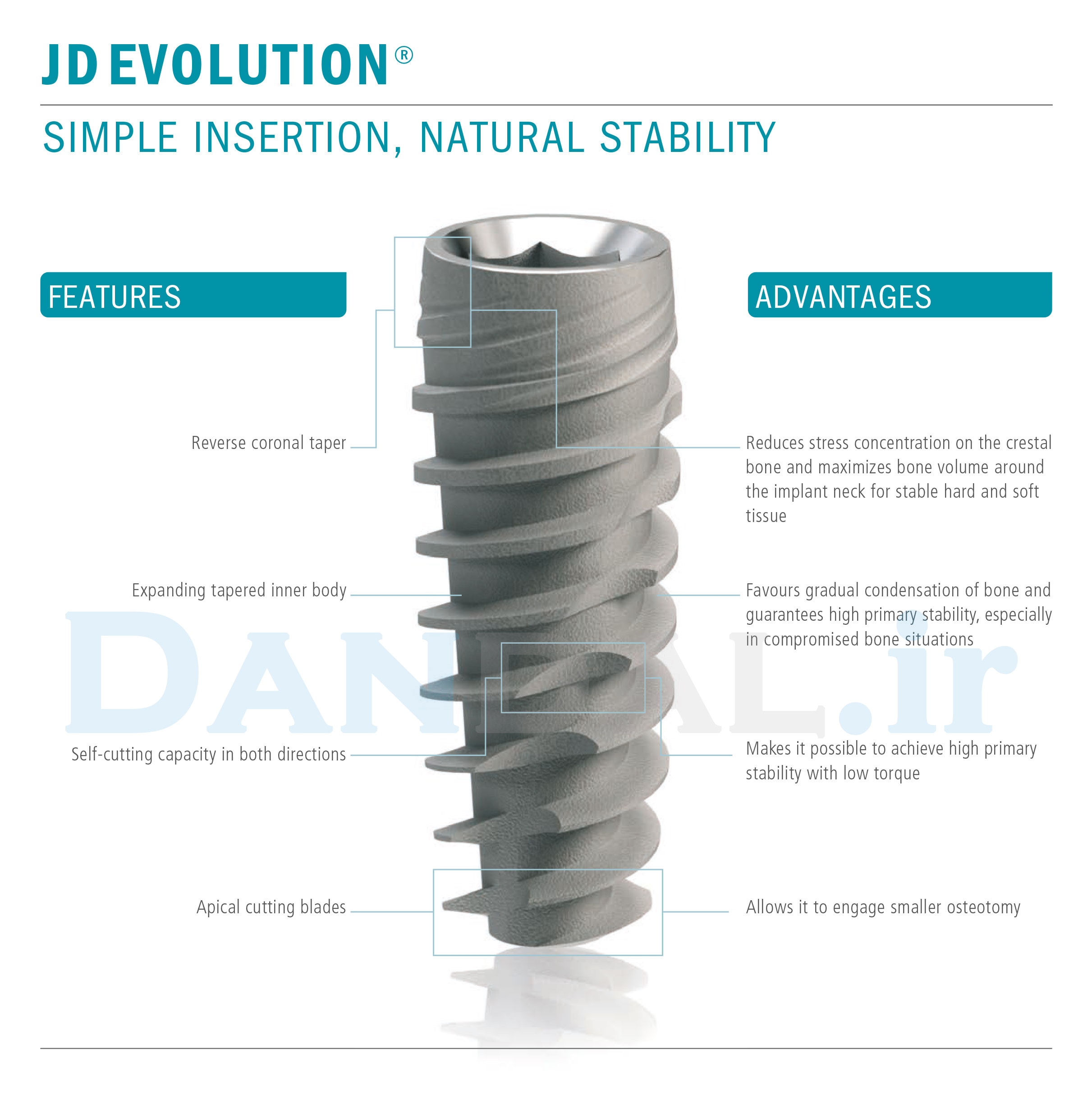 To obtain an optimum surface morphology, the JDEvolution implant is subjected to an oxidising treatment using organic acid oxidation processes to achieve just the right surface roughness along with a high degree of surface wettability.
The microtopography of the surface created with this technology increases osteoblast adhesion, platelet activation and growth factor release, favoring accelerated neo-osteogenesis.
Treatment with this kind of organic acid gives the implant surface a micrometer range roughness in line with the current optimum standards, thus ensuring faster, more predictable and more secure osseointegration.
2. JD Evolution S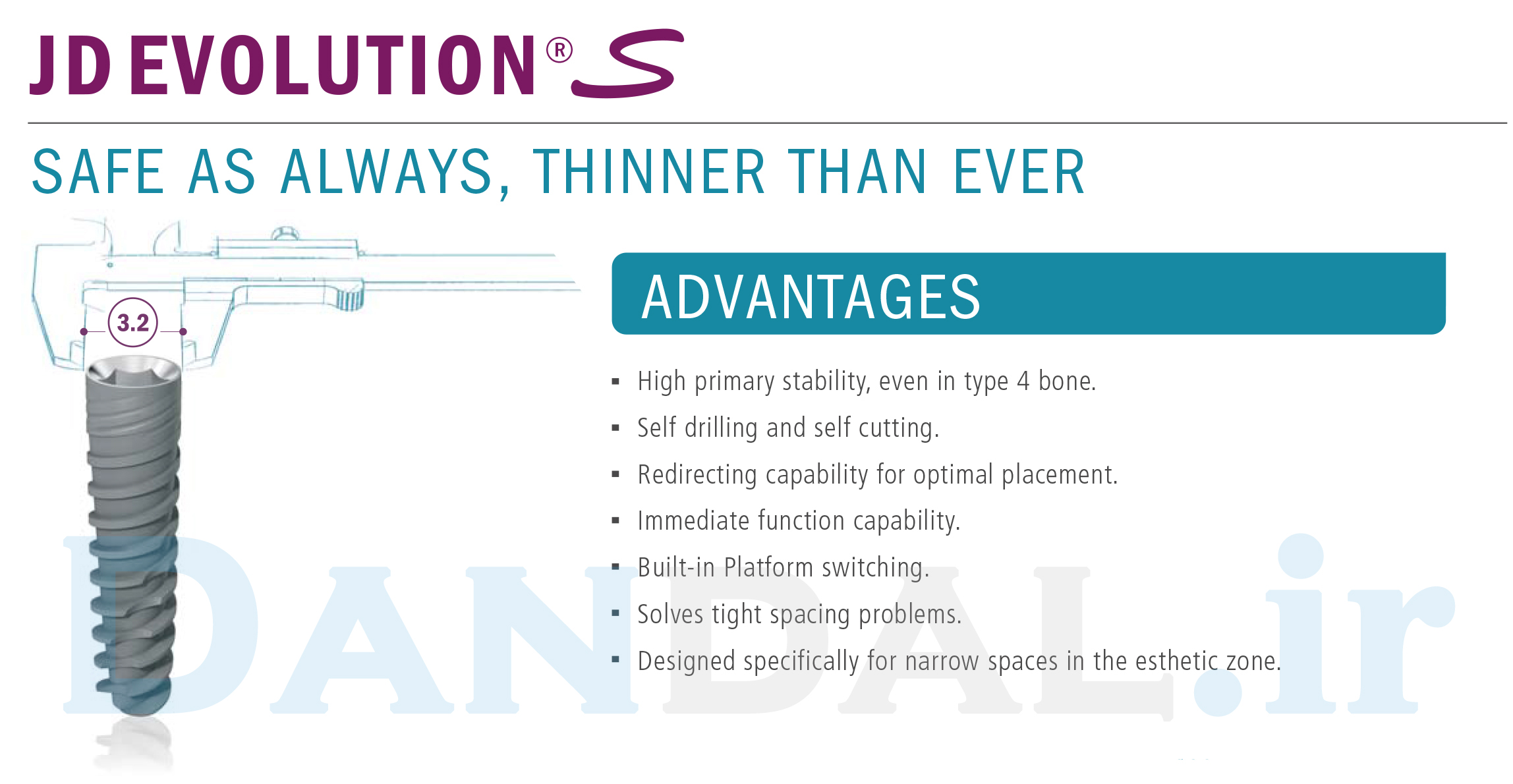 3. JD Icon
   
The hexagonal interlocking provides a choice of six different abutment positions providing high restorative flexibility. The conical connection is significantly superior in term of bacterial seal as compared to other connection systems and it is more resistant to abutment movement and microgap enlargement under loading.
The internal conical connection also allows for platform shifting, allowing room for maximum soft tissue volume to safety come up onto the edge of the implant platform. This results in more natural looking gums and also supports less radiographically detectable crestal bone loss.
Whereas with other connections, Platform, shifting is achieved through the use of a smaller diameter abutment on a large diameter implant collar, the internal conical connection has the shift built-in.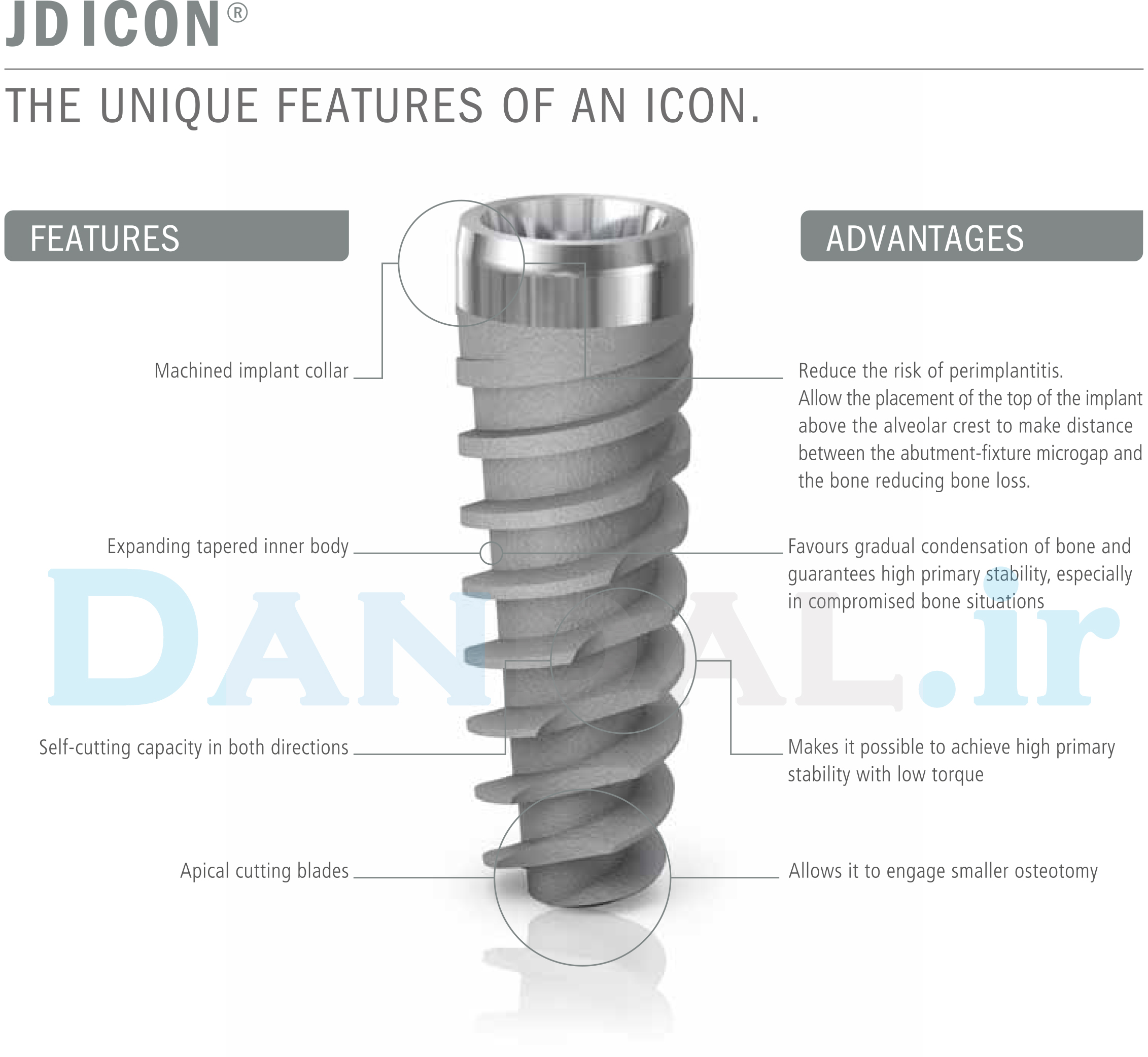 4. JD Icon Ultra.S
JDIcon Ultra S is a two-piece implant with 2.75mm diameter and internal conical connection. It is the smallest implant with internal connection ever manufactured.
Despite its small diameter JDIcon Ultra.S provides a high implant strength due to its innovative fixture design and its tight conical connection. The results of fatigue strength tests conducted on JDIcon Ultra.S implant indicate that it is even stronger than implants with larger diameter.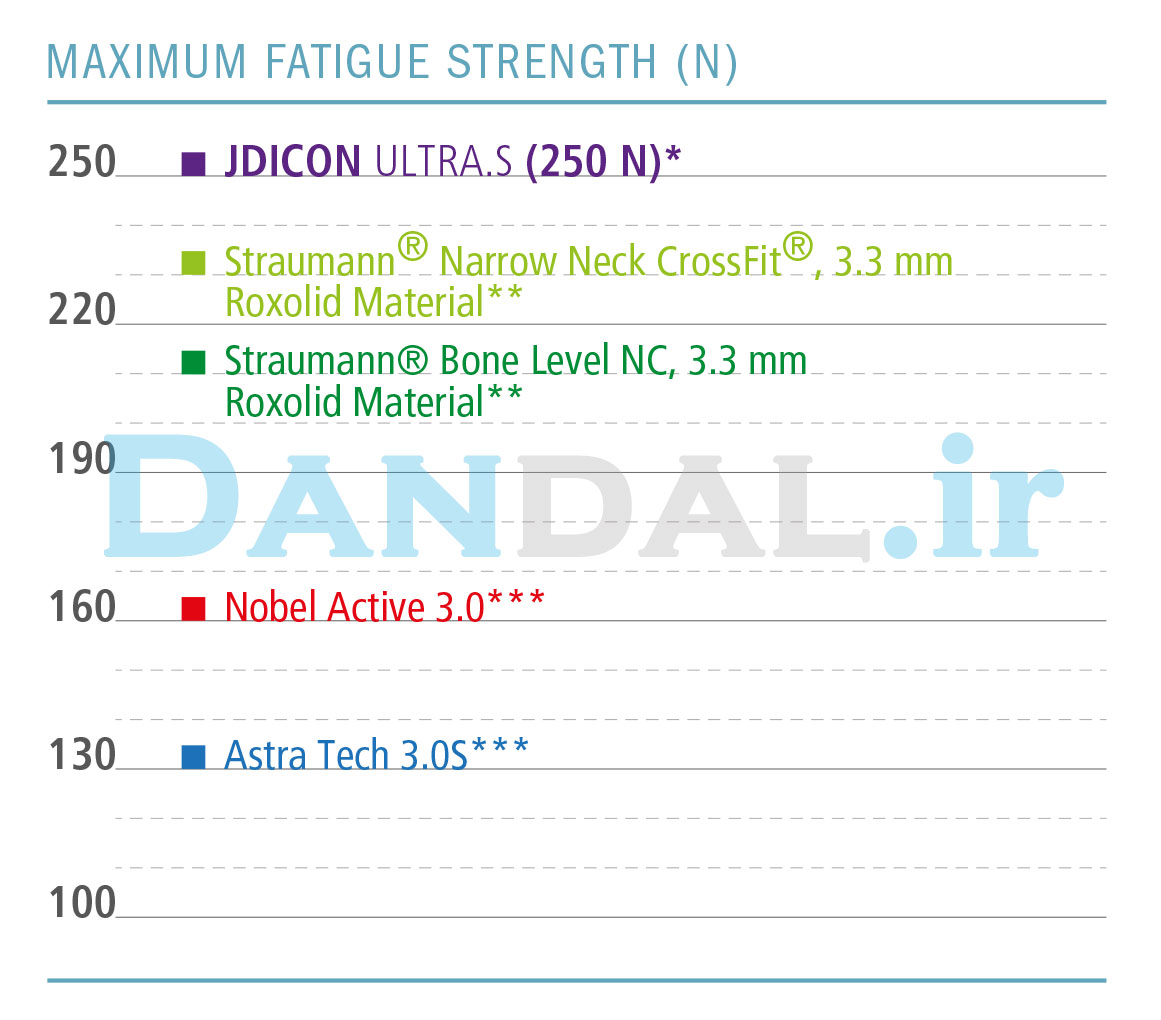 JDIcon Ultra.S is ideal for areas with limited spaces, such as missing lateral incisors. It is intended for use for single-tooth restoration and in implant fixed partial dentures (implant bridges) in incisors and canine areas. In the premolar area, it is intended for use in implant fixed partial dentures (implant bridges) in patients with no parafunctional habits. In case of narrow ridge dimensions, a simplified surgical protocol in combination with the conservative dimensions of this dental implant facilitate the resolution of dental implant cases which would have otherwise required the use of bone augmentation and higher treatment costs.
Product Details

Data sheet

Company

JDental Care

Country

Italy

International Experience

2006

Iran Experience

1392

بیشتر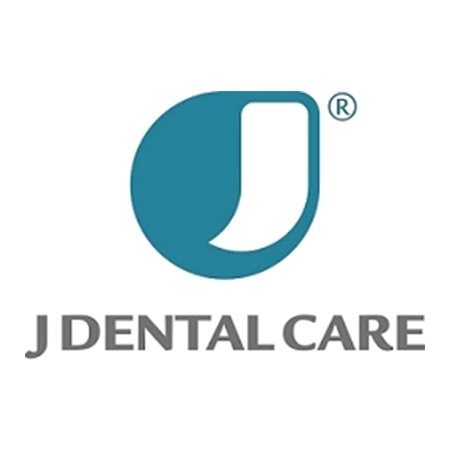 Data sheet
Company

JDental Care

Country

Italy

International Experience

2006

Iran Experience

1392

Titanium Grade

4

Surface Treatment

SLA

Angled Abutments

Yes

UCLA Abutment

Yes

Fixture Length

6mm to 15mm

Connection

Hex

Stopper Drill

Yes

Box Content

Fixture + Cover Screw

Cemented Abutment

Yes

Ball Abutment

Yes

Locator

Yes but JD Icon Ultra.S don't have.

Max Torque For Cover Screw

25Ncm

Max Torque For Abutment

35Ncm

Failure Acceptance

Yes

Fixture Shape

Tapered and Reverse Cone

Multiunit Abutment

Yes

Diameter Fixture

2.75mm to 6mm

Certificate

FDA | CE | ISO