ZEISS - Extaro 300 MicroScope - Dandal
ZEISS - Extaro 300 Dental MicroScope
Out-of-Stock
ZEISS EXTARO 300
Visualize beyond with the new dental microscope.
EXTARO 300 from ZEISS provides breakthrough visualization modes that introduce new applications to microdentistry. As the first dental microscope, it enables caries detection and a simpler tooth restoration workflow. ZEISS EXTARO 300 is especially designed to meet your needs and revolutionize your practice by leveraging microscope-enhanced dentistry.
Preserve as much healthy tooth as possible with the new ZEISS dental microscope.
ZEISS EXTARO 300 provides a combination of the Microscope Fluorescence Mode and dental microscope magnification, supporting caries detection.
Visualize and repair caries-infected fillings efficiently.
Save time, as there is no need to interrupt the workflow for visual support.
Identify the border between natural and artificial tooth material, as the Microscope Fluorescence Mode distinguishes between different tooth substances.
Target the affected area quickly.
Save valuable chair time during excavation
Distinguish slightest color variations with cross-polarized and natural light illumination of ZEISS EXTARO 300.
The new ZEISS dental microscopevisualizes fine, but relevant details thanks to the NoGlare Mode.
Tooth restoration without distracting reflections under cross-polarized illumination. 
Similar to the existing Orange Color Mode, the TrueLight Mode in ZEISS EXTARO 300 does not cause premature polymerization of widely used contemporary light curing composites under the microscope, giving you more time to finish complex modeling tasks. The new optimized color balance of the TrueLight Mode now allows you to identify relevant dental tissues in a natural, white-light setting.
Revolutionize patient communication and optimize your data management thanks to the wireless connection between ZEISS EXTARO 300 and the ZEISS Connect App, a specially designed app for dentists.
Save time by transferring images and videos directly to your local network.
Communicate interactively with your patients by showing images of past and current conditions and highlight areas requiring treatment on the ZEISS Connect App. 
Enable your patients to make informed decisions. 
Without leaving your preferred working position, you can single-handedly operate the ZEISS EXTARO 300. Benefit from an uninterrupted workflow through the central Mode Control to activate all visual and capture modes.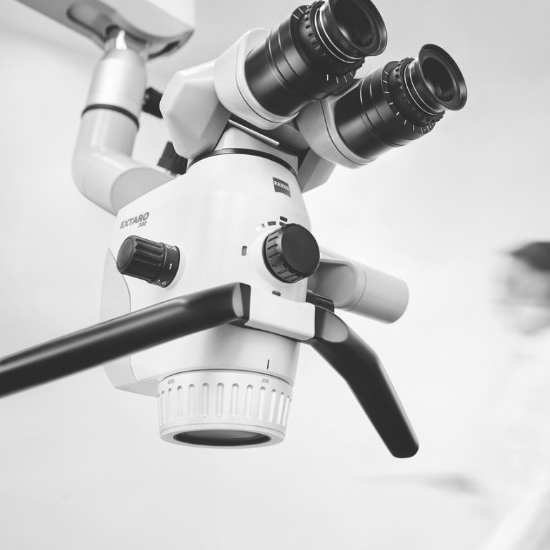 Operate the Varioskop 230 from ZEISS with only one finger and adjust the unprecedented focal length of 200 – 430 mm.
Using the ergonomic microscope ZEISS EXTARO 300 in your practice will improve your dental ergonomics and may increase your career longevity.
Work in an upright ergonomic posture.
Leave a comment about this product