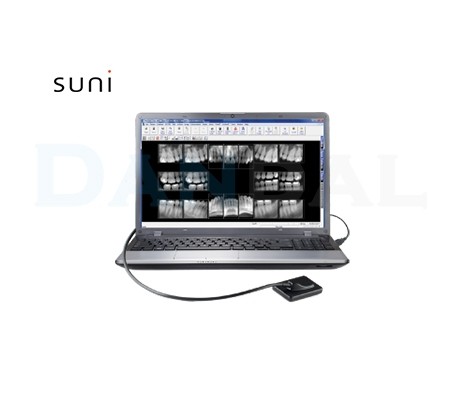 View larger
Suni - SuniRay2 Digital X-Ray Sensor
New
This product is no longer in stock
Warning: Last items in stock!
Availability date:
لطفا در صورت نیاز به اطلاع رسانی جهت موجود شدن این کالا، ابتدا وارد حساب کاربری شوید سپس در همین صفحه گزینه
"اطلاع بده"
را انتخاب نمایید
Buying this product you will collect
0.01 points
with our loyalty program.
SuniRay2: The Next Wave of the World's #1 Sensor
With ten times the durability, industry-leading optimal exposure levels, and exceptional image quality, the SuniRay2 represents the pinnacle of Suni's commitment to perfectly balanced digital sensor design. SuniRay2 achieves maximal image quality with superior diagnostic capabilities while maintaining the lowest radiation levels among all digital sensors. The comprehensive and feature-rich Prof. Suni Advanced Imaging Software supplements the SuniRay2's high-quality imaging with a wide array of user-friendly customization and image-enhancement tools. With the SuniRay2, Suni has created a complete digital radiography system that seamlessly integrates with your entire practice.
Features and Benefits
Advanced Imaging Software
Comprehensive and easy-to-use digital imaging software
- For USA users:
Prof. Suni is a comprehensive, easy-to-use, and feature-rich digital imaging software that easily integrates with your entire practice. Its array of customization and image enhancement options aid in the diagnostic process and make organizing and managing patient fils hassle-free. Prof. Suni provides practitioners the essential imaging tools they need to make their practice thrive.
- For other users:
Dr. Suni is a complete software package that integrates easily with all leading practice management software and is optimized for touchscreen use and compatibility with the latest Tablet PCs. Dr. Suni's image enhancement tools and intuitive file management allow you to clearly communicate treatment plans with patients while making it easy to organize patient files.
Excellent Image Quality
- State-Of-The-Art Design
Suni CMOS chip, specially designed scintillator screen and 1.2 mm fiber optic plate ensure a high-quality digital x-ray every time.
- Exceptional Balance
Strikes the perfect balance between high line-pairs per millimeter, signal-to-noise ratio, and low optimal radiation exposures.
- Feature-Rich Software
Prof. Suni imaging software's array of preset filters and automatic image enhancements complement SuniRay2's high-quality X-rays, helping you maximize your diagnostic capabilities.
Enhanced Durability
- Built to last
Unique reinforced cable attachment and ultrasonically sealed outer casing make for a reliable digital sensor that's built to last.
- High Performance
Impact Protection Technology ensures exceptional sensor performance even when there's extra pressure or strain.
Easy Integration
- Compatible Software Partners
Prof. Suni Software allows you to bridge patient information from a wide variety of patient management software packages to your digital imaging software. This removes the added work of repeatedly typing in patient demographic information (name, DOB, SSN, ID, gender) in multiple software.
With Prof. Suni Software integration, you can simply open your patient's chart or appointment windowin the patient management software, then click an icon that will always appear in the bottom right (next to the clock), and Prof. Suni will do the rest. If your imaging software is not yet open, Prof. Suni will open it for you and then automatically open the patient's corresponding record in your imaging software. If it is a new patient, Prof. Suni will pass the patient's demographic information to the imaging software, allowing it to proceed with creating a new patient record. From there, you can capture new images or view your existing images. It's that simple. With "Image Bar" your images float on top of your Chart without leaving your Charting screen.
Low Radiation
- Unmatched Efficiency
Captures high-quality x-rays while minimizing radiation exposure –the lowest levels among all digital sensors.
Optimal Patient Comfort
- Easy Positioning
Thin sensor head and rounded corners ensure easy and comfortable positioning.
- Patient Friendly
With fast acquisition times and the lowest radiation levels among all digital sensors, patients are assured a comfortable experience in the dental chair and peace of mind out of it.
Author: Review department of Dandal.ir
First Release Date: 12/June/2017
| | |
| --- | --- |
| Company | Suni Medical Imaging |
| Country | USA |
| Type of Technology | CMOS |
| Resolution | 22lp/mm |
| Sensor Dimensions | Size 1: 26x39.5mm | Size 2: 31.5x43.5mm |
| Dimension of actoive area | Size 1: 20.2x31.1mm | Size 2: 26.2x35.2mm |
| Sensor Cable | 3m |
No customer reviews for the moment.
NO registration required!
3 Question(s) answered
If the question you have has not yet been answered here, use the form below to ask something about this addon.
Asked by دکتر کچوئی
on 01/03/2019

با سلام سفارش این محصول برای دو عدد سنسور است؟ پشتیبانی نرم افزاری به چه صورت است؟ با وجود تحریم ها اختلالی در پشتیبانی نرم افزاری و اینترنتی وجود ندارد؟

Answer:
سلام. این سنسور این دستگاه دارای دو سایز بوده که شما می توانید سایز موردنظر خود را انتخاب و سفارش دهید. در صورت خرید دستگاه شرکت موظف و متعهد است، تمامی خدمات را به شما ارائه نماید. نرم افزار نیز هنگام تحویل دستگاه، بر روی لب تاپ شما نصب می گردد. لازم به ذکر است در حال حاضر این محصول در ایران موجود نمی باشد.
Asked by دکتر کچوئی
on 01/04/2019

با سلام سفارش این محصول برای دو عدد سنسور است؟ پشتیبانی نرم افزاری به چه صورت است؟ با وجود تحریم ها اختلالی در پشتیبانی نرم افزاری و اینترنتی وجود ندارد؟

Answer:
سلا. خیر. دستگاه به همراه یک عدد سنسور با سایز دلخواه شما تحویل داده می شود. در رابطه با گارانتی و پشتیبانی شرکت ذینفع متعهد است که خدمات لازم را ارائه دهد.
Asked by a guest
on 01/04/2019

برای سفارش این محصول باید چه اقدامی انجام داد؟ در صورتی که این محصول به هیچ عنوان موجود نمیباشد و نمیشود شما چه پیشنهادی برای ما دارید؟

Answer:
سلا. لطفا با شماره 02175203000 داخلی 1 تماس بگیرید.