Xience Sierra Everolimus Eluting Coronary Stent - Abbott Vascular
Abbott Vascular - Xience Sierra Everolimus Eluting Coronary Stent
Out-of-Stock
Features:
Drug Eluting Coronary Stent
USA Made
Everolimus Drug
Fluoropolymer
Suitable for Diabetic Patients
 Xience Sierra Everolimus Eluting Coronary Stent
NEW XIENCE SIERRA STENT DESIGN
The new XIENCE Sierra Stent Design, with Slim Flex Technology, has a lower crossing profile and greater post-dilatation expansion.
XIENCE Sierra for Enhanced Deliverability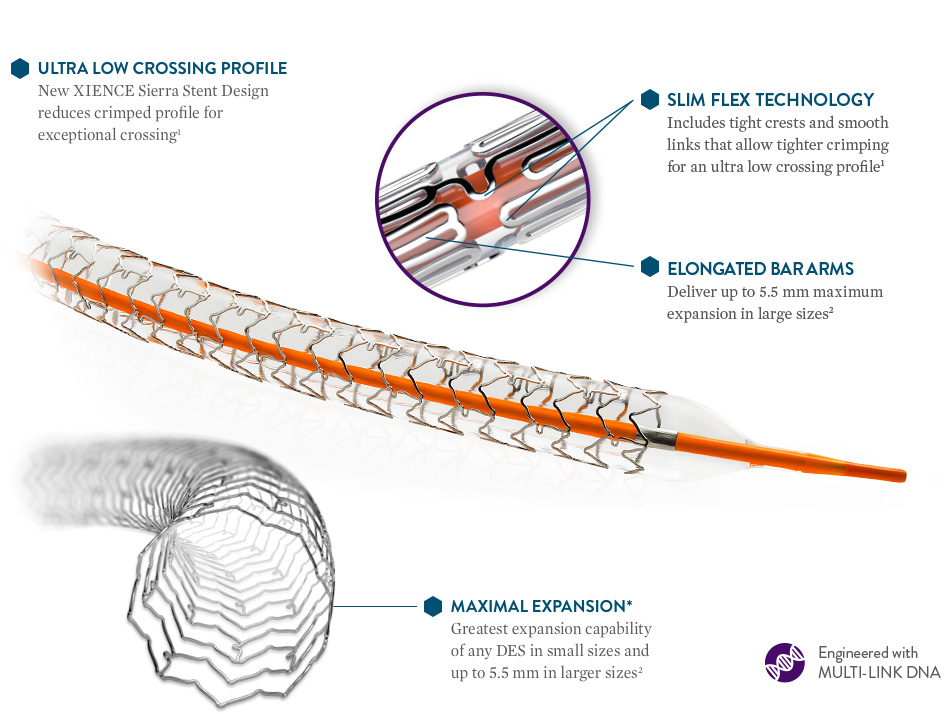 New Stent Delivery System Specifically Designed for Even Your Most Complex Cases

Unsurpassed Pushability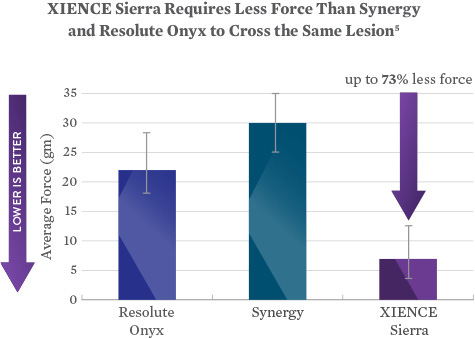 Specifically Designed for the Treatment of Complex Patients
To provide effective treatment in complex lesions during percutaneous coronary intervention (PCI), a stent must be slim so it can get to the lesion, strong to effectively treat challenging vessels, while also offering precise stent placement and deployment. XIENCE Sierra has all three characteristics.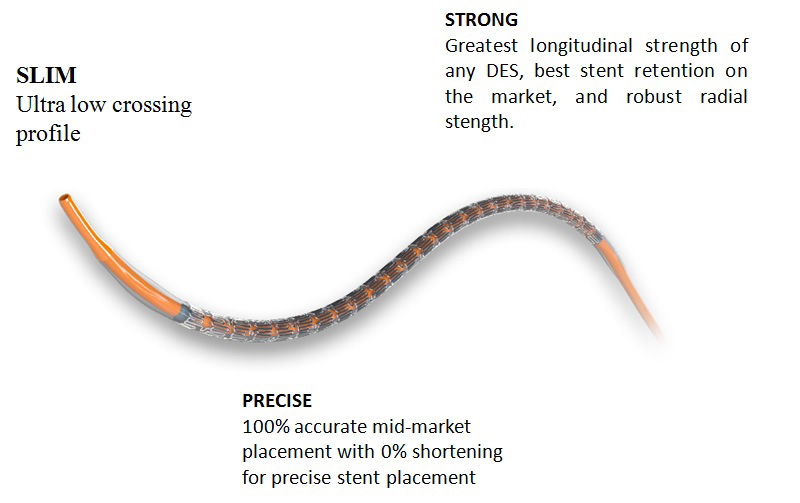 Slim: Ultra Low Crossing Profile
XIENCE Sierra's Slim Flex Technology is a key innovation: it enables XIENCE Sierra to have ultra low crossing profile while enhancing the maximum expansion capability. This makes it an ideal choice: 
       

For tight, calcified lesions

       

In small, tapered vessels like those in patients with diabetes

       

For patients best treated via radial access 
SLIM FLEX TECHNOLOGY

Strong: Longitudinal Strength, Retention, and Radial Strength
GREATEST LONGITUDINAL STRENGTH
XIENCE Sierra has the greatest longitudinal strength of any drug-eluting stent on the market. When tested for stent compression (shortening of the stent under a 50gf load), XIENCE Sierra demonstrates: 

Lower values indicate stronger performance.
BEST STENT RETENTION ON THE MARKET
In addition, XIENCE Sierra exhibits market-leading stent retention, which is critical in challenging anatomy. In testing stent retention, data show that XIENCE Sierra is:

Precise: For Precision Stent Placement
Zero Shortening Upon Deployment
XIENCE Sierra demonstrates 0% stent shortening upon deployment at maximum expansion. This enables the precision in stent placement that is especially critical in complex lesions.
100% ACCURATE STENT MARKER PLACEMENT
A key feature for any stent is accurate delivery to the target lesion, and XIENCE Sierra offers 100% accurate stent mid-marker placement so the stent can be precisely aligned with the lesion.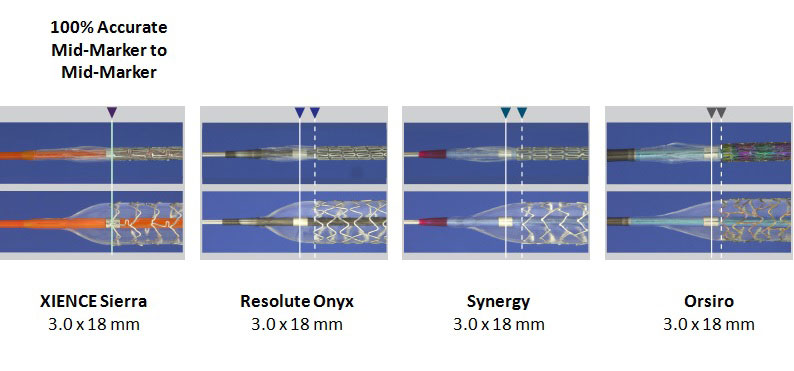 The XIENCE Fluoropolymer Stent Coating Promotes Best-in-Class Safety And Healing
In addition to clinical safety, another factor that sets XIENCE apart is the XIENCE fluoropolymer coating. Unlike most other polymers, the fluoropolymer interacts with proteins in the blood in a way that reduces thrombus formation process known as fluoropassivation.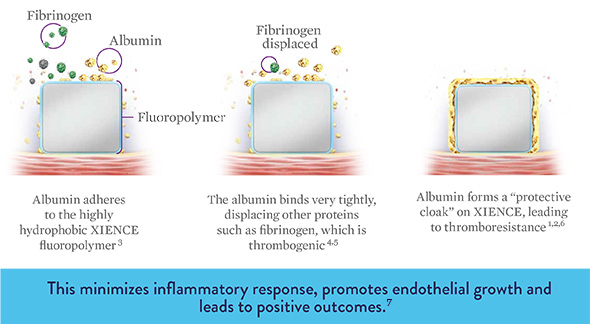 Fluoropolymer Stent vs Bare Metal Stent and Bioabsorbable Polymer Stent
In contrast to the visual above, most stents available today have non-fluorinated surfaces: bioabsorbable polymer stents, durable polymer stents or bare metal stents (BMS). These surfaces interact with proteins in the following ways:
The surfaces attract less albumin and more fibrinogen.

The fibrinogen, in turn, leads to more platelet adhesion and activation.

The platelets, fibrinogen and red blood cells can aggregate and create a thrombus.
Leave a comment about this product