+982175203000
Cerkamed - Canal Detector
Package: Syringe of 2ml + set of applicators
Canal Detector
Methylene blue 2%
Root canal orifices indicator
Blue dye contained in the product invades into the root canal orifices and dyes them blue which makes it easier to find the main root canal  and detect the cracks.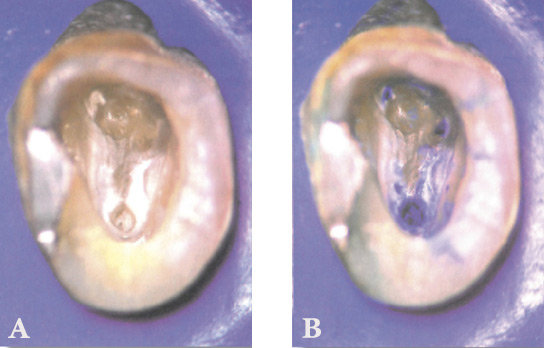 Photo A – Bottom of the pulp cavity 27 before Canal Detector application.
Photo B – Bottom of the pulp cavity 27 after Canal Detector application. All root canal orifices are visible.
How to use?
1. Remove dentine where the root canal orifices are expected.
2. Insert 1–3 drops into the bottom of the pulp cavity, wait 5-10 seconds.
3. Next rinse and dry the pulp cavity.
4. Points intensive dyed in blue indicate the root canal orifices.

After use pull back the plunger of the syringe to prevent overflow of preparation, remove applicator, close the syringe with white cap.
Customers who bought this product also bought: