+982175203000
VacuaSonic - CosmoBiomediCare - Dandal
CosmoBiomediCare - VacuaSonic
Show Details
Close Details
Similarities and differences between tooth and boneSimilar to a bone, a tooth consists of organic matter of Type I Collagen and minerals of Hydroxy Apatite (H.A.).
Although both are almost identical to each other in their ingredients, there are some differences. Type I Collagen of teeth has a dense structure, which helps osteoblast be attached to H.A. and propagate. A substance called DPP (Dentin Phosphophoryn), which is contained in Type I Collagen, promotes bone generation by increasing the activity of BMP, and DMP-1 (Dentin Matrix Protein) performs an important role in the calcification of tissues.
  
Unlike bones, the H.A. of teeth is comprised of high crystalline H.A in which absorption does not occur by itself, and osteoconduction can't be performed without processing.
A rapid demineralization process that changes the high crystalline H.A of inorganic components into low crystalline H.A is required to attach osteoblast to implant materials and use the effective proteins that are abundant in a dentinal substance. If the period of demineralization exceeds 90 minutes, low crystalline H.A may be converted but the density of effective proteins is significantly decreased due to being exposed to acid for a long time. This makes it difficult to utilize the abundant effective proteins contained in the dentinal substance.
What is the VacuaSonic System?
VacuaSonic System is a cutting edge system that converts teeth into bone implants within a short period of time through an effective demineralization process using a reaction activator. It is an unprecedented equipment that uses vacuum and ultrasonic waves to process an extracted tooth into an autogenous tooth bone graft at low cost. Vacuum and Ultrasonic waves are combined for maximum demineralization of teeth for bone grafting.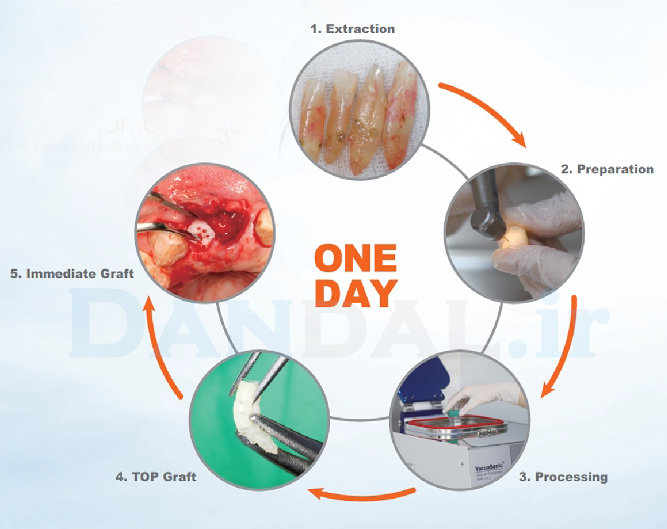 Advantages of autogenous tooth bone graft material:
- No human body rejecting reaction
- No other genetic and infectious diseases
- Superior in biocompatibility
- Fast healing
- Contains large amount of effective protein which helps bone formation
Why should bone implants made of the patient's own teeth through the VacuaSonic System be used?
Although the bone generation performance of bone implants made from your own teeth is outstanding, the performance of implants varies significantly depending on how fast the demineralization process

*

 is successfully and effectively completed. Bones generated by the VacuaSonic System delivers notable differences, even at the beginning of drilling.
   
* Demineralization is performed quickly while organic components are protected. The process accelerates osteoconduction and osteoinduction.
   
As the tooth is stronger than metal, foreign substances are discharged when grinding, and sometimes they are stuck in the tooth. VacuaSonic System separates and removes 100% of these foreign substances.
100% sterilization is essential to use teeth as implants. The VacuaSonic System features gamma sterilization at a level of 25kgray, which is an eco-friendly and powerful sterilization method that has been used by the European Tissue Bank with a long history of success. The VacuaSonic System also adopts a chemical sterile reagent that is free from any adverse actions caused by any remaining materials.
Up to 4 premolar teeth or 2 molar teeth can be treated in a single session. The technology is also more economical as it can generate 0.5cc of premolar tooth and 1cc of molar tooth using premolar teeth processing.
Its quick treatment process requires only 30 minutes for powder type and 2 hours for block type, facilitating patient treatment as it enables immediate use right after tooth extraction.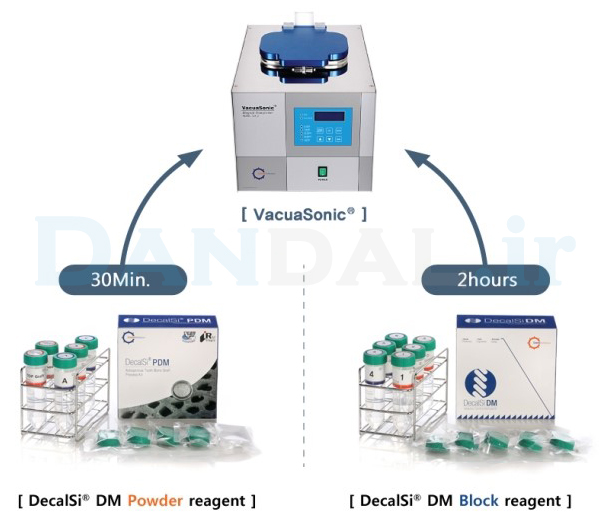 Individual processing at the medical office increases the trust of the patient.
VacuaSonic recieved the IR52 Jang Young-shil Award, the highest-regarded industrial technology award from the Ministry of Future Creation and Science, and also recieved New Excellent Technology Certification of the Ministry of Health and Welfare.
Author: Review department of Dandal.ir
First Release Date: 14/May/2015
Show Details
Close Details