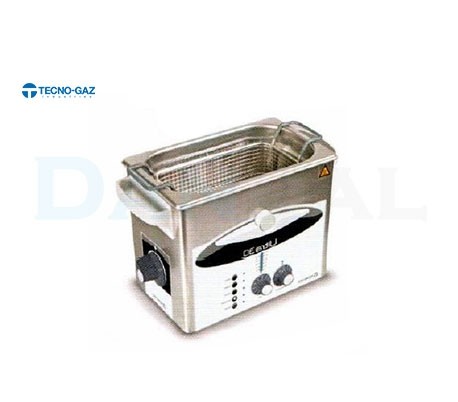 View larger
TECNO-GAZ - Ultra 30 Ultrasonic Cleaner
New
This product is no longer in stock
Warning: Last items in stock!
Availability date:
لطفا در صورت نیاز به اطلاع رسانی جهت موجود شدن این کالا، ابتدا وارد حساب کاربری شوید سپس در همین صفحه گزینه
"اطلاع بده"
را انتخاب نمایید
Buying this product you will collect
0.01 points
with our loyalty program.
Cleaning is a priority and a crucial step for the success of the sterilization process.
Tecno-Gaz has thus decided to give maximum attention to ultrasonic cleaners, as the device is extremely important.
The ULTRA ultrasonic cleaners have been designed and studied in order to provide a fully electronically controlled automatic tool, easy to use and with high efficiency.
All the technical solutions applied have been adopted to make the work of operators easy and efficient.
Power supply voltage : 230±10 % VAC
Net weight of product : 3,3Kg

Frequency : 38Khz

Absorbed power : 600W

Capacity : 28Lt

Width : 300 mm - Height : 150 mm - Depth : 150 mm
| | |
| --- | --- |
| Company | Tecno-Gaz |
| Country | Italy |
| Capacity | 28Lt |
| Frequency | 38000Hz |
| Weight | 3.3Kg |
| Tank Size | 20x30x50cm |
No customer reviews for the moment.
NO registration required!
2 Question(s) answered
If the question you have has not yet been answered here, use the form below to ask something about this addon.
Asked by سمانه الهیان
on 05/19/2019

سلام خسته نباشید. دستگاه قابلیت تغییر توان رو داره؟

Answer:
سلام. سپاسگزارم. تنها زمان و درجه سانتی گراد در این دستگاه قابل تنظیم می باشد.
Asked by a guest
on 11/09/2019

The power of this device

Answer:
Absorbed power: 600W