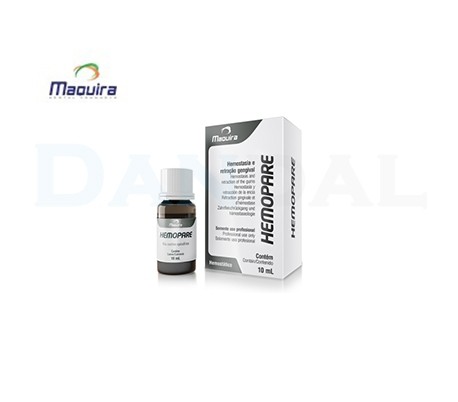 View larger
Maquira - Hemopare Hemostasis Solution
New
This product is no longer in stock
Warning: Last items in stock!
Availability date:
لطفا در صورت نیاز به اطلاع رسانی جهت موجود شدن این کالا، ابتدا وارد حساب کاربری شوید سپس در همین صفحه گزینه
"اطلاع بده"
را انتخاب نمایید
Hemopare helps gingival retraction and hemostasis, due to the presence of aluminium chloride, which causes a contraction of the superficial layer of the free gingiva by the precipitation of serum and tissue proteins. It is used in cavities for restorations and dental prosthesis. The conditioned tissues restore within 1 hour. Does not contains epinephrine.

- Solution: Bottles with 10 ml.
+ Advantages
- The product aids in Hemostasis and Gingival Retraction
- Aids in preparing cavities for restoratives and dental prosthesis
- The conditioned tissue is re-established within 1 hour
- COLORLESS liquid, providing better visibility in the place of application
- Its base contain Aluminium Chloride
| | |
| --- | --- |
| Company | Maquira |
| Country | Brazil |
| Product Type | Material |
NO registration required!
If the question you have has not yet been answered here, use the form below to ask something about this addon.