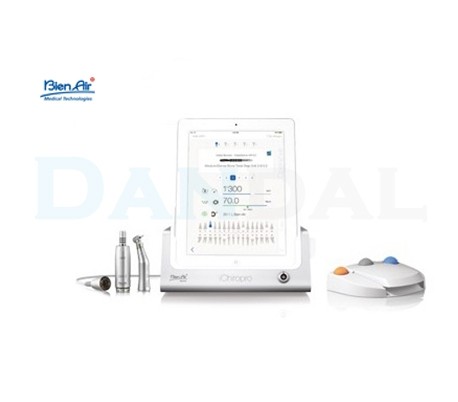 View larger
Bien Air - iChiropro Motor
New
This product is no longer in stock
Warning: Last items in stock!
Availability date:
لطفا در صورت نیاز به اطلاع رسانی جهت موجود شدن این کالا، ابتدا وارد حساب کاربری شوید سپس در همین صفحه گزینه
"اطلاع بده"
را انتخاب نمایید
The only system that allows you to plan operations and place up to 8 implants simultaneously.
Equipped with an application that is regularly updated with new features, the upgradeable iChiropro is a versatile and ergonomic system offering guaranteed efficiency.
Micromotor with ceramic ball bearings, and contra-angle with an irrigation system inside the instrument. Straight handpiece with high rotation speed.
The possibilities for developing your implantology and surgery system are endless – and free.
New, innovative functions will be regularly integrated in your system as our applications are developed and updated.
Up to eight implants can be placed simultaneously. The same step can be carried out on all the implants at once. Reduced handling of instruments and adjustments during the procedure. Increased efficiency.
iChiropro is pre-programmed for the following implant systems:


Option to plan procedures by adjusting the various parameters for each operating sequence in advance. Quick and easy import of planning data from the coDiagnostiX software (currently available for Straumann implants only). This reduces the number of adjustments made during the procedure and allows you to focus on the essential: the patient.
The operating sequence settings for the main implant systems are integrated into a library that is constantly being updated. This ensures the procedure is carried out in accordance with the manufacturer's recommendations. Parameters can be changed at any point during the procedure.
Management of multiple users with each able to save their own settings.
Operation data can be recorded at any time and is automatically integrated into the patient file. The data can be consulted directly on the iPad as a graph or table, and it can also be easily exported to other peripherals or online storage platforms.
The implant reference, batch number and expiry date can be recorded extremely quickly and easily using the barcode reader, with no risk of input error. Data is automatically saved to the patient's file. Traceability guaranteed.
MX-i LED MICROMOTOR
The high torque of the Bien-Air MX-i LED micromotor offers you unrivalled working comfort, at high and low speeds. Its ceramic ball bearings also guarantee you exceptional service life and reliability.
CA 20:1 L Micro-Series contra-angle
The new CA 20:1 L Micro-Series contra-angle fits into our internal irrigation system, working smoothly and efficiently. It is also equipped with one of the smallest heads ever designed, and a double LED system for uniform lighting regardless of the speed of rotation.
THE PM 1:2 STRAIGHT HANDPIECE
The PM 1:2 straight handpiece with external irrigation has been designed to withstand the high stresses that result from repeated lateral pressure. In addition, our Bur Guard system offers optimal physiological liquid anti-return protection for impeccable hygiene. Speed, precision, hygiene and comfort.
MULTIFUNCTION PEDAL
The iChiropro's highly ergonomic multifunction pedal offers speed variation, ON/OFF peristaltic pump, operating sequence or operation selection and micromotor rotation direction selection functions.
IRRIGATION LINES
Bien-Air has designed a patented peristaltic pump. Our disposable irrigation lines incorporate an insertion support ensuring simplified handling and perfect hygiene.
iPAD
The iChiropro from Bien-Air is compatible with the iPad 4 and iPad Air from Apple. Pleasure, comfort and performance guaranteed, using the most popular tablet on the planet.
| | |
| --- | --- |
| Company | Bien Air |
| Country | Switzerland |
| RPM range | Max. 40000rpm |
| Torque range | Max. 70Ncm |
| Weight | 2800gr |
| Height | Width | Depth | 242 | 244 | 102mm |
| Foot Control | Corded - Multifunctional |
| Display Screen | Touchable |
| Memory | 8 pre-programmed 10-step sequences 1 endo sequence, 4 programs for dental surgery |
| Irrigation | External |
| Application | Multifunctional |
| Power | 220V |
| Type of Technology | Optic |
| Optic Adjustment | Yes |
| Handpiece | 20:1 Optic Contra-angle |
| Auto Calibration | Unknown |
| Motor Type | BLDC |
NO registration required!
If the question you have has not yet been answered here, use the form below to ask something about this addon.