+982175203000
TDV - Microcut Saw and Strip
تومان616,000
Out-of-Stock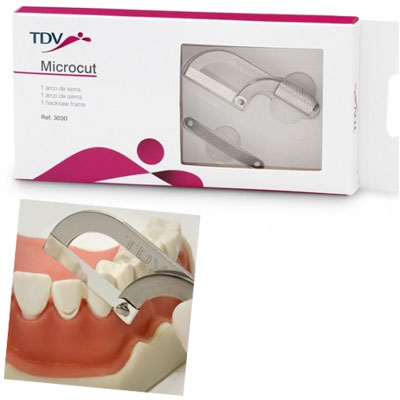 Microcut is a saw bow to which saws or interchangeable diamond strips are adapted .It is the only device really assuring safety to the professional and the patient for the removal of resin, adhesive, cement, and amalgam excesses from proximals. It is also presented in the form of a saw blade of 6mm x 150mm for manual use.
Use
The Microcut saw frame and sanding blade move longitudinally in a rocking motion within the inter-proximal space applying little force against the excess to be removed. With the sanding blade installed in the saw frame, the reduction of the still existing excesses is accomplished, as well as the approximal final finishing. For the saw blade replacement, loosen partially the nut, disassemble the used blade, insert the new one taking the former piece as example and tighten the nut.
Warnings, precautions and restrictions
Professional use only. The blade edges are extremely aggressive. We recommend the protection of the papilla, for example, applying a wedge to avoid accidents. The saw bow should be completely disassembled for a due hygienization and sterilization. When there is proven allergy to any of its components, the product must not be used. To avoid an accidental swallowing of this product it's necessary the application of a total isolation technique of the operatory field.
Sterilization
The product may be sterilized by any means. Autoclave at 126º C, 147kPa, 16min.
Composition
Bow + saw: Stainless steel. Sanding blade: Stainless steel and Natural Diamond
Storage
To be stored in a dry place, sheltered from sunlight.
Reviews
No customer reviews for the moment.
Customers who bought this product also bought: