+982175203000
DentLight - Fusion 5 LED Curing Light
تومان14,678,899
Out-of-Stock
Fusion 5 Curing Light is an advanced high-powered cordless curing light that offers a uniform, laser-sharp focused beam and low heat output. The curing light operates at a wavelength of 415-490 nm, giving it the ability to cure all materials, and includes four optional light heads with wavelengths of 385-490 nm, 415 nm, 630 nm, and 420-620 nm. In Plasma Power Mode, it offers a rapid three-second cure up to a depth of 10 mm. The digital timer has 3-, 5-, 10-, 20- and 60-second settings. Fusion 5 Curing Light has a slim handpiece constructed of anodized aircraft aluminum for superior durability and ease of handling weighing 3.9 oz. It integrates with an LCD metal keypad interface and can be charged using the docking station or direct plug-in. Charging takes 90 minutes, and the battery runs 1400 3-second cures. Fusion 5 Curing Light comes with one LED light head, the main control, three curing caps (3 mm-tacking, 9 mm and 13 mm), a light shield, battery assembly, charging stand, power adaptor, stand stick pad, pack of 100 barrier sleeves, and the manufacturer's instructions for use.

FUSION 5 is the biggest advancement in FUSION history, featuring the most powerful and dependable curing light with:
Impressive performance

Ultrafast 3 second cures
4000 mW/cm2 uniform intensity across 10mm curing tip
Unique, patented optics deliver a laser-like curing beam with minimum dispersion:

2300mW/cm2 at 10mm distance away from the tip
quadrupling the power of other lights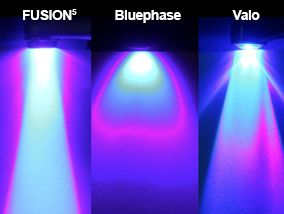 Distinctive design

Ergonomic, intuitive and easy to use.
The thinnest tip with 90 degree angle access
Solid aircraft aluminum construction
Seamless integration with backlit LCD interface
Superb conversion efficiency with minimum heat generation
360 degree swivel head for easy access to full oral cavity
Bonding multiple restorations, crowns/veneers, and brackets in one click.
Flexibility at its finest – not just a curing light, but a versatile multi-purpose light with more functions than before:

Built-in oral screening program for oral cancer screening
Built-in caries detection upgradability
Built-in programs to upgrade for teeth whitening
Built-in photodynamic pain therapy for TMJ patients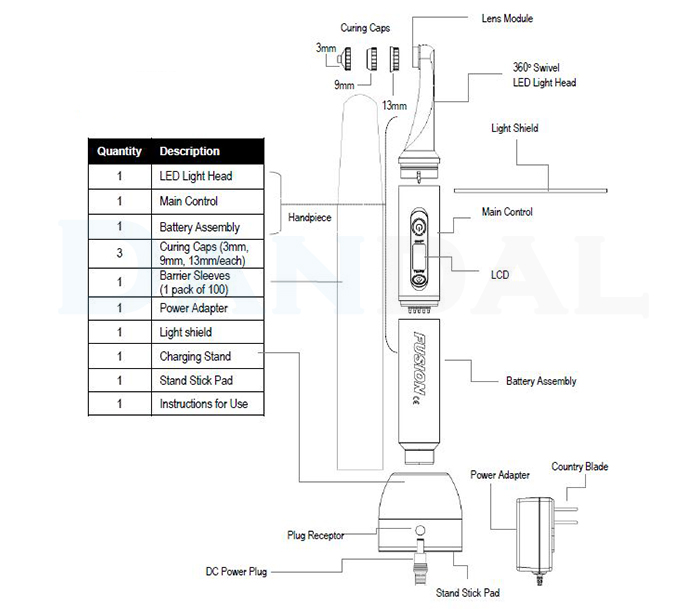 Product Details

Data sheet

Company

DentLight

Country

USA

Model

Wireless

Wave length

420-490nm

بیشتر
Reviews
No customer reviews for the moment.