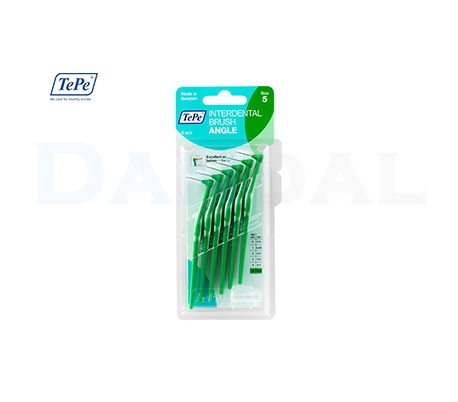 View larger
TePe - Interdental Brush Angle
New
This product is no longer in stock
Warning: Last items in stock!
Availability date:
لطفا در صورت نیاز به اطلاع رسانی جهت موجود شدن این کالا، ابتدا وارد حساب کاربری شوید سپس در همین صفحه گزینه
"اطلاع بده"
را انتخاب نمایید
Buying this product you will collect
0 points
with our loyalty program.
TePe Angle is an interdental brush designed for excellent access to all interdental spaces. It has an angled brush head and a longer handle.
Angled for excellent access and easy use
TePe Angle is an interdental brush designed for controlled and convenient interdental cleaning. The angled brush head makes it easier to reach, especially between the back teeth and from the inside. The long, flat handle offers a stable, ergonomic grip. TePe Angle is available in six colour coded sizes, all with plastic coated wire for safe use.
For optimal cleaning, it is important to choose an interdental brush of the right size. Very often more than one brush size is needed. Your dental professional can help to select the correct brush size/sizes for you. Use your interdental brush once a day, preferably in the evening. Move the brush back and forth a few times in each interdental space. Look in the mirror for easier use. Change brush when the filaments are becoming worn.
Cleaning between the back teeth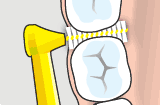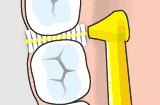 TePe Angle has an angled brush head for easy reach between the back teeth. It can be used both from the outside and the inside.
No customer reviews for the moment.
NO registration required!
If the question you have has not yet been answered here, use the form below to ask something about this addon.