+982175203000
An interdental brush is a small brush specially designed for cleaning between your teeth, where a regular toothbrush doesn't reach. Using an interdental brush every day, as a complement to toothbrushing, is an easy and efficient method to keep your gums and teeth fresh and healthy. Cleaning with an interdental brush prevents gum inflammation, cavities and bad breath.
Make it a daily routine to brush between your teeth with an interdental brush to keep your teeth healthy and to prevent gum disease and caries. Interdental brushes are also used for cleaning of implants and orthodontic appliances.
Use between the front teeth
Use a straight interdental brush between the front teeth. Insert the brush gently between your teeth. Do not force the brush into a space; work it in gently or choose a smaller size. Move the interdental brush full length back and forth a few times.
Use between the back teeth
If you use a small interdental brush (pink, orange, red or blue) you may curve the soft neck slightly by adding pressure with your finger to make it easier to reach between the back teeth.
Use between the back teeth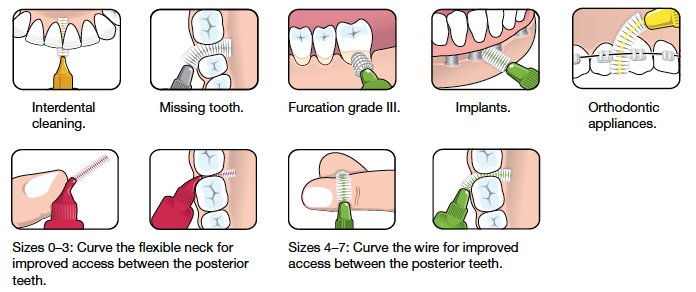 Choose the right size
For optimal cleaning, it is important to choose an interdental brush of the right size. Very often more than one brush size is needed. Your dental professional can help to select the correct brush size/sizes for you.
Use your interdental brush once a day, preferably in the evening. Move the brush back and forth a few times in each interdental space. Look in the mirror for easier use. Change brush when the filaments are becoming worn.
Reviews
No customer reviews for the moment.
Customers who bought this product also bought:
Related articles on blog
No related article on blog