MemoPart PDA occluder - LEPU MEDICAL TECHNOLOGY CO
Lepu Medical - MemoPart PDA Occluder
Out-of-Stock
Features:
PDA Occluder
China Made
Made from Nitinol Wire for Optimal Heart Treatment
Superior Elasticity for Easier Delivery 
MemoPart PDA occluder provides optimal heart treatment on the Nitinol wire and features superior elasticity for easier delivery .
Rigidity
Modified rigidity and flexibility for different types of occluders are designed to meet different clinical requirements.

Structure
Special braided mesh structure provides excellent radial strength that ensures ideal configuration after deployment, allows of full cross-sectional orifice coverage, and minimizes operation risk.
Shape and Size
Complete range of occlude specifications can satisfy the most types and sizes of defects.
Safety Is What We Always Care About
Heat–Treated Nitinol Wire
Special oxidization process makes the compact and uniform surface of TiO2 on the nitinol wire. The oxidation surface effectively prevents from the release of nickel ion to guarantees great biocompatibility and long-term safety.

Physical Kneaded Hub Comparing to welded hub, the physical kneaded stainless steel hub is stable, durable and safe to avoid not only the change of nitinol wire's physical properties, but also the release of harmful ions while welding.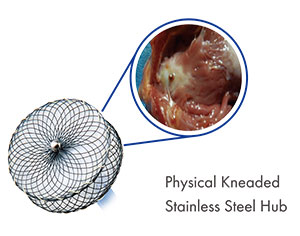 Hubless Occluders
The hubless design is available for most type of occluders to help with easier and better endothelialization.
Leave a comment about this product