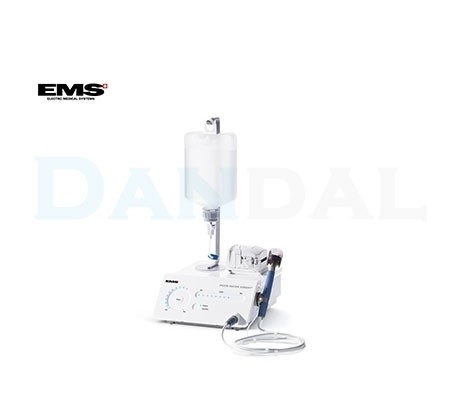 View larger
EMS - Piezon Master Surgery
New
This product is no longer in stock
Warning: Last items in stock!
Availability date:
لطفا در صورت نیاز به اطلاع رسانی جهت موجود شدن این کالا، ابتدا وارد حساب کاربری شوید سپس در همین صفحه گزینه
"اطلاع بده"
را انتخاب نمایید
Buying this product you will collect
0.01 points
with our loyalty program.
Based on 30 years of experience with the Original Piezon Method from EMS and the ongoing development of this unique technology, the Piezon Master Surgery unit is available for dental, oral and maxillary surgery. Innovation and expertise combine to deliver precision, safety, power and intelligence in a multitude of surgical applications and procedures.
Piezon Master Surgery could not be easier to operate. Touch 'n' Go technology for setting the power and flowrate is your assurance of precision of movement for enhanced tissue protection and top results.

Indications:
Osteotomy and osteoplasty, extraction of autogenous bone for regenerative surgery.
Alveolar ridge splitting, sinus lift, extraction of autogenous bone, implant site preparation.
Extraction, root resection, syndesmotomy, orthodontic surgery.
Extraction of bone cylinders, osteogenetic distraction, nerve transposition, sinus elevation, distraction osteogenesis.
Autopiloted power delivers perfectly straight vibrations, back and forth as well as up and down. With micrometric cutting in the 60-200 µm range, the unit causes hardly any bone loss. A permanent cooling system prevents any heat build-up and therefore avoids any treatment interruption.
When working in sensitive areas, the practitioner will choose the Standard Mode to deliver constant amplitude and vibration. Modulated amplitude and continuous vibration ensure optimum instrument performance for effective bone cutting in Surgery Mode.
| | |
| --- | --- |
| Company | EMS |
| Country | Switzerland |
| Weight | Approx. 3200gr |
| Height | Width | Depth | 161mm | 225mm | 291mm |
| Display Screen | Simple |
| Vibration rpm | 24-32KHz |
| Application | Perio - Implantology - Oral and Maxillofacial Surgery |
| Power | AC100-240V |
| Optic Adjustment | No |
| Handpiece | Piezo Handpiece + 5 Tips |
| Auto Calibration | Unknown |
No customer reviews for the moment.
NO registration required!
1 Question(s) answered
If the question you have has not yet been answered here, use the form below to ask something about this addon.
Asked by امیر محمدی
on 02/20/2017

با سلام خدمات پس از فروش این محصول برعهده کدام شرکت است

Answer:
سلام و عرض ادب شرکت آپادانا تک خدمات پس از فروشش رو ارائه میده.